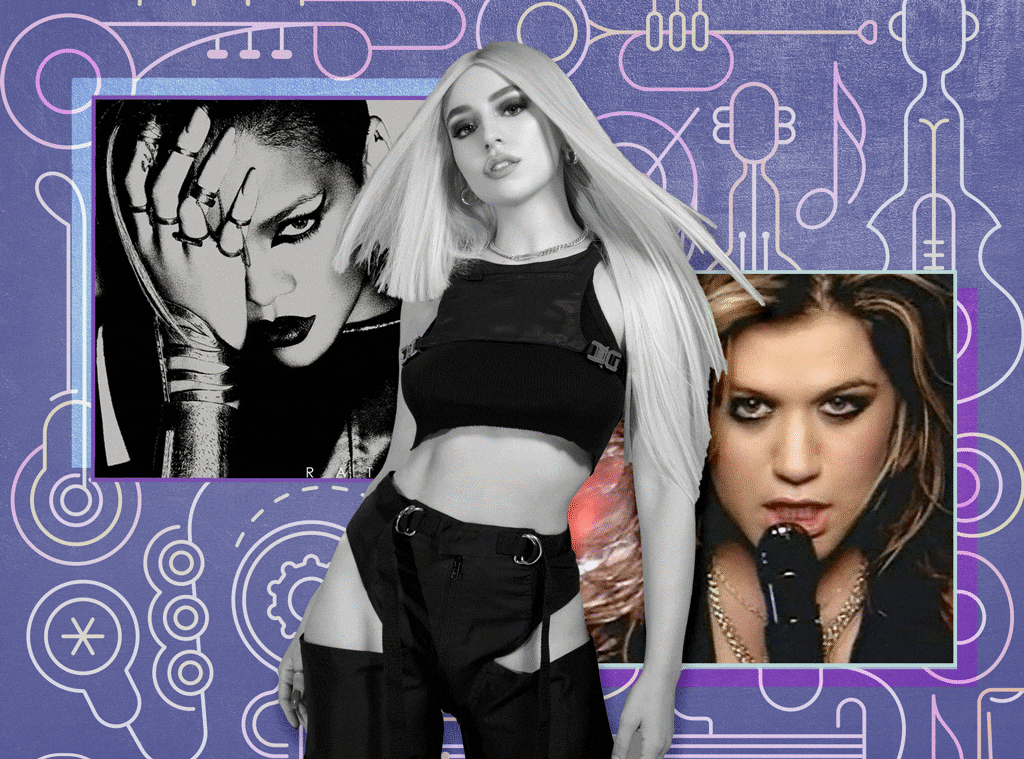 Charlotte Rutherford; E! Illustration
Ava Max has arrived.
Two years after the release of her breakthrough single "Sweet but Psycho," the Albanian American pop upstart with the asymmetrical hair cut has finally unleashed her debut album Heaven & Hell on fans. And over the course of 15 impeccably produced pop tracks, she proves it was well worth the wait.
Though thematically split in two, with Side A bringing a lighter energy before Side B gets a bit moodier, the album remains a cohesive piece. It's a startlingly self-assured introduction to an artist with a strong vision.
And while she's probably grown tired of hearing the comparisons to Lady Gaga that have followed her since her arrival on the scene, they're only bound to continue now that she's dropped a debut that rivals the superstar's The Fame in terms of the clarity of concept and the polish of execution. 
"Heaven & Hell represents light and dark, good and evil, and the devil and angel on your shoulder," Max said of the meaning behind the album in a statement announcing its release. "I'm discussing the dualities of the challenges we face each day. Some songs have darkness; other songs are more positive. Heaven & Hell is the middle ground."
Most importantly, though, the thing slaps.
In a love letter to the fandom that's helped her accumulate over four billion streams before an album was even out, Max wrote on Instagram, "Avatars, thank you for all the love you have shown me each step of the way. I am so proud of this album and hope it makes you realize how strong you are and to never stop being your true self. Love you...This is just the beginning."
In honor of Heaven & Hell's release on Sept. 18, E! News asked Max to pull back the curtain on the artists and albums that have influenced her throughout her life and career. From the song guaranteed to get her turned up to the album she turns to in times of need, this is the soundtrack to her life.
The song/album that reminds me of childhood: " I Wanna Dance with Somebody" by Whitney Houston. I sang that song at my first live show at The NorVa in Virginia.
The first album I remember buying: Britney Spears' ...Baby One More Time. I heard it and I fell in love with pop music!
The song/album people might not expect me to love: Collie Buddz. Reggae. It's such a feel-good mood. Any of his songs.
The song/album that makes me think of falling in love: Anything Frank Sinatra because of his magical lyrics!
The song/album I turn to when I'm at my lowest: Rihanna's Rated R, because [it] got me through some hard times in the past.
The song/album I hope I never hear again: You don't wanna know. LOL.
If I could only hear one song for the rest of my life, it would be: "Always Be My Baby" by Mariah Carey. She means the world to me, basically, and reminds me of growing up into the person I am today.
The song/album that's guaranteed to get me turned all the way up: "Wild Thoughts" [by DJ Khaled feat. Rihanna and Bryson Tiller]. It's a feeling of wanting to be rebellious, and the beat just hits.
The song/album I wish I wrote/recorded: "Since U Been Gone" by Kelly Clarkson. Strong anthem that'll live on forever.
My own song that I'll never get tired of performing: "Sweet But Psycho," because it brought me to my fans all over the world.
My own song that I'll be happy to retire: Not yet.
The song on my new project that I can't wait for fans to sing along with me on tour:  "OMG What's Happening." It's my favorite. 
Heaven & Hell is available now.