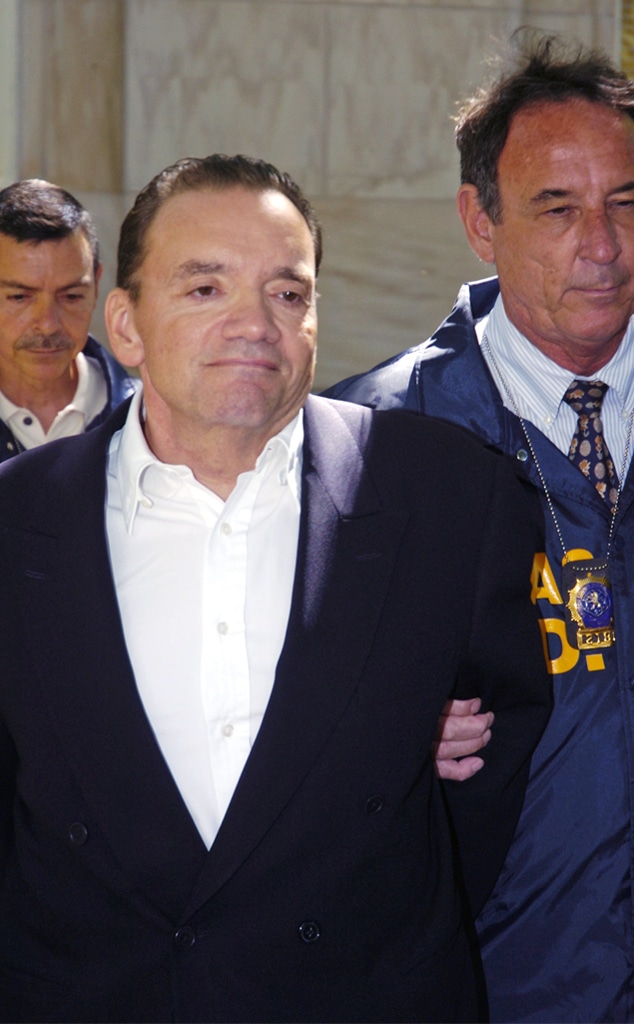 Willie Anderson/NY Daily News Archive via Getty Images
Reading about Frank Tassone's rise and fall as the superintendent of a Long Island school district sounds like something out of a movie, but the reality is that this story took place in 2004, years before one of his own students would write HBO's Emmy-nominated film Bad Education. 
Tassone's undoing began in the fall of 2002, when John McCormick, the son of then-assistant superintendent Pamela Gluckin, did a bit of shopping at a Home Depot 35 miles from the school district. According to The New York Times, McCormick had used a Roslyn School District credit card to purchase construction materials, which would be shipped to a home 50 miles outside of Roslyn.
The distance from the school district and the construction materials, combined with the credit card, was very suspicious for the Home Depot cashier, leading them to drop a tip to the school auditor.
And this Home Depot worker was right to question the actions of McCormick, as they would find out three years later when he was arrested and charged with fraud in 2005. McCormick was joined in jail by his mother, as well as his cousin, Debra Rigano, who both faced charges of grand larceny. 
The two years it took for prosecutors to press charges wasn't the investigators' fault though. It turns out they were unaware of the wrongdoings committed by the family members, because Tassone—and the school district auditor, Andrew Miller, to some extent—helped to cover up the thefts.
As several board members would later tell the NYT, Miller received the tip from the Home Depot cashier and investigated the claims. He then took his findings to Tassone, who presented the Roslyn school board with a choice: Report Gluckin and face immense public scrutiny, or let her quietly resign and pay back the $250,000 they suspected she owed.
They chose the latter.
At first, Tassone's motivations for pardoning Gluckin seemed to be that he wished to prevent a PR crisis—after all, Roslyn was applauded for its above average student performance and graduation rates—but two years later in February 2002 an anonymous letter sent to local politicians and newspapers would reveal that his true motivation was self-preservation. 
In said letter, the author, whose identity remains unknown to this day, detailed how Gluckin and Tassone managed to steal millions from the school district.
What's more is the author alleged that Tassone was the mastermind, not Gluckin, as the school board members previously assumed.
According to a 2004 article from New York Magazine, the letter read, "We believe that Dr. Frank Tassone participated in this embezzlement scandal so as to support HIS lavish lifestyle, with the help of Ms. Gluckin."
Unfortunately, Tassone was able to preemptively deny these accusations before they were publicized, having received the letter because of a mixup in the mailing process. The NY Magazine interviewed Roslyn staff members who recalled Tassone organizing a meeting where he told them, "There's this letter and none of it's true."
It wasn't enough to make the controversy go away, but it bought Tassone time. 
And, in a show of good faith, Tassone asked Miller to return and look over the books to account for all of the money, this time with the evidence from the letter to guide him. And just like that the sum of money stolen was increased, with Miller estimating that it wasn't just $250,000 Gluckin had stolen, but rather $1 million. 
Then, in March, a team of student journalists for The Hilltop Beacon, Roslyn High's school newspaper, would break the news of the school board's cover-up, beating major publications, including The New York Times, to the punch.
Tassone, still doing damage control, would write in a Roslyn newspaper column, according to NY Magazine, "If we had known then everything we know now, we would certainly have taken a different course of action."
Miller later called BS on Tassone's claims, citing the years of evidence he unearthed proving Tassone used the school district credit card to pay for trips to Las Vegas, London and more locations across the globe.
In addition, NY Magazine reported that Tassone had "billed the district for his Upper East Side rent, his Mercedes, even jewelry and skin treatments." 
Three months after the letter's publication, Miller, along with the school district's lawyers and more, were fired for allowing an embezzlement scheme of this magnitude to take place under their watch.
Additionally, Anthony Annunziato was named superintendent for business, the position that Gluckin previously occupied. 
It was Annunziato who discovered that Tassone paid a fake company named WordPower $800,000 for services rendered. And Tassone could've gotten away with it were it not for the fact that WordPower operated out of an address that matched that of Tassone's apartment.
Again, something didn't add up, prompting Annunziato to confront Tassone, who essentially admitted to wrongdoing by stating, "We have to figure out how we're going to spin this."
That was the final nail in the coffin for Tassone. He was asked to resign from the position that once brought him, and the school district itself, praise.
From that point on, all was laid bare.  
Karen Wiles Stabile/Newsday via Getty Images
Prosecutors would later reveal that Tassone, Gluckin and a string of their friends and family were responsible for embezzling $11 million from the school district by using subtle and frankly smart tactics. One such tactic was handing out 74 unauthorized school credit cards, the NYT reported, because if everyone's in on it then who will tell? 
WordPower CEO Stephen Signorelli was also charged in the scheme, seeing as WordPower wasn't a legitimate business and he'd been using the funds to afford the Upper East Side apartment he shared with Tassone.
And it was once the case began that Tassone and Signorelli were revealed to be a romantic couple. In a 2005 affidavit obtained by The Los Angeles Times, Signorelli claimed that he and Tassone were "loving partners for 33 years" and were registered as domestic partners in New York City (gay marriage wasn't legal at the time). 
Many who knew the ever-single Tassone claimed they assumed he was gay, but didn't voice their belief. As a former Roslyn employee told NY Magazine, "This is a very socially advanced community, very liberal... It's like it wouldn't have been cool even to bring it up."
In the end, Tassone, Gluckin, McCormick, Signorelli, Miller and others pleaded guilty to the charges of theft. All of them are out on bail now, having served a short amount of time in prison.
Now, all of this was more or less accurately depicted in former Roslyn school attendee Mike Makowsky's script, which was brought to life by director Cory Finley for HBO. 
Watch:
Ryan Reynolds & Hugh Jackman Pause Feud For a Great Cause
However, Mike changed a few key aspects of the story, because, let's face it, this is too much to pack into an hour and a half long movie.
In Makowsky's interpretation of the events, the team of student journalists was boiled down to just one character named Rachel (Geraldine Viswanathan), who they partially based on the article's author, Rebekah Rombom. In an interview with The Island Now, Rombom said of the differences between her and the Bad Education star, "Rachel does a little more investigative reporting than I did."
As for Tassone and Gluckin, Hugh Jackman and Allison Janney, respectively, did an excellent job portraying the convicted fraudsters. Jackman's sleek looks are not far off from how parents and educators described Tassone, while Janney perfectly pulled off the role of the friend scorned.
Besides the student journalist, the only glaring difference between Makowsky's version of events and history's is that Tassone's lover from Las Vegas wasn't one of his students. Nope, New York Magazine claimed that character was based on Jason Daugherty, an exotic dancer who Tassone shared a home with in Las Vegas. And yes, that house was also purchased with Roslyn's funds. 
With Bad Education, it turns out the truth really is stranger than fiction.