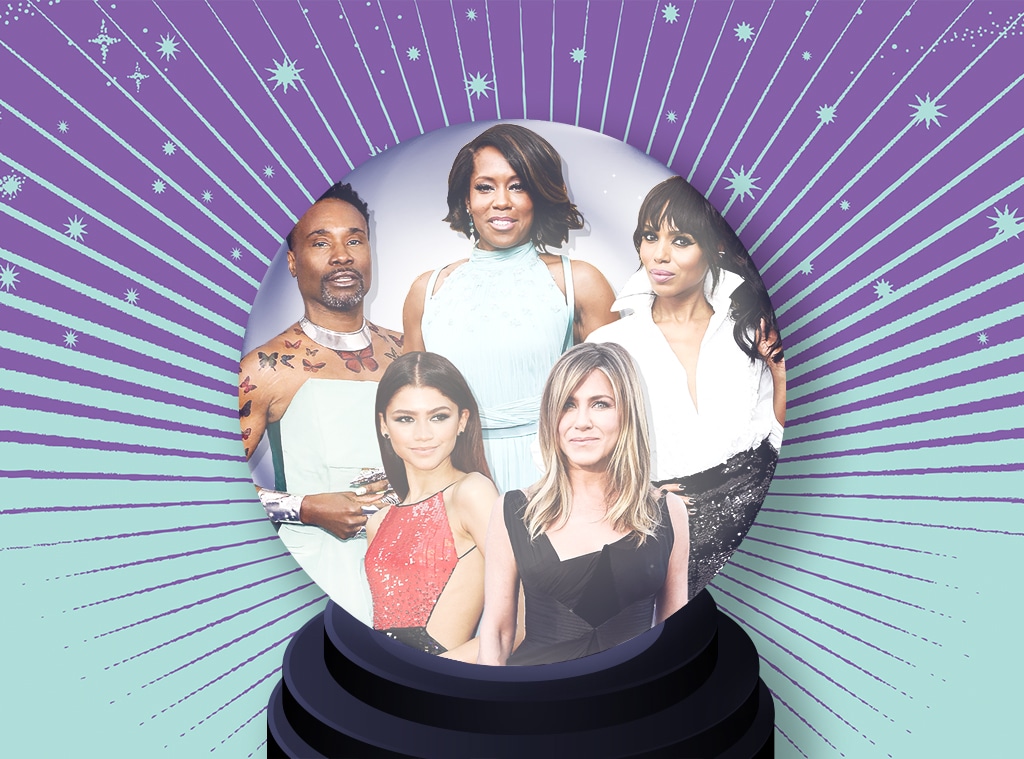 Alex Alonzo/E! Illustration/Getty Images
They say patience is a virtue. Whoever they are. But, well, if you're anything like us, waiting just might not be your thing.
Since the Emmy nominations were announced in July, we've been anxiously sitting here, twiddling our thumbs, wondering if Zendaya will nab her very first trophy or if Watchmen really will sweep. And yes, while we're so close to tonight's award show, it still feels out of reach.
So, rather than continuing to wait it out, we turned to an expert: Mystic and tarot card reader to the stars Angie Banicki, whose clients include Gwyneth Paltrow, Lea Michele, Emma Roberts and pretty much any celeb with a curious mind.
Though little is known about how the virtual show will actually go down, Angie predicts it won't be the total disaster many are bracing for. "It's not going to be perfect," she admits, "but there is a strong foundation. The card I pulled says, 'Cut a vital connection,' which makes me think there is going to be some connection loss there. But overall, I get a really positive read."
Expect to see host Jimmy Kimmel nail his job as emcee—"He's going to be really happy with his performance," she raves—and stars, live from their couches, coming across as delightfully relatable: "This is going to change how they are going to do the Emmys forever, which isn't surprising."
What will be surprising? It seems like Schitt's Creek will be completely snubbed, Angie says. But star Dan Levy may find a victory in his future. As she reveals, "I see him winning a Golden Globe."
What else in the forecast? Scroll on for more predictions ahead of TV's biggest night.
Outstanding Lead Actress in a Comedy Series
Nominees: Christina Applegate, Rachel Brosnahan, Linda Cardellini, Catherine O'Hara, Issa Rae, Tracee Ellis Ross
Angie's Prediction: This seems to be an obvious one. "The cards say the winner has a greater purpose than just being an actress," she reveals. "She is changing humanity and here like an angel on earth." Read: superstar Tracee.
Outstanding Lead Actor in a Comedy Series
Nominees: Anthony Anderson, Don Cheadle, Ted Danson, Michael Douglas, Eugene Levy, Ramy Youssef
Angie's Prediction: From what she sees, whoever takes home this trophy is "really about to show us how they are stepping into stardom in a huge way." So who could that be? Her cards point to Eugene and Ramy, with the accolade ultimately going to the newcomer. "He is the youngest on here," she adds, "which makes sense why the cards show his stardom is about to explode."
Outstanding Comedy Series
Nominees: Curb Your Enthusiasm, Dead to Me, The Good Place, Insecure, The Kominsky Method, The Marvelous Mrs. Maisel, Schitt's Creek, What We Do in the Shadows
Angie's Prediction: Feeling "great Emmy juju" for HBO, she's seeing a close call between the network's Curb and Insecure. "Curb was highly considered because of the comeback," she says. "But ultimately, Issa [Rae] steals the Emmy with Insecure. I see female power here."
Outstanding Lead Actress in a Drama Series
Nominees: Jennifer Aniston, Olivia Colman, Jodie Comer, Laura Linney, Sandra Oh, Zendaya
Angie's Prediction: While the cards see praise for Zendaya's role on Euphoria, this year, unfortunately, isn't her time. And though there seems to be a lot of promise around Sandra and Killing Eve, Angie says Jen and The Morning Show will come out on top. "There will be a lot of emotion," she admits. "It seems like she feels the show is family and creatively bringing her back to that."
Outstanding Lead Actor in a Drama Series
Nominees: Jason Bateman, Sterling K. Brown, Steve Carell, Brian Cox, Billy Porter, Jeremy Strong
Angie's Prediction: This win, according to Angie, will come as a surprise to Steve, who she says will take home the statue for The Morning Show. (Succession's Brian is a close second.) Still, she notes Billy's work on Pose will still be the most talked about performance.
Outstanding Drama Series
Nominees: Better Call Saul, The Crown, The Handmaid's Tale, Killing Eve, The Mandalorian, Ozark, Stranger Things, Succession
Angie's Prediction: Let's hear it for Baby Yoda. While Angie has her fingers crossed for Succession—she calls it a close second—it seems like the Disney+ hit is taking home the trophy. But don't count out Better Call Saul. She predicts the AMC series will win in other categories.
Outstanding Lead Actress in a Limited Series of Movie
Nominees: Cate Blanchett, Shira Haas, Regina King, Octavia Spencer, Kerry Washington
Angie's Prediction: Regina for Watchmen is, as she raves, "just a hard yes, yes, yes."
Outstanding Lead Actor in a Limited Series of Movie
Nominees: Jeremy Irons, Hugh Jackman, Paul Mescal, Jeremy Pope, Mark Ruffalo
Angie's Prediction: All signs point to Normal People's Paul, whose mom may very well be on hand to help him celebrate. As Angie says, "I keep getting that there is something about the woman behind the man here." Coming in as a close second: Mark for his role on HBO's I Know This Much Is True.
Outstanding Limited Series
Nominees: Little Fires Everywhere, Mrs. America, Unbelievable, Unorthodox, Watchmen
Angie's Prediction: "The cards wanted something with purpose to win—and with powerful duos," she explains. "That powerful duo is Alan Moore and Dave Gibbons, who wrote the novel that the Watchmen series is based on."
So there you have it. Now you can fill out those office ballots—and remember to cut us in when you win big.
This story was originally published on Friday, September 18, 2020 at 5:30 a.m. PT.