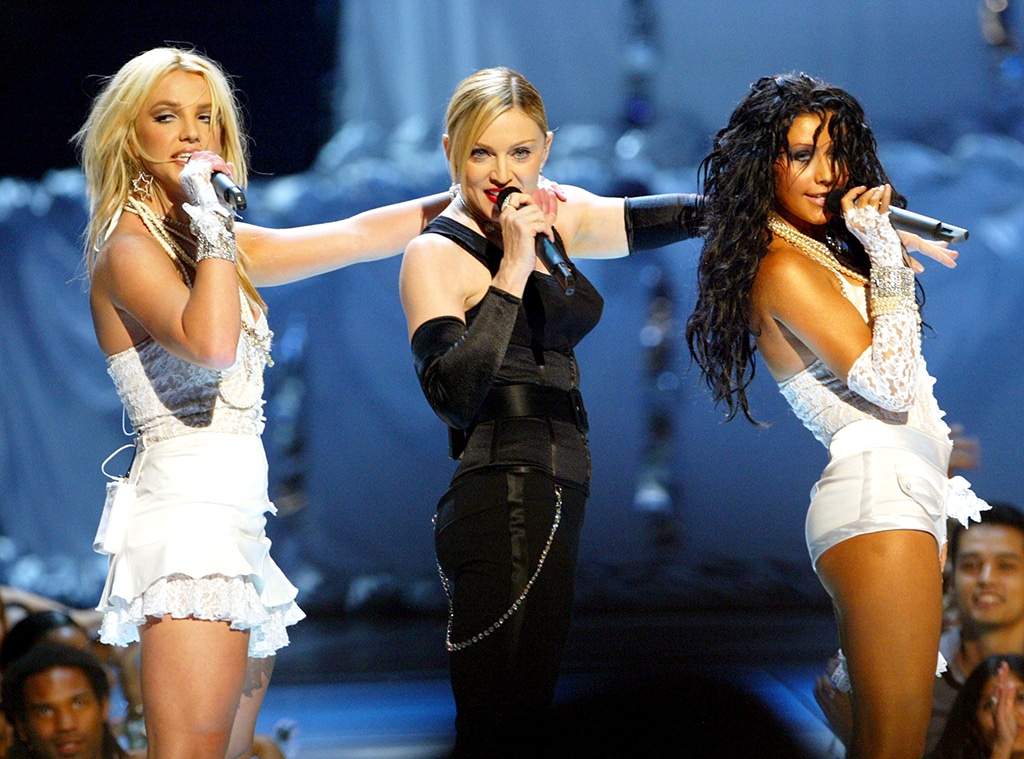 WireImage
Christina Aguilera is taking a trip down memory lane. 
During a conversation with Apple Music's Zane Lowe, the "Genie in a Bottle" singer reflected on her greatest moments in pop culture, namely, her iconic performance at the 2003 MTV Video Music Awards with Madonna and Britney Spears. Yes, Madge and Brit's kiss stole the show that night, but Xtina was also there. 
Back in 2018, Christina said she felt "left out" out of the media firestorm that erupted after the pop princesses locked lips, but nowadays she doesn't see the moment as all that groundbreaking.
"Shock value gets more and more extreme or whatever," Christina told Lowe. "But honestly, at the time, yeah, I never thought anything of it. It was like, 'Okay, it's two girls kissing.' It wasn't shocking back then. It's not shocking now, to me. But it's so many things." 
Christina also noted Madonna's strong impact on her own musical career.
"Madonna, first of all, the queen of reinventing herself, was a huge inspiration," she explained. "When I was little, I was not allowed to listen to her or watch her videos or anything. It was just like a no-no, but then whenever you grow up, and I discovered her catalog and her videos and the fact that she had such a message."
Watch:
Christina Aguilera Explains "Deep Meaning" of "Reflection"
Thanks to a new era of bops, the pop star has reawakened her OG fans and picked up some new ones along the way. It's this moment in her career that Christina said has helped her to rediscover her passion for music.
On the topic of getting back into the studio, Christina shared, "I think what's interesting is that, again, being re-inspired by my fans, yes, so that was a part of touring, being for the fans, listening to what they gravitated towards. I mean, it's music every single night. Every single night, you're playing music, and I don't just play my music. I reinvent the old songs. I put different spins on them, different twists, even what I'm inspired by as artists."