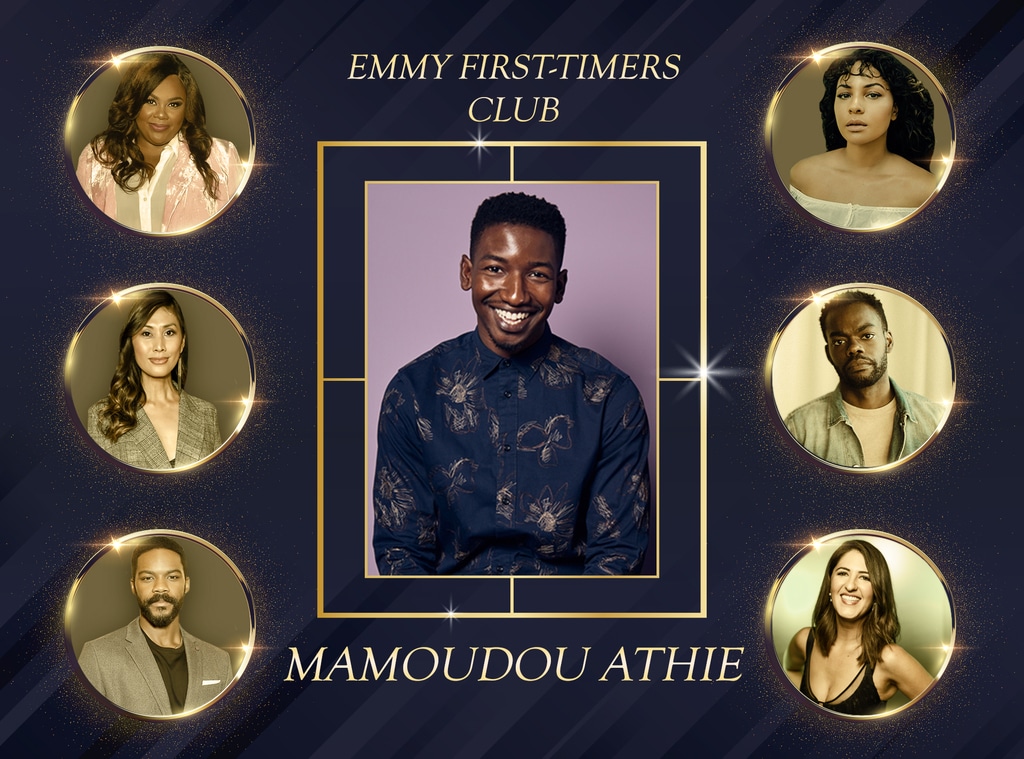 Getty Images; Melissa Herwitt/E! Illustration
You never forget your first. For a lucky handful of TV personalities, that time is now. Get to know the names behind the nominations with Emmy First-Timers Club, E! News' weeklong celebration of newcomers with nods in some of the biggest categories!
The path to Mamoudou Athie's Emmy nomination is a unique one.
Nominated in the Outstanding Actor in a Short Form Comedy or Drama Series category at the 2020 Primetime Emmy Awards, the actor is being recognized for his work in Oh No, Jerome, which aired as a recurring segment in the first season of FXX's hybrid live-action/animated anthology series Cake. And though the project unfurled on TV in the fall of 2019, Athie's performance as the titular Jerome—an overly sensitive young man caught in a comical and, at times, bizarre quest for love in the Big Apple—began much earlier.
The Yale School of Drama grad was approached by filmmakers Teddy Blanks and Alex Karpovsky just as his career was getting started, asking if he'd like to be involved in what was then just a one-off short film. "I was a little confused," Athie told Deadline in August, "because I don't think I had anything out, outside of the Get Down trailer, which I'm in like two seconds of."
With no expectation of returning to the character once the weekend of shooting was finished, Athie was surprised yet again when the writer/director duo reached back out to him and shared the news that FXX wanted to not only include the short in Cake, but expand on it with an order of eight additional episodes. 
"I couldn't believe it, but it was just one of those fortuitous things that happens, when you sign on to something for the love of it," Athie said. "It was a weird and fun experience, let me tell you."
No doubt made even more fun when it was rewarded with an Emmy nod. 
While we await the outcome of Athie's category—which will be revealed during night four of the 2020 Creative Arts Emmys on Thursday, Sept. 17—get to know the actor a bit better with his responses to our Emmy First-Timers Club questionnaire, sent straight from the set of his high-profile next project, Jurassic World: Dominion!
Tommaso Boddi/Getty Images for IMDb
Whose performances inspired you to become an actor?
Different stages in my life, but Denzel [Washington] initially, and then my classmates Gabriel Levey, Mickey Theis and my pal Kareem Lucas.
What was the last non-acting job you held? 
Cater waiter. People are crazy. 
What TV show other than your own have you never missed an episode of?
Cowboy Bebop, only 26 episodes. A wonderful blend of western, noir, futurism, and, all the while, gives you that fuzzy nostalgic feeling. Melancholic yet hilarious. Incredible director, Shinichiro Watanabe. I'll watch everything he's involved in.
The TV show based on my life would be called:
I'll Do It Anyway.
When was the first time, if ever, you remember seeing yourself represented on TV?
I can't specifically remember, but the first person who comes to mind is Andre Braugher.
What do you want to see more of on TV?
Consciousness. Because, the world.
What was the first thought that passed through your mind when you learned you were nominated?
"Wait, what? Excuse me? Yessssss."
How did you celebrate your nomination?
I called my family and friends, ate well, played some games, and stayed inside! Also a prayer of thanks for a little happy in the maelstrom of true insanity these past few years have been.
Where will you put your Emmy if you win?
I'll give it to my parents, they've earned it. That's besides the fact I'm in London and moved out of my last apartment so I've literally no place to put it.
To find out if Athie's parents are poised to receive some exciting new bling, be sure to tune in to night four of the 2020 Primetime Creative Arts Emmy Awards when they stream live on Thursday, Sept. 17 at Emmys.com.
For more from the Emmy First-Timers Club, check out responses from Nicole Byer and Rain Valdez—and be sure to check back with E! News every day through Emmy Sunday on Sept. 20!