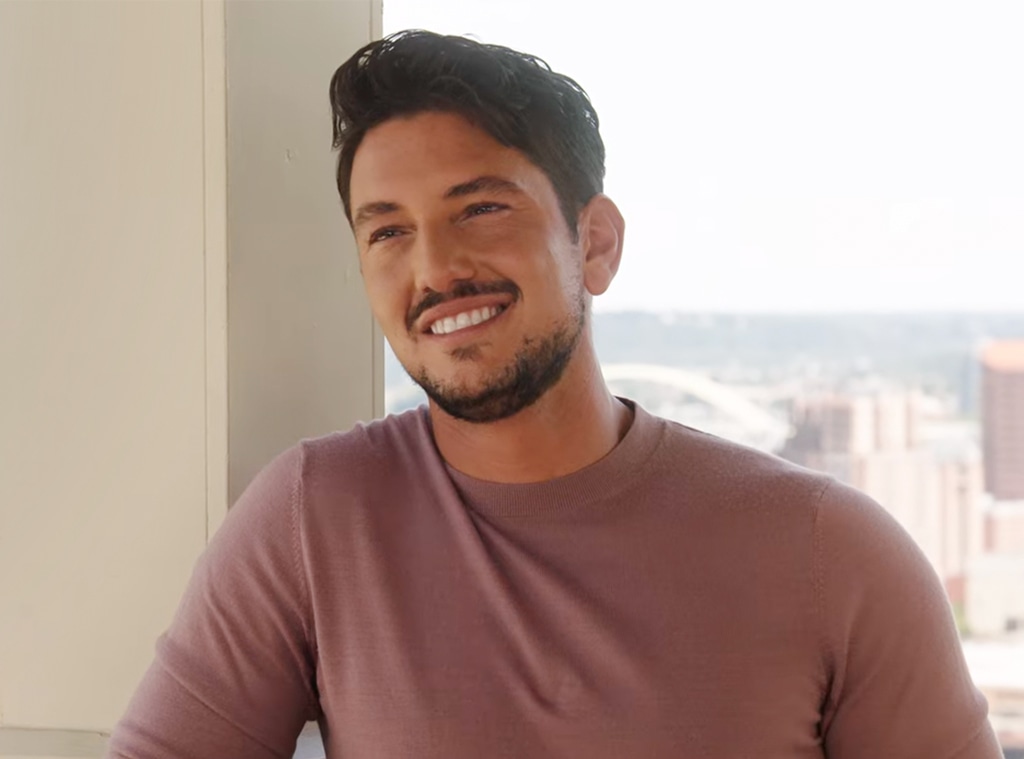 Netflix
Cooking often means making the most of the produce you have available. And one knows that better than Gabriele Bertaccini, celebrity chef and one-third of Netflix's Say I Do's terrific trio.
 
"Since I was a kid, my Italian summer meals were dictated by the seasonality of the fruits and vegetables that my grandmother's orto–her garden–would give birth to," the 34-year-old, who was born and raised in Florence, Italy, explained to E! News. "Since the beginning of my early years in the kitchen, my philosophy hasn't changed: pristine ingredients and simple execution. So whatever occasion brings you behind the stove, remember that keeping things as simple as possible is the key to any successful dish."
Here, Bertaccini—he's been cooking since he was 13—shared three staple recipes that are guaranteed to brighten up your plate all year long. Scroll ahead to see what he recommends you start cooking up to make summer last forever.
Ricotta and Spinach Fiorentina Gnocchi
Serves: 4
"One of my childhood favorites," he said. "My mother prepared this every Sunday for family gatherings. Also called Gnudi alla Fiorentina, my clients love this dish."
 
Ingredients:
1 cup spinach
1 1⁄2 cups ricotta cheese
1 shallot, finely chopped
1⁄4 cup flour
3 egg yolks
1/8 cup parmesan cheese
3⁄4 cups red tomatoes, peeled and finely cut
1 yellow onion, chopped
Basil leaves
2 garlic cloves, chopped
6 tbsp. butter
Extra virgin olive oil
Nutmeg powder, to taste
Salt and pepper, to taste
What to do:
Finely chop up onion and garlic and brown in a saucepan with extra virgin olive oil. Add in the tomatoes, previously peeled and finely cut; add the basil and cook for 40 minutes.
Finely chop the shallot and lightly brown in a pan with oil. Add the spinach, which should have been boiled then cooled down in water and ice, squeezed, and finely chopped with a knife. 
Turn off the stove. Add the ricotta cheese, which will have previously been dried up in the oven at 110 degrees for one and a half hours. Add the egg yolks, flour and parmesan. Season with nutmeg, salt, and pepper. Mix. Prepare small gnocchi balls with the mixture. 
Fill a saucepan with water. Add salt and bring to the boil. Cook the gnocchi for three minutes, drain and place them in a pan with melted butter. To serve, place the tomato sauce gently on the plate and add the gnocchi.
Charred Radicchio Bread Panzanella Salad
Serves: 4
"In Italy, we never throw anything away, let alone bread," explained Bertaccini. "Stale loafs are kept aside and used in many different dishes including a Tuscan favorite: Panzanella. This bread salad could be your main course or maybe just an opening for a two-course lunch. Simple, versatile and meant to be prepared in front of your guests with ease. Pour yourself a glass of rose and you're set."
Ingredients:
6 oz. country-style bread, torn into bite-size pieces (about 4 cups)
1 tablespoon finely grated lemon zest
1⁄2 cup olive oil, divided
Kosher salt and freshly ground black pepper
1 small shallot, finely chopped
2 tablespoons fresh lemon juice
2 tablespoons red wine vinegar
1 tablespoon chopped fresh oregano
1 small head radicchio, cut in wedges and quickly charred in a hot skillet
1 small fennel bulb, thinly sliced
1 cup fresh flat-leaf parsley leaves with tender stems
1⁄2 cup green olives, pitted, halved
3 oz. aged sheep's-milk cheese (such as Manchego), shaved 3 oz.
Hard salami, thinly sliced
What to do:
Preheat oven to 400 degrees. Toss bread with lemon zest and 1⁄4 cup oil on a rimmed baking sheet. Season with salt and pepper. Bake for 8-10 minutes, tossing occasionally, until crisp on the outside but still chewy in the center. Let cool.
Whisk shallot, lemon juice, vinegar and oregano in a large bowl. Season with salt and pepper. Whisk in remaining 1⁄4 cup oil.
Add charred radicchio, fennel, parsley, olives, cheese, salami and bread to dressing. Toss to combine.
Tip: Salad can be dressed the night before. Cover and chill. 
Budino Alla Polenta Con Marmmelata (Polenta Custard with Marmalade)
Serves: 8
"There is nothing more simply indulgent than eating this very light dessert," he raved. "A staple for intimate, fun and casual dinner parties with our clients."
Ingredients:
Polenta
1⁄2 cup coarse-grind polenta
1⁄3 cup granulated sugar
1⁄4 cup (packed) dark brown sugar
1⁄4 teaspoon kosher salt
1 tablespoon unsalted butter
1 large egg yolk
1⁄4 cup heavy cream
Marmellata and Assembly
3⁄4 cup granulated sugar
1 tablespoon fresh lemon juice
1⁄4 teaspoon kosher salt
4 ripe plums, cut into 1⁄2-inch pieces
1 pint vanilla ice cream
What to do:
Polenta:
Bring 2 cups water to a boil in a medium saucepan. Whisking constantly, gradually add polenta. Whisk until smooth. Reduce heat to low and cook polenta for three minutes, whisking and breaking up any lumps, until thickened. Whisk in granulated sugar, brown sugar, and salt (mixture will loosen) and cook for 20-25 minutes, whisking often until mixture thickens again and polenta is tender. Remove from heat and whisk in butter.
Whisk egg yolk and cream in a small bowl to combine then vigorously whisk into polenta. Transfer mixture to a large bowl and cover with plastic wrap, pressing directly onto surface. Let cool.
Marmellata:
Bring sugar, lemon juice, salt, and half of the plums to a simmer in a medium saucepan over medium heat and cook for 10-15 mintues, stirring occasionally, until mixture is thickened and some of the fruit is starting to fall apart.
 
Mix half of the remaining plums into marmellata and cook for five minutes, stirring occasionally, until softened but still holding their shape. Remove from heat and mix in remaining plums. Cover marmellata and let cool. 
Stir polenta to loosen and smooth out any lumps. Spoon into bowls and top each serving with some marmellata and a scoop of vanilla ice cream.