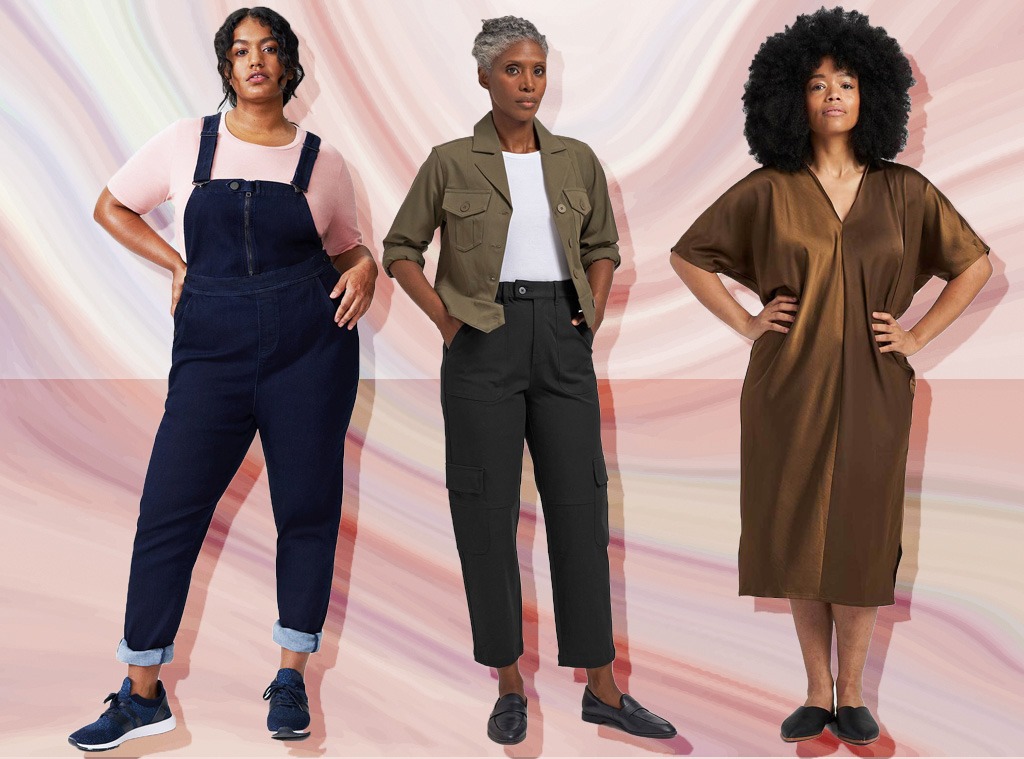 E! Illustration
We love these products, and we hope you do too. E! has affiliate relationships, so we may get a small share of the revenue from your purchases. Items are sold by the retailer, not E!.
Bored of your wardrobe, but don't want to contribute to the churn-and-burn consumption cycle of the fashion industry? Universal Standard has a solution for you: take part in their Reset Recycle Refresh program, and you'll get shoppable credit for recycling your old clothes!
"It all started when several members of our team spent a weekend cleaning out their closets and realized it wasn't as easy to donate or recycle the clothing because of the pandemic," says Alex Waldman, co-founder of Universal Standard. "At the same time, we wanted to help customers refresh their wardrobes with clothing that lasts so that they wouldn't have to get rid of items as regularly. But right now, we know that for so many there are also financial barriers to building a wardrobe of elevated essentials and we want to help them in ways that we could."
Here's how it works: all you have to do is buy a recycling bag from Universal Standard for just $4.50, and tell them how many items you're looking to recycle (each bag fits up to four items). Then, put your recyclables in the pre-paid, pre-labeled bag and send it via UPS to Marimole, a company specialized in recycling textile waste. Once they get it, you'll get a $25 credit per recycled item that you can then spend at Universal Standard!
But Waldman doesn't necessarily think of the program as an alternative to donating clothes. Instead, think of it as an additional thing you can do to make use of the clothes you don't want or need anymore. "They're both great ways to prevent clothing from going into a landfill and contributing to our big problem of textile waste," Waldman says. "We're also in full support of donating clothes that are still in great condition to charity and we do it through a separate program. We use high-quality fabrics, so our clothing is able to have a second and even third life. When customers return pieces through our Fit Liberty program, they're donated to organizations like Dress for Success and First Step, that empower women and help them get back on their feet."
If you're not familiar with the brand, this is totally in line with their grand master plan to democratize accessibility to high quality clothing and dismantle unfair bias in the fashion industry. Not only will it help you shop smarter by recycling your old clothes, but then you can take advantage of the brand's size-inclusive offerings ranging from 00 to 40, with timeless pieces like satin tops that transition from day to night, denim overalls that are flattering and functional, and va-va-voom vegan leather pencil skirts.
Waldman says the program will run until January of 2021, but if it's successful, the program may be extended. "It's really shedding light on the fact that making the choice to select clothes that will last can really help reduce textile waste," she shares. "With this program, we're enabling people to do just that."
Ready to recycle your old duds? Buy your recycling envelope from Universal Standard, then shop some of our fave styles from the brand below!
Alice Satin Boatneck Top and Diane Satin Midi Bias Skirt
With a slightly oversized top and a slightly stretchy skirt, this beautiful blue duo (which also comes in black) is begging to be a part of your wardrobe. The top is low shine with an angled sleeve and side slits, while the skirt is supremely luxe with a lovely drape and a hidden elastic waistband for an easy fit. Together, they're perfect whether you dress up or down. And of course, you can wear the pieces separately.
Olivia Denim Overalls
Whether you choose these classic overalls in this dark indigo blue or not-so-basic black, these overalls will undoubtedly become your all-season go-to outfit. They're slim fit with a front zipper and silver hardware button closures, and have adjustable straps so you can make room for the girls. And the denim is super soft and stretchy, ensuring a perfect fit.
Ashley Cap Sleeve Tee
Having basic t-shirts on hand is a wardrobe must, but they don't always have to be black or white. Why not a pretty forest green, like this tee? It's super soft and sports a capped sleeve, made of a premium Pima cotton blend that's breathable and comfortable whether you wear it dressy or casual. We love to wear ours with our favorite pair of jeans.
Sonya Satin V Neck Dress
Need a dress for those days when you just want to throw on and go? Et voila! It's light and comfy, with a little stretch and a nice breezy v-cut neckline. And it's cut to move with you everywhere you go, whether that's out on a coffee run, or out for a socially-distant dinner. Grab it in this caramel shade, or classic black.
Karlee Stretch Cotton Twill Cargo Pants
Universal Standard just launched a new line of twill goodies for fall, with mix and match pieces that transcend the season. We love these cargo pants for that reason. They're as fashionable as they are functional, with patch cargo front pockets and welt back pockets, all made of the brand's soft and stretchy twill to ensure you're totally comfortable from the moment you slip them on.
Chelsea Stretch Cotton Twill Jacket
And of course you should get the jacket to match. It's also made of the brand's soft and stretchy premium twill, but it's also anti-crease and wrinkle resistant, so it'll withstand whatever activities you have to throw at it... and look good doing so. Plus, it also has button-cuff sleeves and cuts in at the hip, so you get a slightly cropped look.
Geneva V-Neck Dress
But if you only buy one dress from Universal Standard, we highly recommend this one. It's totally effortless and definitely in that throw-on-and-go realm, but it's more of a t-shirt style with a narrow v-neck and asymmetrical hem. It's super comfortable thanks to a Peruvian cotton blend, and comes in a variety of colors to suit your particular palate. And did we mention it's pill-resistant? Yeah, it's awesome.
Peyton Poplin Shirt Dress
Classic shirt dresses never go out of style, which is why this one belongs in your closet. The button detailing gives way to a subtle opening just below the knee, while the fabric offers a little stretch and hidden snaps hold the chest buttons closed (no awkward gaping... yay!). Pair it with cute kicks for a comfortable, casual look.
Sillaro Vegan Leather Pencil Skirt
Recall the fashions of time gone by, but with an ethical bent, thanks to this vegan leather pencil skirt. Sleek, sexy and sophisticated, it's soft to the touch and has a little stretch, but doesn't deviate from the classic pencil silhouette, so it also expertly hugs your curves. We love to wear ours with a flouncy button-down bow-neck blouse.