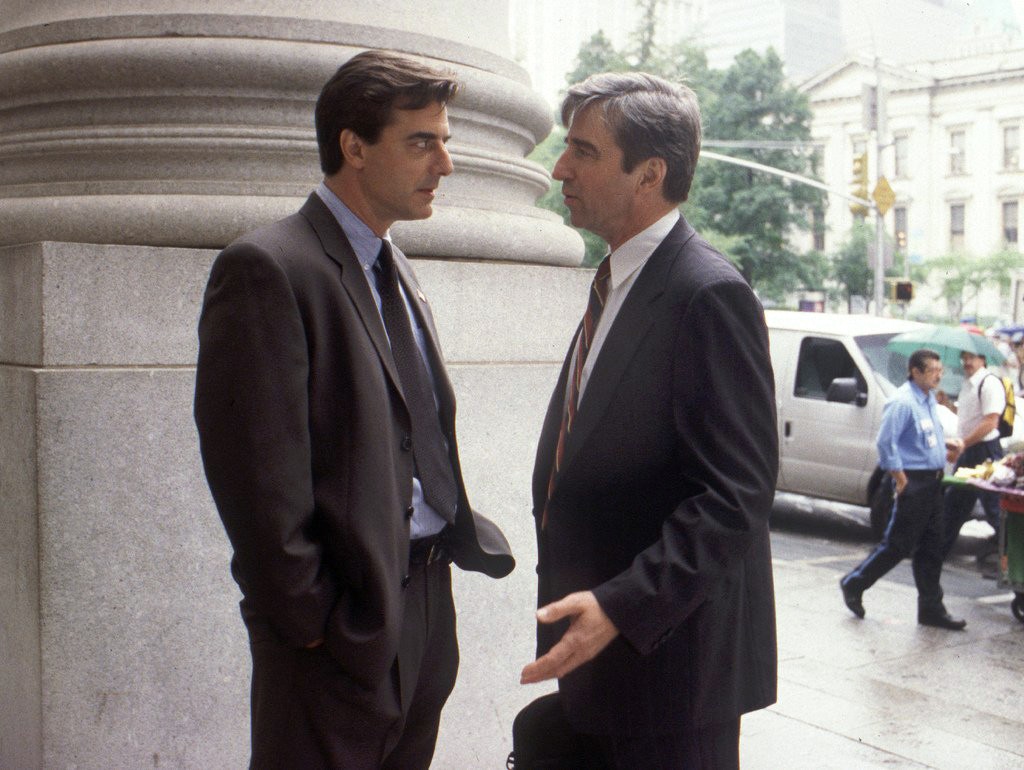 NBC
Chung-chung.
There are many takes on the spelling of the signature noise that accompanies the jump from scene to scene in an episode of Law & Order. Original series star Dann Florek, for instance, dubbed it the "doink doink." What isn't in dispute is that the unmistakable clanging, which evokes the slamming of a jail cell door, the justice system at work, is recognizable anywhere thanks to the NBC show, which over the course of 20 seasons steadily became part of the soundtrack of our lives, prolific in references and immortal in reruns.
Psychologists have delved into it at length, so don't worry, there's nothing weird about the fact that Law & Order—with all the murder and people doing bad things to each other, and not even always being punished for it because the law doesn't always win—is considered comfort TV, a show that's somehow perfect to watch while you're doing the dishes or before bed. Or, you know, just leave one of the many marathons on and go about your day.
Earlier this year, Law & Order: SVU was renewed through its 24th season to become the record-smashing crown jewel of the Dick Wolf empire. But while SVU has its own vibe and its own set of devoted fans who swear by the travails of Mariska Hargitay's Olivia Benson to rock them to sleep at night, in our opinion Law & Order remains the more bingeable drama of the two, its crimes a little less heinous, the energy a little peppier and the formula just that much more reliable. (Though if you like your detectives especially quirky, may we direct you to the 10 seasons of Law & Order: Criminal Intent.)
Watch:
Mariska Hargitay Reflects on 20 Years of "Law & Order: SVU"
Testament to its longevity, Law & Order premiered 30 years ago today and is airing somewhere right now. But before it was a spin-off-spawning juggernaut and cultural touchstone...
It was just a show. A struggling one-hour drama that multiple networks had passed on, that even NBC wasn't dying to give a pick-up to after 13 episodes. So we've investigated how Law & Order went from being just another cop show to the genre-defining prime-time fixture it became. These are its stories:
"I think it's the writing, really," S. Epatha Merkerson said, musing on the true reason for the series' marathon run, supplemented by actual marathons, on Today in 2015. "The scripts were always so incredibly well-written and also people had an investment because they were taken from the headlines, so you already knew the story but what you watched for was how the twist would happen at the end."
And yes, at the time Wolf wished the flagship series was still chugging along, since the world hadn't exactly run out of the fuel that fired Law & Order's stories.
Asked if he could revive anything he had previously worked on, he told The Hollywood Reporter in 2015, "Oh, I'd bring back Law & Order. Everybody who knows me knows it's something I want to do. My only regret looking backward is all the great stories that we haven't been able to do for the past five years. It feels like there's something every day. I would have loved us to have found a way to do [the private military company] Blackwater. And then [Robert] Durst, obviously."
But at least there was plenty of fodder for his—and so many people's—nightly ritual.
"I'll watch anything, but there's little I'm addicted to except for [The Tonight Show Starring] Jimmy Fallon," he said. "That's must-watch for me. And then I usually go to USA or TNT and fall asleep to Law & Order."
Law & Order seasons 13 through 20 are currently streaming on Peacock.
(E!, NBC and Peacock are all members of the NBCUniversal family.)