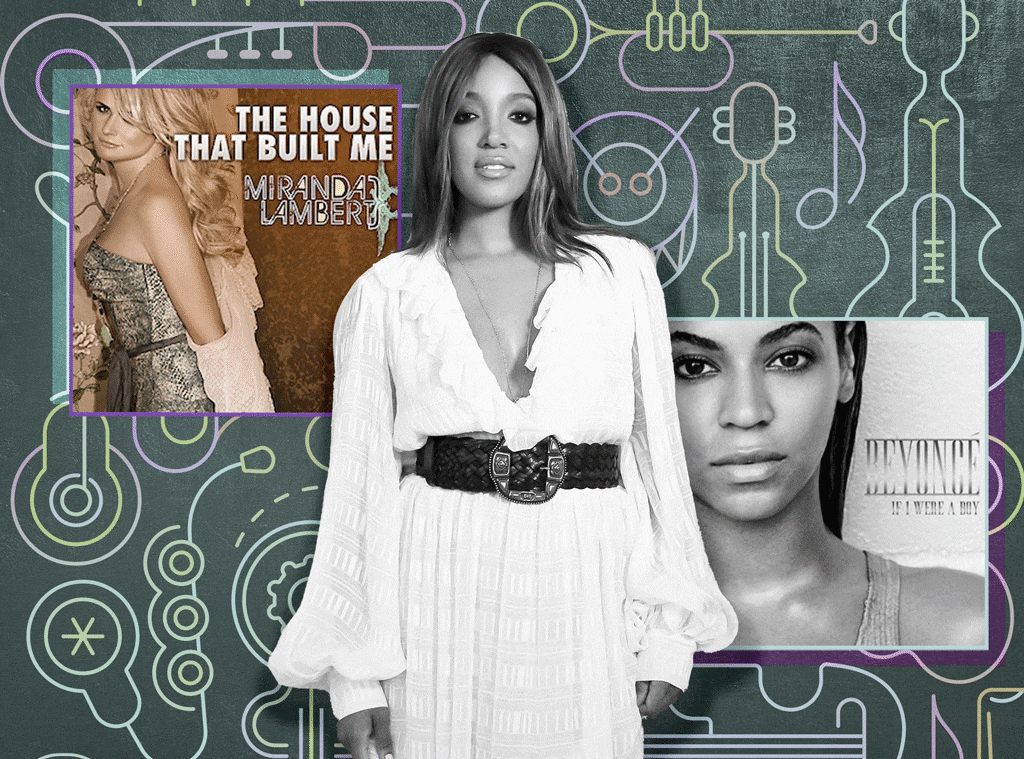 Phylicia J.L. Munn; E! Illustration
Mickey Guyton is breaking through.
Following a string of impressively and achingly intimate singles that included "What Are You Gonna Tell Her?" and "Black Like Me," the country singer has returned to the scene with Bridges, her first EP in five years. The six-song collection, all co-written by the artist herself, more than lives up to the songs that preceded it. Quiet in some places, yet forceful in others, and all centered on her expressive and practically crystalline vocals, Bridges is the perfect reintroduction to the sole Black woman signed to a major country label.
"This EP proves that in your darkest moments, you can have your biggest breakthroughs," Guyton said in a press release when the project was announced. "I think back to all of the obstacles in my life and career, including writing and recording most of this EP in quarantine during a time of social unrest, and how it has all led to the birth of this beautiful project. I hope these songs provide others with the same happiness and strength they have provided me in these uncertain times."
In honor of Bridges' release on Sept. 11, E! News asked Guyton to pull back the curtain on the artists and albums that have influenced her throughout her life and career. From the song guaranteed to get her turned up to the ones she turns to in times of need, this is the soundtrack to her life.
Capitol Records Nashville
The song/album that reminds me of childhood: "The House That Built Me" by Miranda Lambert.
The first album I remember buying: I think the first CD I ever bought was Monica's Miss Thang. I just loved her. Seriously, who didn't love Monica back in the day?
The song/album people might not expect me to love: I love "My December" by Linkin Park. I just loved the way the song made me feel whenever I listened to it the first time. 
The song/album that makes me think of falling in love: "Dreaming Of You" [by Selena]. That song just really gets me in my feels. 
The song/album I turn to when I'm at my lowest: That's a tough one. There are so many songs that I wanna hear when I'm in pain. Bonnie Raitt's "I Can't Make You Love Me" is a gut punch for sure. It definitely helps get the tears out. 
The song/album I hope I never hear again: I don't know, maybe something by Woah Vicky. Not because I don't like it or her, but because I like it so much. It's a guilty pleasure. 
If I could only hear one song for the rest of my life, it would be: That's so tough, there are so many amazing songs. "I Hope You Dance" by Lee Ann Womack just gets me every single time. 
The song/album that's guaranteed to get me turned all the way up: Megan Thee Stallion's "Savage" or Doja Cat's "Say So." The beat to "Savage" and lyrics just get you in that turnt up mood, and "Say So" just makes me feel like California and that I should be in my car with the windows down. 
The song/album I wish I wrote/recorded: I wish I wrote "If I Were a Boy," sang by Beyoncé, because...everything about these lyrics are how I feel about break ups and, honestly, even about the country music industry and life as a whole.
My own song that I'll never get tired of performing: I'll never get tired of singing my song "Better Than You Left Me." I just love the melody and it's just a great song that lot of people know.
My own song that I'll be happy to retire: I haven't released that many songs, so I'm not sure.
The song on my new project that I can't wait for fans to sing along with me on tour: I can't wait for fans to sing along with my song "Black Like Me." It's just such an important song to me.
Bridges is available now.
Watch:
The Highwomen on "Making More Spots" for Women in Country Music