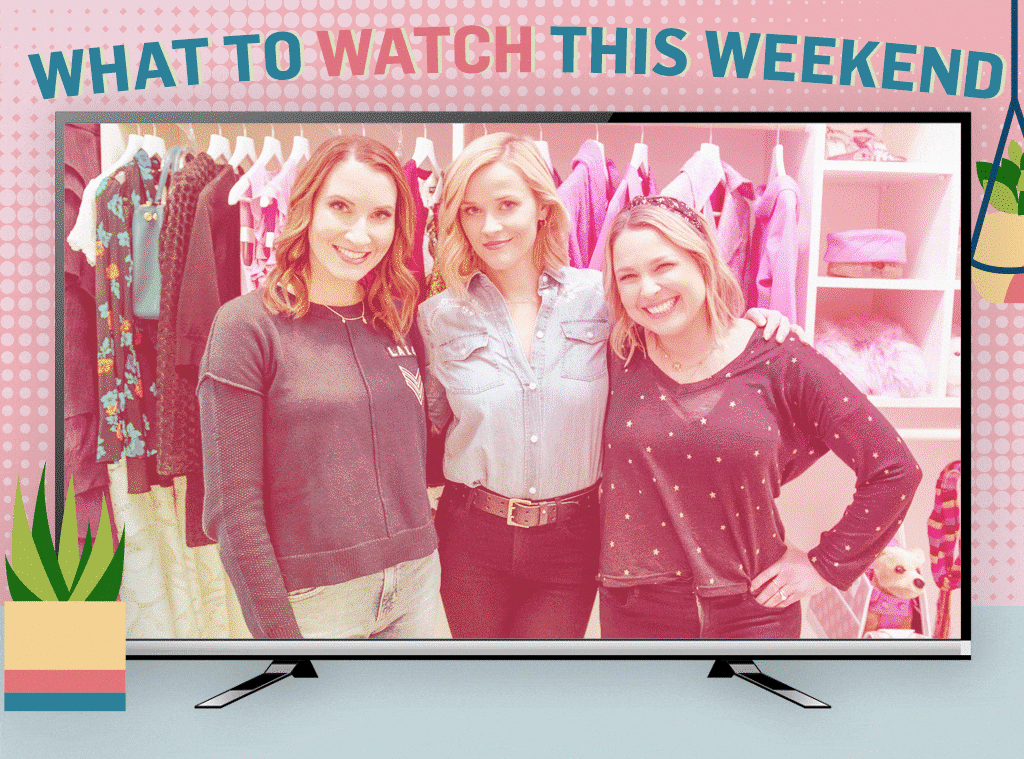 Netflix; Hulu; E! Illustration
Hey girl, whatcha' doing? Hey girl, where you going?
Well, if you're like us the answer is nowhere except our couch as we're ready to stream the weekend away after a four-day week that somehow felt like an 13-day slog, you know? Time, the cruelest mistress of all. 
Fortunately for those of us who white-knuckled it through, there's a bounty of new series and returning favorites to keep us company this Saturday and Sunday, including a New Girl star's highly anticipated dark comedy and a so-weird-it's-charming musical from the director of High School Musical—rockin' ghosts included. (Hey, who says we have to let it go?)
Plus, Peacock is debuting two must-see documentary films, a beloved '90s sitcom is back for some much-needed girl time and we have the perfect new animated series for you to turn on, if you have a little one and just need five freakin' minutes to yourself.  
If You Obsessively Try to Look Inside Celebs' Closets On Their Instagram Stories: Good news, you no longer have to squint, pause or replay your way through 15-second clips. Thanks to Get Organized With The Home Edit, stars—including Khloe Kardashian, Reese Witherspoon and Eva Longoria—are opening their pantries to us mere mortals to show off the work of gurus Clea Shearer and Joanna Teplin. (Marie Kondo is sooo 2019.) Much like The Home Edit's Instagram feed and bestselling book, the new series is straight-up organizational porn and is the perfect salve for those who have missed wandering the aisles of The Container Store during quarantine. If you're into that sort of thing. No judgment here. (Where to Watch: Netflix)
If You Need a Special Treat For Your Kids Right Now: Listen, we can only imagine the uncertainty and confusing feelings children may be feeling going back to school after almost six months away. So why not let them relax and enjoy the latest outing from the hit Madagascar franchise? In the prequel series, A Little Wild, fans can adventure along with the younger versions of Alex the lion, Gloria the hippo, Marty the zebra and Melman the giraffe as they tackle the concrete jungle: New York City. (Where to Watch: Peacock and Hulu)
If You Can Only Rewatch New Girl So Many Times: Get ready for Lamorne Morris to finally get his time to shine outside of the loft in his timely new new comedy Woke, which finds the actor playing the onscreen version of cartoonist Keith Knight. After an encounter with the police, the traumatized San Francisco artist reevaluates his entire life and jump-starts a heightened level of social consciousness—including inanimate objects now speaking to him. (Where to Watch: Hulu)
If You're Ready for the Next High School Musical: Silly, weird and surprisingly deep, Julie and the Phantoms is a PG-exploration of grief and death masked as a high school-set musical comedy. High School Musical and Hocus Pocus director Kenny Ortega tells the story of Julie (Madison Reyes), a teen still mourning her mother's death, who unexpectedly teams up with a trio of ghost pop-punk rockers to form a band. Like, we said, it's wacky yet heartwarming and features some seriously catchy tunes. (Where to Watch: Netflix)
If You're in the Mood for a Double Feature With Depth: Peacock is debuting two must-see documentary films this weekend: Black Boys and The Sit-In. 
A gripping and relevant portrait of the Black male experience, executive produced by activist and two-time Super Bowl champion Malcolm Jenkins, Black Boys features interviews with Carmelo Anthony, Jemele Hill and Dr. John King Jr. and explores topics such as education, criminal justice and sports. 
The Sit-In, meanwhile, chronicles a seminal event and almost-forgotten moment in American history that highlights one Black man's experience. The film looks back on the week in which legendary entertainer and civil rights activist Harry Belafonte hosted the iconic Tonight Show in place of Johnny Carson in 1968. Belafonte himself appears in the film, along with Questlove and Whoopi Goldberg who recount the historic achievement. (Where to Watch: Peacock)
If You Need to Be Shamed Into Not Being on Your Phone and Computer While Also Watching Something: Despite an app on your phone revealing you spend 80 percent of your waking hours on said device, take a deep breath and prepare to pick up your head to look into a mirror you may have been avoiding. (Remember, we said no judgment here.) In The Social Dilemma, director Jeff Orlowski explores the dark side of our societal obsession with social media, including former executives from Twitter, Instagram and Facebook (including the co-inventor of the "Like" button, which whoa?!) opening up about the potential dangers of your seemingly mindless scrolling. (Where to Watch: Netflix)
If You Are Ready for the Return of Another Iconic '90s Series: Continuing their streak of adding classic Black TV sitcoms to its queue, Netflix is gifting its subscribers with all eight seasons of the UPN series Girlfriends. Starring Tracee Ellis Ross, Golden Brooks, Persia White and Jill Marie Jones starred as a close-knit group of—you guessed it—girlfriends who tackle the highs and lows of life together. And for some bonus viewing, Girlfriends' spinoff The Game is also streaming. (Where to Watch: Netflix)
(E! and Peacock are both part of the NBCUniversal family.)