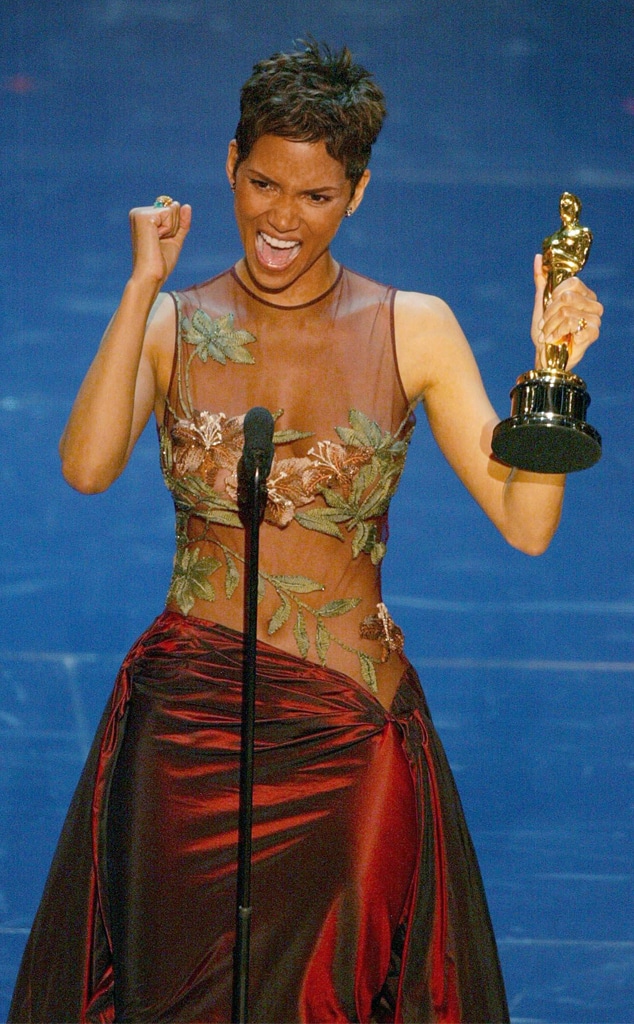 TIMOTHY A. CLARY/AFP/Getty Images
It's been 18 years since Halle Berry made history by becoming the first Black woman to win an Oscar in the Best Actress in a Leading Role category. At one point during her acceptance speech, the Monster's Ball star said this award "is for every nameless, faceless woman of color that now has a chance because this door tonight has been opened."
However, almost two decades later, Berry is still the only Black woman to take home this trophy.
"I thought Cynthia [Erivo, the star of Harriet] was going to do it last year," she tells Variety for its latest cover story. "I thought Ruth [Negga, nominated for 2016's Loving] had a really good shot at it, too. I thought there were women that rightfully, arguably, could have, should have. I hoped they would have, but why it hasn't gone that way, I don't have the answer."
Per the publication, Berry now feels conflicted about what her Oscar win represents.
"It's one of my biggest heartbreaks," she says to the magazine. "The morning after, I thought, 'Wow, I was chosen to open a door.' And then, to have no one … I question, 'Was that an important moment, or was it just an important moment for me?' I wanted to believe it was so much bigger than me. It felt so much bigger than me, mainly because I knew others should have been there before me and they weren't."
She also reflects on how she'd hoped her win would drive change. "Just because I won an award doesn't mean that, magically, the next day, there was a place for me," she tells the publication. "I was just continuing to forge a way out of no way."
After Berry won the award for her performance in Monster's Ball, she went on to play the role of Jinx in the James Bond film Die Another Day. But despite the film being a box office hit, things didn't exactly turn out the way Berry had hoped. As Variety writes, she didn't get the calls from Hollywood's big directors. And just a few years later, she starred in Catwoman—with the 25th Razzie Awards dubbing it the "worst picture" of the year and naming Berry the "worst actress" for her role.
Despite these setbacks, Berry never gave up on pursuing her dream roles. 
"I think it's largely because there was no place for someone like me," she tells Variety. "I thought, 'Oh, all these great scripts are going to come my way; these great directors are going to be banging on my door.' It didn't happen. It actually got a little harder. They call it the Oscar curse. You're expected to turn in award-worthy performances."
Watch:
Happy Birthday Halle Berry: E! News Rewind
Berry went on to star in many more films, including the X-Men sequels and action films like Kidnap and John Wick: Chapter 3. Today, she's getting ready to debut Bruised, a movie she both acted in and directed. 
"I definitely feel like there's a turning point," Berry says. "I'm more encouraged that as women, we are feeling confident enough to tell our stories. And there is a place for us to tell our stories. For so long, our experiences have been told narratively through the guise of men."
To read her full interview, check out the new issue of Variety.