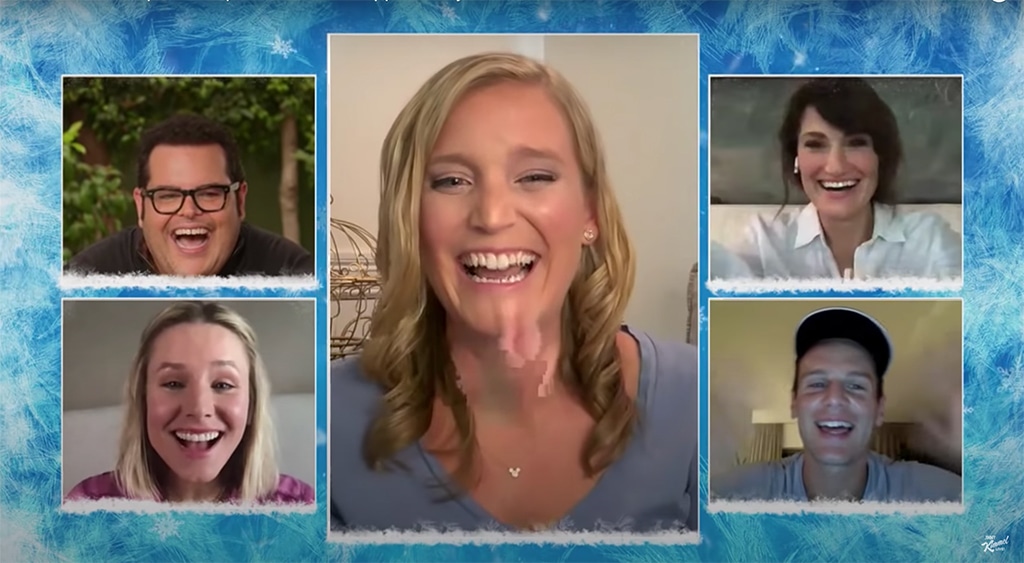 YouTube
For the first time in forever, the Frozen cast virtually reunited to give one nurse a magical surprise.
Josh Gad rallied together Kristen Bell, Idina Menzel and Jonathan Groff for the Sept. 8 episode of Jimmy Kimmel Live! and did something special for Kellie Merner, a NICU nurse from Hartford, Conn.
But before he brought out the Arendelle crew, Gad, who was serving as guest host amid Jimmy Kimmel's summer break, asked the healthcare hero what it's been like to work during the global coronavirus pandemic.
"With COVID happening, babies never stopped coming," Merner replied. "So, we remained very busy. We just had to learn to adapt, to wear more PPE and go with how the wind changes. The biggest change has been our visitor policy. Parents are no longer allowed to visit their babies together, which is challenging because they can't have that bonding experience together with their babies."
In addition to being a nurse, Merner is a "huge" Frozen fan.
"My fiancé and I—in love with Frozen," she gushed. "We often sing 'Love Is an Open Door'—that's our no. 1 duet. But my stepmother is the real, true Olaf fan. She has hundreds of Olafs, including an Olaf-themed bathroom." 
Merner then explained she was supposed to have a Disney princess-themed wedding in June, but like so many brides, she had to postpone the big day due to the pandemic.
"I got engaged at Cinderella's Castle in Magic Kingdom," she explained. "So, from then on, we knew that we were going to have a Disney princess-themed wedding with the princess dress, the hidden Mickeys and we of course had to tie Frozen in. So, at our bar, our sign says 'love is an open bar.'"
Luckily, the Olaf actor had a few famous friends who could help celebrate the future nuptials. That's when Bell, Menzel and Groff popped up on the screen. Gad had asked each of his co-stars to bring something old, something new, something borrowed or something blue as a wedding gift.
"But we couldn't find your registry and all of Arendelle's malls are still closed," he explained, "so we made do with stuff found around the house."
So, what did his castmates bring? For starters, Bell, who plays Anna, was tasked with bringing something borrowed and agreed to lend Merner her 1,000-piece Golden Girls puzzle. As for Groff, who plays Kristoff, he was asked to bring something old and gifted Merner a stuffed Olaf. But Menzel may have topped them all with her something blue present—the Elsa gown she wore when she was a guest performer at Taylor Swift's 1989 World Tour.
Watch:
How Josh Gad's Daughter Became Inspiration for "Frozen 2"
But that's not all. Gad, who was assigned to bring something new, then gave Merner $10,000 from Boomer Naturals. He also informed her the wellness company would be sending masks and relaxation kits to all of her colleagues.
Watch the video to see a surprise that will melt your heart.