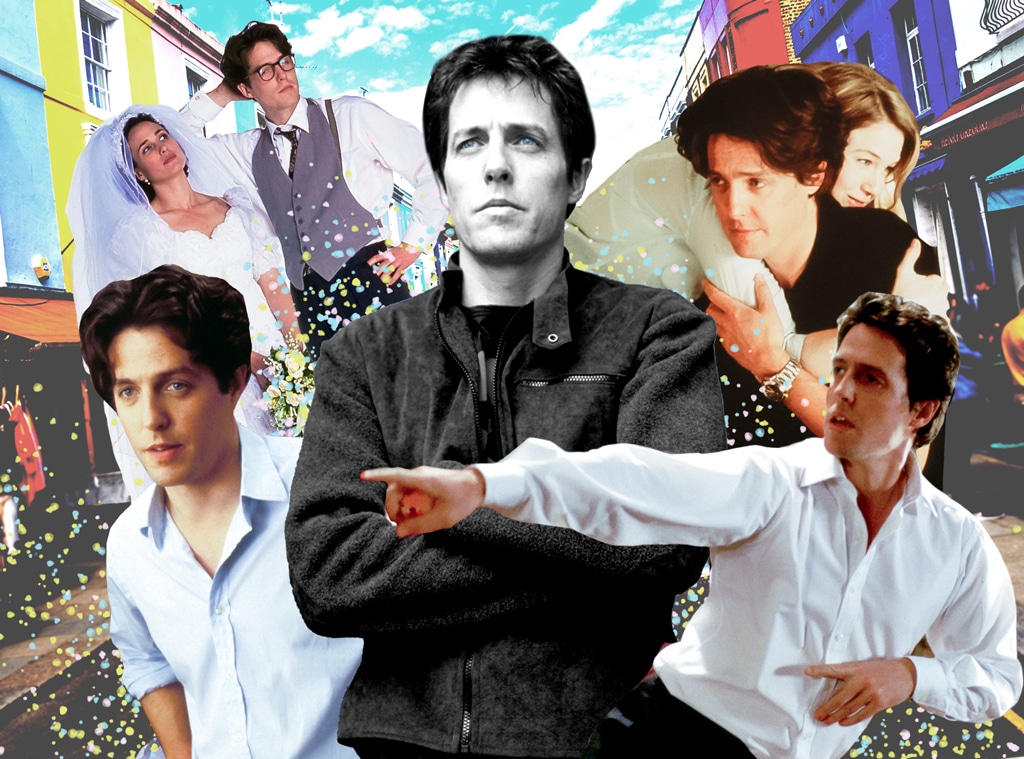 Shutterstock; iStock; Melissa Herwitt/E! Illustration
Hugh Grant would be the first to tell you, don't believe the hype.
"I get very annoyed when people think that I am, sort of, nice, or diffident, or a polite gentleman or Englishman," he said on Watch What Happens Live in 2015. "All of those phrases make me gnash my teeth. I'm a quite nasty piece of work and I think people should know that."
If it makes him rest easier, we were never under the impression that he was just some "polite gentleman," even before his own personal baby boom that required a flow chart to keep track of how seemingly overnight he was a father of three with two women.
Rather, Grant (now a married father of five) has always just brought a certain something to his half of a love match onscreen, resulting in an IMDb page full of appealing suitors who invariably have their issues (a fear of commitment, a walled-off heart, he's prime minister), but nothing insurmountable—and no matter how much bumbling they do on their way to getting to the point, they always end up saying the right thing.
The master of dunking on himself in service of the most satisfying outcome is turning 60 today. And while he's been leaning into more complicated roles in recent years ("Getting older and uglier has made the parts, you know, more varied," he quipped to Radio Times in 2018), even his most dramatic turns—including his Emmy-nominated performance as MP Jeremy Thorpe in A Very English Scandal—employ his signature cheek.
Watch:
Hugh Grant on What Makes "A Very English Scandal" So English
It looks as if he'll be going darker still in the upcoming HBO miniseries The Undoing, but he left a blazing trail of some of the world's favorite romantic movies in his wake—some funnier than others (and some just better than others), but all benefiting from Grant's charm.
So, in celebration of his milestone birthday—and the fact that he isn't insisting on continuing to play the same sort of part that made him a huge star only paired with actresses half his age—here's our scientific, definitive, impossible to argue with ranking of his key films in which his romance with another character drives the plot:
"I think the big lesson is that romance is a big lie, perpetuated by cynical films made by Englishmen," Grant told WWHL host Andy Cohen in 2015 when asked what his takeaway was from his most popular films. "Don't fall for it. Because on the whole, it will make you miserable."
He did seem to recalibrate around that time, his turn in Florence Foster Jenkins in 2016 proving to be his most layered role in years (and critics took notice). Asked if he saw any more romantic comedies in his future, the actor told Radio Times in 2018, "That bird has flown."
As Grant has proven, however, he's not so hell-bent on doing drama that he won't participate in lighthearted fare such as "Red Nose Day Actually" and "One Red Nose and a Wedding," the TV shorts he did in 2017 and 2019 for a good cause, his reunions with the Love Actually and Four Weddings casts giving fans a nostalgic thrill.
And even if his befuddled-suitor days are behind him, he can't help it if, no matter what kind of character he's playing, there's always a twinkle in his eye. That's why you hire Hugh Grant.