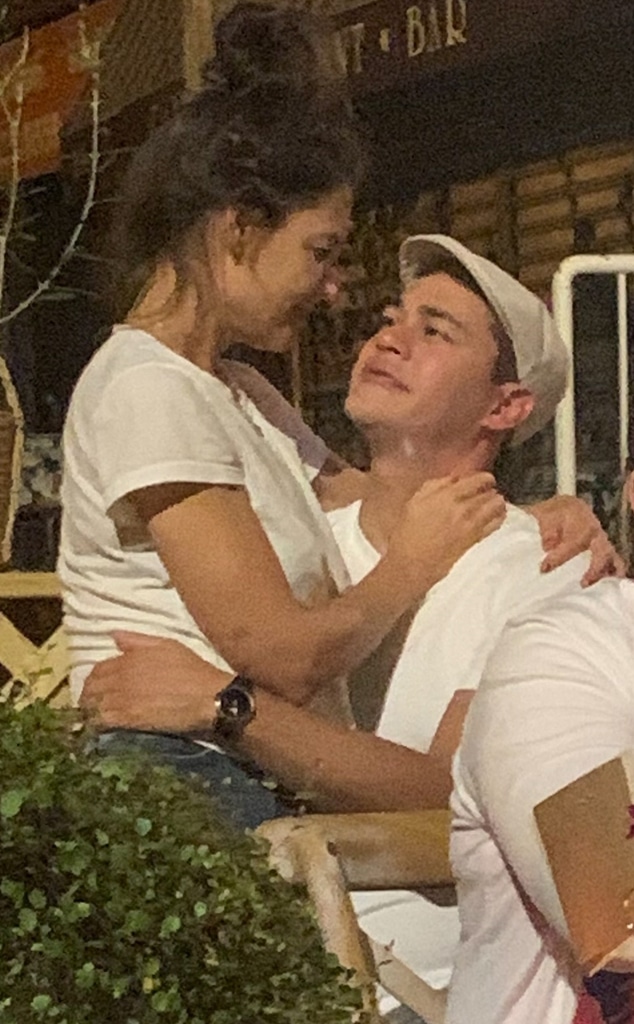 Ericka Draves / BACKGRID
Chef's kiss!
Over Labor Day weekend, Katie Holmes appeared to be in good spirits as she enjoyed a dinner date with chef Emilio Vitolo.
The Dawson's Creek alum was photographed sitting on top of the restaurateur's lap on Sunday, Sept. 6. while at Peasant in Manhattan. At one point during their dinner date, photographers captured the duo passionately kissing at their table.
Throughout the night, Emilio kept his arms wrapped around the actress' waist.
For their outing, the two kept things simple and low-key. Katie opted for a white tee, denim jeans and styled her hair in a messy (but chic) bun. Emilio dressed similarly wearing a white v-neck shirt and cream-colored newsboy hat.
This isn't the first time the two have been spotted looking infatuated with each other. On Sept. 4, the 41-year-old star was spotted interacting with the chef at the New York City restaurant Antique Garage.
During that occasion, they didn't pack on the PDA. Instead, they appeared to be casually chatting and exchanging jokes, as Katie could be seen laughing and smiling.
Katie and Emilio have yet to publicly address the romance rumors they've been sparking. Considering the actress is notoriously private when it comes to her personal life, the chances of her commenting on the speculation surrounding her love life are slim.
But because she and Emilio have made headlines recently, everyone wants to know more about him. Below, get more deets about the New York City restaurateur.
Watch:
Why Katie Holmes Wanted to Join "The Secret"
Hot and Ready:
As you may have gathered, Emilio is a chef and restaurant owner. In fact, he's grown up in the business thanks to his father, Emilio Vitolo Sr. His dad created the SoHo hot spot Emilio's Ballato in the early '90s, but he now runs and manages it. The Italian restaurant is a fan-favorite among celebrities like Whoopi Goldberg, Rihanna, Bradley Cooper, Justin Bieber and more.
Famous Friends:
Katie isn't the only star Emilio knows. He's close to Joe Jonas and Sophie Turner, who've made appearances on his Instagram page. From one post, it appears Emilio went to the couple's wedding last year. Plus, he seems to be friends with Kevin Jonas and his wife Danielle.
 In the Hollywood Biz:
According to Emilio's social media profiles, he's also an actor. Plus, he has an IMDb page, which lists 17 acting credits. Some of the projects he's worked on include Royal Pains, Tapestry, A Crime to Remember and others. Moreover, he's used to being in front of the camera for film, TV and magazines. He was recently the cover star for Man About Town.
That's Amore:
The chef was previously engaged to designer Rachel Emmons, InTouch Weekly reports. A source told the publication the two "broke off their engagement very recently" because Emilio is "focusing on his restaurant." As E! News previously noted, he and Rachel were last photographed together on Aug. 23.