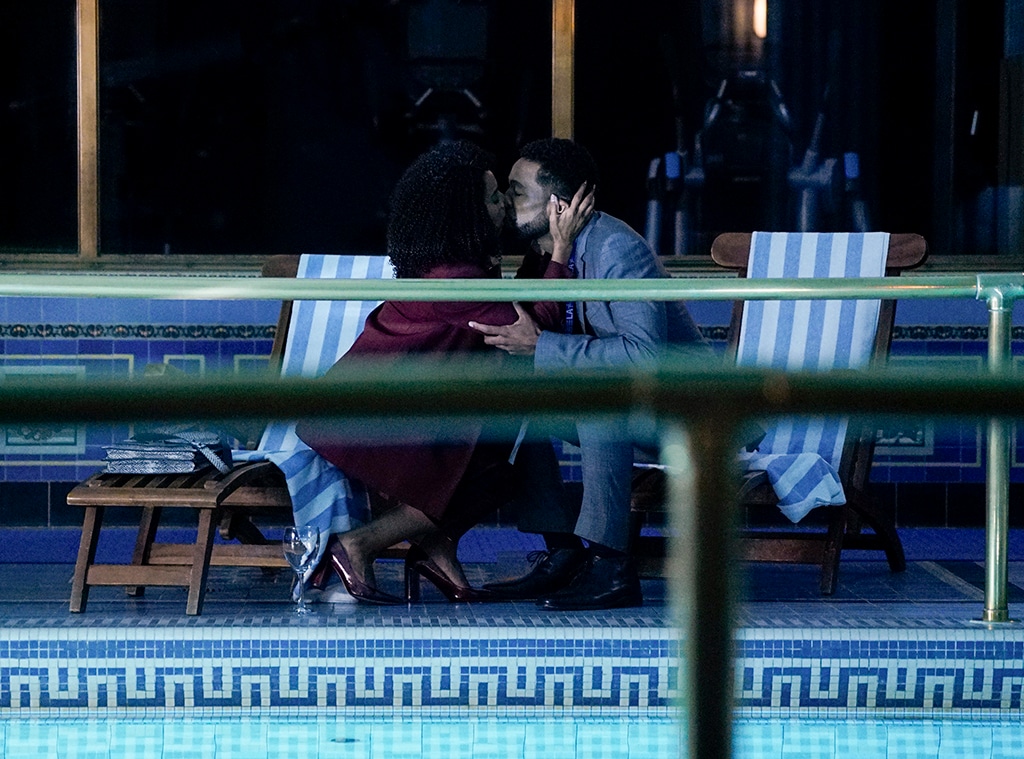 ABC
Ellen Pompeo knows how to keep the fans interested even during an extra long wait for more Grey's Anatomy. 
After shutting down production in early March because of the coronavirus pandemic, Grey's finally had a table read for season 17 on Friday, Sept. 3. When a fan asked about the table read on Twitter, Pompeo graciously shared a little tidbit that proves romance is alive and well at Grey Sloan Memorial—even in the pandemic. 
"Yes I have a new favorite couple," she tweeted. "Not sure what you'll call them...but they are adorable you guys can have fun guessing who!!" 
That fun guessing game didn't last long as she immediately confirmed when another fan asked if it was Maggie (Kelly McCreary) and her boyfriend Winston (Anthony Hill). 
"Ding ding ding!" Pompeo wrote. "You guys... you have no idea how adorable they are." 
Maggie had been Winston's boss before she moved to Seattle and they reunited at a medical conference in season 16. Romance blossomed while they were at the conference, but their time together was cut short when Richard (James Pickens Jr.) collapsed and had to be rushed to the hospital. 
Hill was made a series regular for season 17, so it's nice to have confirmation that he and Maggie get to continue to be adorable full-time. 
Richard Flood, who plays Dr. Cormac Hayes, was also promoted to series regular, and Stefania Spampinato, who plays Carina, is now a series regular on Station 19. 
Pompeo also responded to a fan who asked if season 17 would be about COVID-19, confirming what showrunner Krista Vernoff has previously said about the stories for the new season. 
"Yes the biggest medical crisis the world has ever seen?" Pompeo tweeted. "Yes we are meeting the moment and telling some stories." 
Vernoff has said that while she initially did not want to address the pandemic, the writers on her staff convinced her it would be "irresponsible" not to. 
"[Doctors] were saying things like, kids, their first year out of medical school, are seeing more death in the first year than many doctors see in a decade, and it just felt like we had to tell this story," she said on THR's TV's Top 5 podcast. "We have to tell this story, and so the conversation became, how do we tell this very painful, brutal story that has hit our medical community so intensely—and as they keep saying, permanently changed medicine? How do we do that and provide some escapism? How do we do that and create romance and comedy and joy  and fun?" 
At the very least, it looks like the romance is still in the cards. 
Just for fun, Pompeo also responded to a tweet that went viral this week. 
On Sept. 2, actor Sophia Cadogan tweeted, "Anyone else rip their mask off when they get in to the car like they've just finished a disappointing surgery on Grey's Anatomy[?]" 
The tweet had already hit a million likes before Meredith Grey herself weighed in with "I do!" 
While we wait to see Maggie and Winston turn up the adorable, get up to date on all of the current couples on Grey's Anatomy and Station 19 below! 
Grey's Anatomy is about to begin shooting for season 17 and is expected to premiere in late 2020 on ABC.