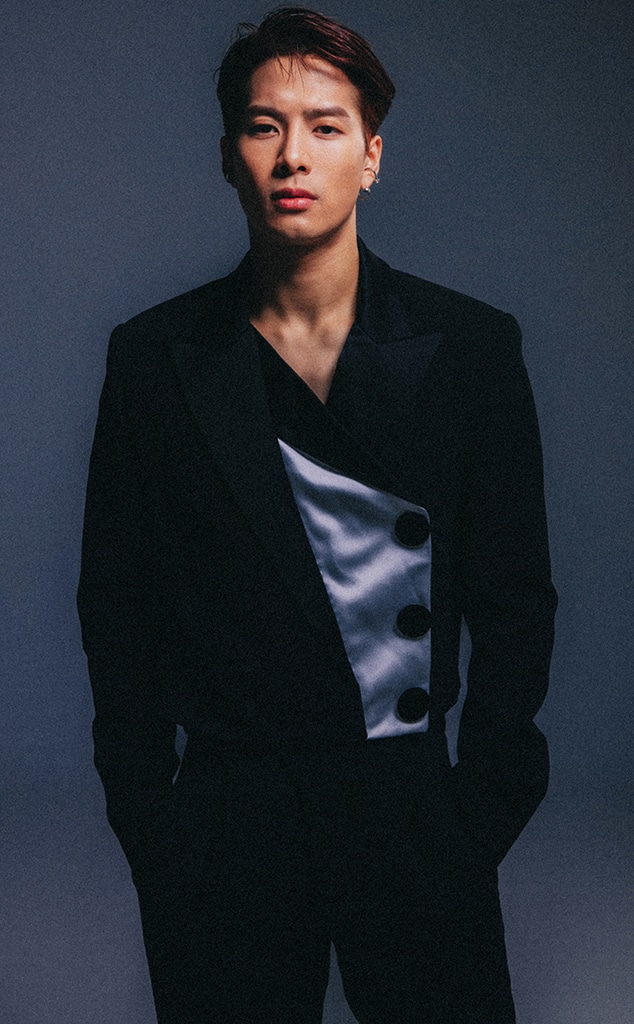 Courtesy
Imagine making history as a first-time solo artist. That's exactly what global pop star Jackson Wang has done.
Two months after the member of Korean boy band GOT7 released his single "100 Ways" in March, it debuted in the U.S. Top 40 Radio Chart, marking a first for a Chinese solo artist in the chart's history. Seeing his name alongside artists like Lady Gaga and Ariana Grande made Wang feel "very blessed," he told E! News exclusively, adding that this accomplishment "belongs to all the fans and supporters that supported me since day one and also supports me as a person and my music. Because of them, we have this result so I am very thankful and grateful."
Even though Wang has achieved global success as a member of GOT7, where's he still pulling double duty while releasing his own material, the transition to a solo artist was not an easy one. "There's a lot of stuff and decisions and the process of working is way more complicated because I have to be involved like every step, every detail, every part," he revealed. "Whereas, as a group, we can discuss, everyone is spitting out ideas, everyone is brainstorming and you get new ideas, you get inspired by other members' conversations."
He continued, "As a solo artist, it was tough to start because I started Team Wang—my own company, my own team, my crew—with only two to three people, including myself, so I had to be involved in most of the work. A lot of things that's not even something I used to do, such as strategizing, the creative, the execution. It was hard in the beginning. I'm still working hard, I'm still in the process of exploring new stuff and getting to know more and more about myself."
Continuing his success as a solo artist, Wang is celebrating the release of a new single, "Pretty Please," out Friday, Sept. 4. "Basically the song itself is about me falling in love with this girl and then me confessing to her, 'Hey give love a chance,' and telling her I really like her and love at first sight," he shared. "This project is a collaboration. I'm very honored to collaborate with Galantis. I haven't met them yet. Hopefully someday I can meet them in person. I'm a big fan. They are legends. Maybe when everything turns better, I might fly to Sweden to meet them."
In a statement announcing their new track, Christian Karlsson from Galantis had only nice things to say about Wang. "I was stoked to be able to collab with Jackson, as I'm such a big fan of his," the producer said. "Jackson sent me an idea that was so unique and I immediately fell in love with the song thinking about all the creative possibilities" 
Wang was very involved in the music video, as he wrote the treatment, prepared props and outfits, and even edited. "I got inspired because, as a kid, I watched a lot of Hong Kong movies and I thought it would be interesting and epic if I can shoot the music video, this love story, in that tone and vibe—90's Hong Kong movies style. I grew up watching that and I admire a lot of actors in that generation as a kid," he recalled. "In the end, I'm pretty satisfied with the body of work that we came up with and we're all happy."
Before Wang joined GOT7, he was a fencer, earning himself a scholarship to Stanford University. However, he decided to turn it down to pursue a career in music and eventually joined GOT7 in 2014. As a group, they have released four studio albums and 14 EPs, and sold out major arenas in Asia and North America. In 2017, he began to focus on his solo career—beginning with his first hit single "Papillon"—and has continued to achieve success with songs, becoming the fastest Chinese artist to reach 10 million views on VEVO.
Fast forward to 2020 and Wang continues to make history as a solo artist—though he humbly admits that he is still learning. He told E! News, "I started as an athlete, a fencer and then I decided to go abroad to become a trainee, and then be in a group and in the middle, pursue my solo career. Along the process, every time, I get to learn more and more about myself and what I want and the vision is knowing yourself is very important, knowing what you love and what you believe and what you're passionate about and start making plans right away."
K-Pop has become more popular worldwide in recent years thanks to groups like GOT7, BTS, and BLACKPINK—something Wang is extremely proud of. He shared, "As a Chinese myself, as an Asian myself, I'm very proud to see K-Pop or even Asian artists to rise to a moment like this in this generation.  I'm very proud and, I think, very happy to see because K-Pop, Asian music industry artists…everyone puts in the time and effort and they try to be perfect at everything and I really admire and I'm still learning that vision."
Wang is also proud to be able to share his culture with his fans, something he wants to continue to show in his work. "As much as I love learning about other cultures, I also love to share my culture, our culture as Chinese, as Asians to the other side of the world, you know?" he said. "At the end of the day, we are living on one planet, one Earth, so I just want more and more people to maybe see something they might not have seen, or might have seen or just show more and more about our culture."
Aside from Galantis, he has already had the opportunity to work with artists such as Gucci Mane, Swae Lee and Major Lazer, and is looking forward to more collaborative opportunities. "Just collaborations with any artist is an honor to me," Wang said. "It's already a pleasure. The thing I really enjoy is, by collaborations, you really see the two flavors mixing together and I really enjoy that."
While Wang can't reveal too much about his upcoming second album, fans can expect it to be something they haven't heard before. He said, "It's like 70 percent done, over 10 songs done already. I can't really spoil it right now, but it's definitely a different vibe from what I used to do. I always try to challenge my previous self with every release. It's going to be something new and I hope everyone likes it."
"Pretty Please" is available now.
Watch:
How BTS & K-Pop Fandoms Are Fighting for Racial Justice