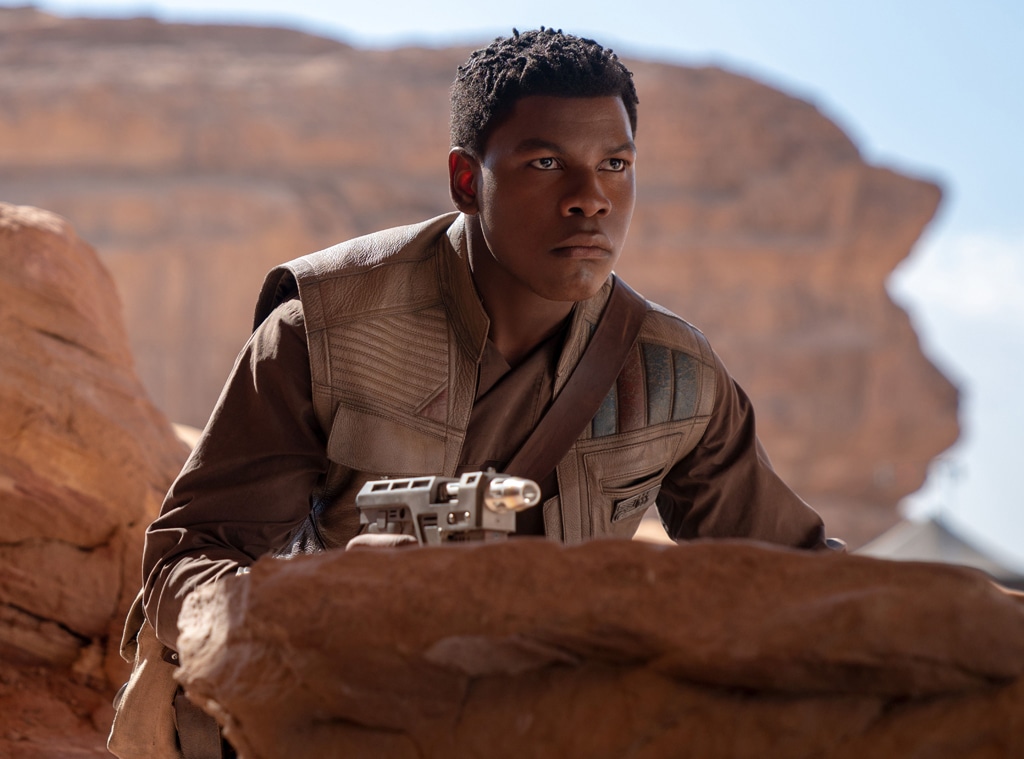 J Olley/Lucasfilm/Disney/Kobal/Shutterstock
It's been six years since John Boyega was brought into the Star Wars franchise, however, not all fans greeted him with a warm welcome.
The 28-year-old actor looked back at this time during an interview with British GQ released Sept. 2. Boyega landed the role in 2014, but after he made his debut in the Star Wars: Episode VII—The Force Awakens trailer, he found himself reading racist comments from viewers about him playing Black stormtrooper Finn.
Initially, Boyega shot down the hate by simply writing "get used to it" in a since-deleted Instagram post. But in his new interview with British GQ, Boyega spoke out about the impact the experience had on his life. 
"I'm the only cast member who had their own unique experience of that franchise based on their race," he told the magazine. "Let's just leave it like that. It makes you angry with a process like that. It makes you much more militant; it changes you. Because you realize, 'I got given this opportunity but I'm in an industry that wasn't even ready for me.'"
He went on to note his fellow co-stars—including Daisy Ridley, Adam Driver and others—could not relate.
"Nobody else in the cast had people saying they were going to boycott the movie because [they were in it]," he said. "Nobody else had the uproar and death threats sent to their Instagram DMs and social media, saying, 'Black this and Black that and you shouldn't be a stormtrooper.' Nobody else had that experience. But yet people are surprised that I'm this way. That's my frustration."
Boyega went on to appear in Star Wars: Episode VIII—The Last Jedi and Star Wars: The Rise of Skywalker. So, how does he feel about his involvement and the way the trilogy ended?
"It's so difficult to maneuver," he told the publication. "You get yourself involved in projects and you're not necessarily going to like everything. [But] what I would say to Disney is do not bring out a Black character, market them to be much more important in the franchise than they are and then have them pushed to the side. It's not good. I'll say it straight up."
He also spoke up for his fellow co-stars Naomi Ackie, Kelly Marie Tran and Oscar Isaac, who, as British GQ wrote, Boyega "feels suffered the same treatment."
"Like, you guys knew what to do with Daisy Ridley, you knew what to do with Adam Driver," he said. "You knew what to do with these other people, but when it came to Kelly Marie Tran, when it came to John Boyega, you know f--k all. So what do you want me to say? What they want you to say is, 'I enjoyed being a part of it. It was a great experience...' Nah, nah, nah."
"I'll take that deal when it's a great experience," he continued. "They gave all the nuance to Adam Driver, all the nuance to Daisy Ridley. Let's be honest. Daisy knows this. Adam knows this. Everybody knows. I'm not exposing anything."
Watch:
John Boyega Tells All on Filming "Star Wars: The Last Jedi"
While Boyega did say it was an "amazing opportunity" and a "stepping stone" in his career, he has since moved on from Star Wars. He has several new projects in the works, including the new Steve McQueen series Small Axe.
To read his full interview, head on over to British GQ.