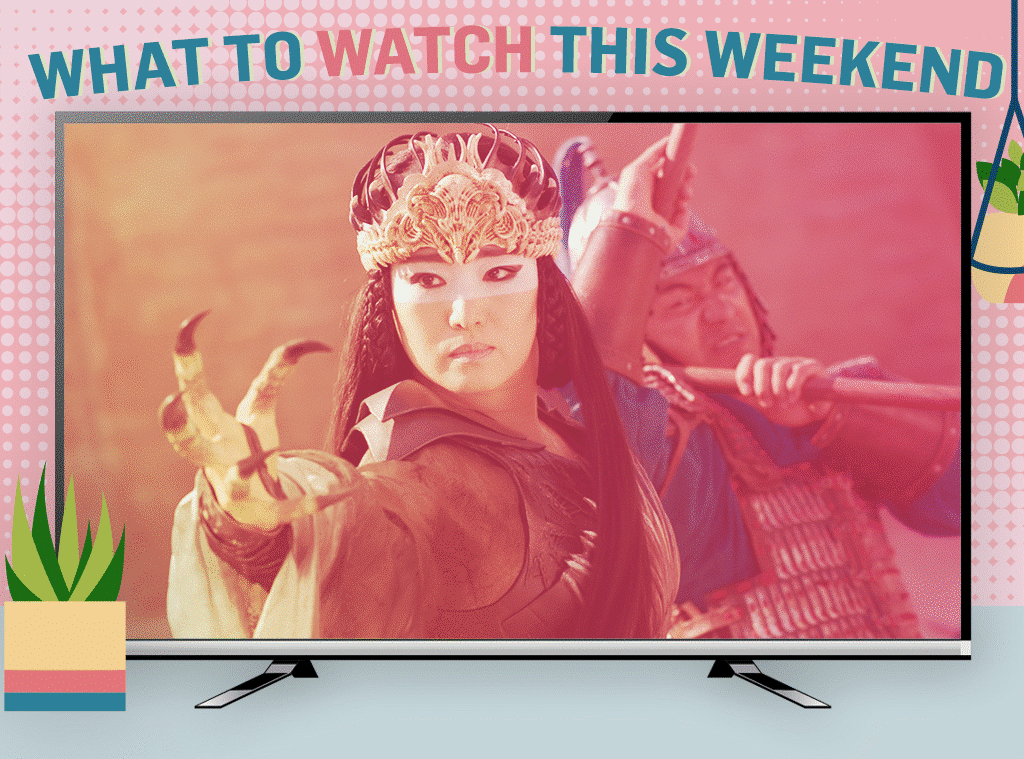 E! Illustration
Welcome to September, may we interest you in a jampacked binge-watching schedule to properly kick off the new month? 
After months of delays, one of 2020's biggest blockbusters is upon us as Mulan, Disney's latest live-action remake, is available for your viewing pleasure, though it'll cost you. Elsewhere, the second season of The Boys (a.k.a TV's most f--ked up superheroes) drops and A.P. Bio returns weirder than ever for its third semester. 
Plus, with a new page on the calendar comes a fresh roster of beloved films coming to streaming, including three of our favorite Sandra Bullock movies, a classic Drew Barrymore rom-com and one of the '90s most beloved film franchises that will have you quacking all weekend long.
Ah, so much nostalgia, so little time. SO what are you waiting for? Check out our viewing recommendations for Labor Day Weekend. Stay safe and entertained, which will be easy to do with this stacked lineup...
If You Are Ready for a Big Screen Event From the Comfort of Your Home: Almost six months after its original release date was postponed due to the coronavirus pandemic, Disney's highly anticipated live-action remake of Mulan is officially on the small screen. Liu Yifei takes on the titular role while Donnie Yen portrays Commander Tung and Jet Li plays the Emperor in the film, which could start a new trend of major blockbusters heading to streaming platforms should it perform well. And with an inspiring story of female empowerment, a star-marking turn by Yifei and a new Christina Aguilera song, it's safe to say Mulan will have a fairy tale ending. (Where to Watch: Disney+ with an additional $29.99 fee)
Watch:
Christina Aguilera & Yifei Liu: How "Mulan" Changed Our Lives
If You Like Your Superheroes With Some Edge: Rejoice, the first three episodes of The Boys' second season are out now, with a new episode dropping each Friday until October 9. Consider this your early Halloween treat as the Amazon Prime hit is pulling out all the tricks in its even darker sophomore outing. And joining in on the f--ked up fun is You're the Worst star Aya Cash as antagonist Stormfront, a social media savvy supe with electrokinesis. Consider the bar raised, influencers. (Where to Watch: Amazon Prime Video)
If Drew Barrymore Is Your All-Time Favorite: OK, it's hard to imagine that no one would be totally enamored with her but dammit if she doesn't pull it off as Josie Grossie in Never Been Kissed. Barrymore stars as an aspiring journalist who goes undercover at her version of hell a.k.a. her former high school for a story that could be the big break she needs. Popularity, pot brownies and sparks with a hot teacher played by Michael Vartan ensue, along with one of the most underrated endings in rom-com history. Oh yeah, we went there and we bought property. (Where to Watch: Disney+) 
If You're In Need of Some Laughs: Sharpen your pencils and get a good night's sleep because class is officially back in session. A.P. Bio's third season is finally here and the comedy is, dare we say, weirder, funnier and better than ever? Glenn Howerton and Patton Oswalt are, as always, in top-form but season three really shines when it focuses on the quirky supporting characters, especially the students. So sign up for this one and snag a front row seat. (Where to Watch: Peacock)
If You Are in the Mood for a Modern Rom-Com: In its continued pursuit of stealing the feel-good rom-com crown from Hallmark Channel, Netflix's latest movie, Love, Guaranteed, even poaches one of its go-to female leads: Rachel Leigh Cook. The She's All That star, who came up with the story, plays Susan, a lawyer who represents Nick (Happy Endings and New Girl's Damon Wayans Jr.) when he decides to sue a dating app for failing to find him his one true love. Can you guess what happens next? (Where to Watch: Netflix)
Entertainment Pictures/ZUMAPRESS
If You Still Can't Decide Between Edward and Jacob: Did we read every single Twilight book as soon as they were released and were we in line for midnight screenings for each movie? Um, do vampires sparkle?! So feel free to spend your entire weekend marathoning all five movies without fear of judgment. (Where to Watch: Hulu)
If You Still Think of Hockey Every Time You See Migratory Birds in a V Formation: PSA: The Mighty Ducks and The Mighty Ducks 2 are now available on streaming. Puck yeah! (Where to Watch: Disney+) 
If You Are Feeling a Sandra Bullock Triple-Feature: Three of our favorite S.B. movies are now available: Miss Congeniality, arguably her best performance ever; Practical Magic, the 1998 witchy rom-com co-starring Nicole Kidman as Bullock's wild little sister; and Two Weeks Notice, another rom-com starring Hugh Grant in which the Oscar winner somehow makes almost pooping her pants adorable. Fact: There is nothing Bullock can't do. (Where to Watch: Miss Congeniality and Two Weeks Notice are on HBO Max and Practical Magic is on Hulu)
If You Want to Watch a Timely and Relevant Film About a True Story: Written by BAFTA-winning screenwriter Jimmy McGovern and produced by Colin McKeown and Donna Molloy, Anthony chronicles the tragic death of 18-year-old Black student Anthony Walker, who, in 2005, was murdered in an unprovoked, racially motivated attack in Liverpool that shocked the U.K. The powerful feature film, starring Toheeb Jimon in the lead role, examines the impact of Walker's murder by exploring what may have happened had he lived. (Where to Watch: Peacock)