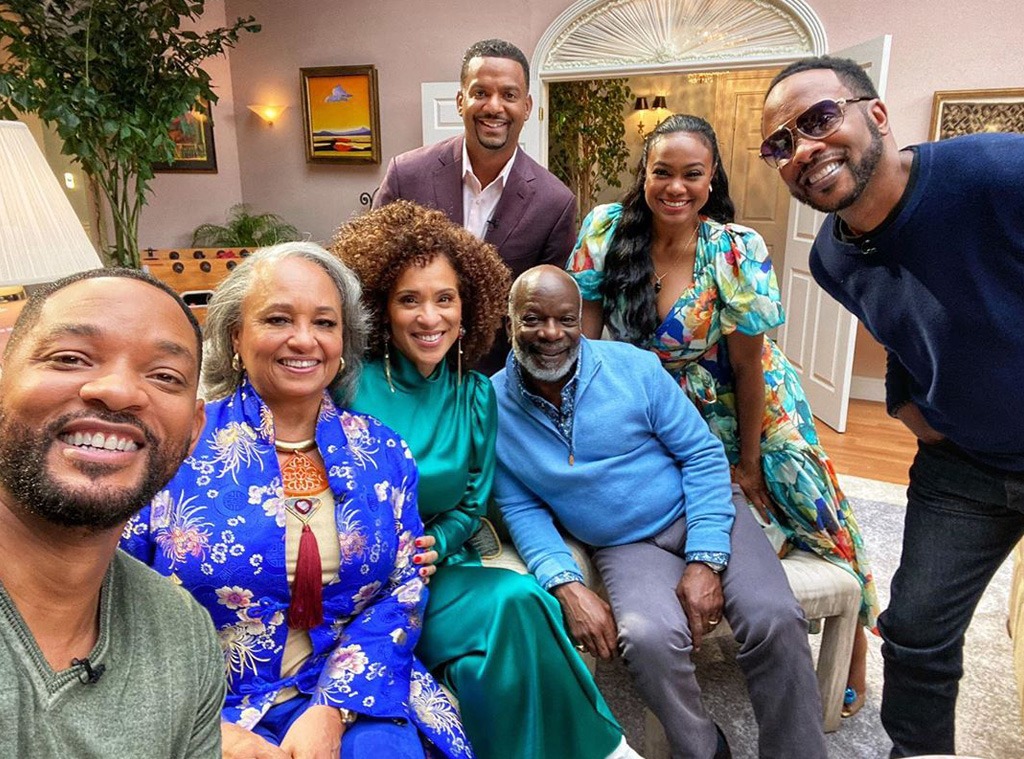 Warner Media
UPDATE: It's a Banks family reunion, and even Aunt Viv showed up. 
On Thursday, Sept. 10, Will Smith shared the very first photos from HBO Max's Fresh Prince of Bel-Air reunion special.
"Today is exactly 30 YEARS since The @FreshPrince of Bel-Air debuted!" the A-lister captioned a selfie taken on a recreated set of the beloved 90s sitcom. "So we're doin' something for y'all… a for real Banks Family Reunion is comin' soon to @HBOmax! RIP James."
Smith was joined by Tatyana Ali, Karyn Parsons, Joseph Marcell, Daphne Maxwell Reid, Alfonso Ribeiro and DJ Jazzy Jeff, but an appearance from Janet Hubert is what caught fans by surprise. 
Hubert, who was replaced by Reid when she exited the series due to "creative differences," has notoriously said she would never reunite with the cast.
According to a press release, Smith and Hubert had an "emotional" and "candid" conversation. To catch a glimpse of what's to come, plus more details on the Fresh Prince reunion, keep scrolling!
______
HBO Max just keeps handing out reunion specials, as if we're in dire need of things to look forward to or something. 
In honor of the upcoming 30th anniversary of The Fresh Prince of Bel-Air, the cast is reuniting for an unscripted special designed to celebrate the show, which ran on NBC from 1990 to 1996. Will Smith, Alfonso Ribeiro (Carlton Banks), Tatyana Ali (Ashley Banks), Karyn Parsons (Hilary Banks), Daphne Maxwell Reid (Aunt Viv), Joseph Marcell (Geoffrey) and DJ Jazzy Jeff (Jazz) are all set to appear, and Smith will also executive produce through his production company Westbrook Media. 
HBO Max describes the special as "a funny and heartfelt night full of music, dancing, and special surprise guests, in honor of the series that ran for six seasons and 148 episodes."
The reunion is currently scheduled to be filmed on Sept. 10, the actual 30th reunion, and directed by Marcus Raboy. It will be released on HBO Max around Thanksgiving.
Missing from the cast are James Avery, who died in 2013 after complications from open heart surgery.
The cast of Fresh Prince already reunited once this year on the finale of Smith's Snapchat show Will From Home. That reunion featured a tribute to Avery and the reveal that it was Ribeiro's idea for Smith to name his character Will Smith. 
Watch:
"Fresh Prince of Bel-Air" Turns 30: E! News Rewind
Smith and Westbrook Media are also producing a dramatic version of The Fresh Prince called Bel-Air, which is based on a viral video by Morgan Cooper. That show, also produced by Universal TV, is coming to Peacock. 
HBO Max is planning two other high profile reunion specials this year. The cast of Friends was originally supposed to film an unscripted reunion in the spring, though that has now been delayed due to the coronavirus pandemic and is still being rescheduled. The cast of The West Wing will also be reuniting, though their special will include a theatrical recreation of the season three episode "Hartsfield's Landing." 
All six seasons of The Fresh Prince of Bel-Air are currently available on HBO Max. 
(This story was originally published on Monday, Aug. 31, 2020 at 12:52 p.m. PST)