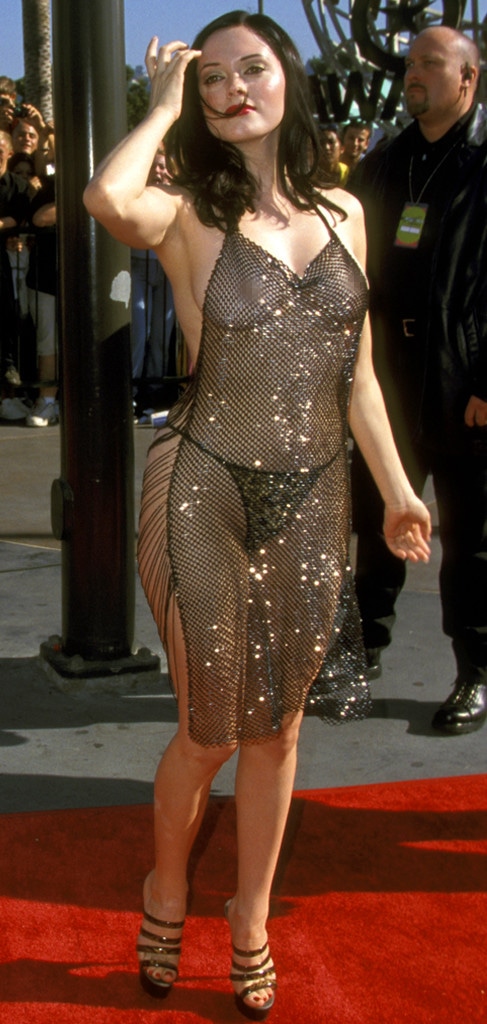 Ron Galella/WireImage
Rose McGowan is no stranger to courting controversy, but not even she could have predicted the response to her MTV VMAs dress. 
When Rose and then-boyfriend Marilyn Manson walked the red carpet at the 1998 ceremony, her see-through, chainmail look instantly became an iconic VMAs moment. However, as she described to Yahoo Entertainment in a recent interview, the criticism she faced came at a steep price. 
"They slut-shamed me like crazy," Rose recalled. "It was kind of hard. I hadn't really ever dealt with global media shaming. But it prepared me for later on it happening to me a whole bunch."
Referencing the throng of photographers often at high-profile red carpet events, she explained, "You have these big men, a hundred of them yelling at the top of their voice trying to get you to look at them, but your body doesn't understand why it's being screamed at and aggressed on. I'm like, 'I feel like I'm being shot with guns right now.'"
Although the ensemble turned heads, Rose admitted there was more to her bold fashion statement than met the eye. 
"It was my first big public appearance after being sexually assaulted," the Charmed star revealed. Rose has previously accused Harvey Weinstein of raping her in 1997. (Weinstein, who is currently serving a 23-year prison sentence for rape and sexual assault, has denied all accusations of non-consensual sex.)
Rose continued, "I just felt like, 'Oh Hollywood, would you want a body just that you can use and throw away? Then I've got one for you!' It was like at the end of Gladiator when he comes out and he's like, 'Are you not entertained?' And if you look at me, I did it with power. I didn't do it with my hand on my hip to be sexy."
"Most of the women that are dressed like that on the red carpet, it's a calculated, sexy move to turn people on," she said. "Mine was like, 'I'm gonna f--k with your brain. I'm going to blow your brain up.' And nobody had done it."
While Rose felt empowered in the moment, her decision has taken on a new meaning more than 20 years later.
As she put it, "I'm like, 'Why did I do that?' I've had to look at that. You know, when you do stuff sometimes on instinct and in a mood, like when a mood overtakes you on, you analyze what it was that brought you to that mood or that choice. So, I've certainly had a lot of time to analyze and I'm looking at the timeline. But I completely understand why I did what I did."