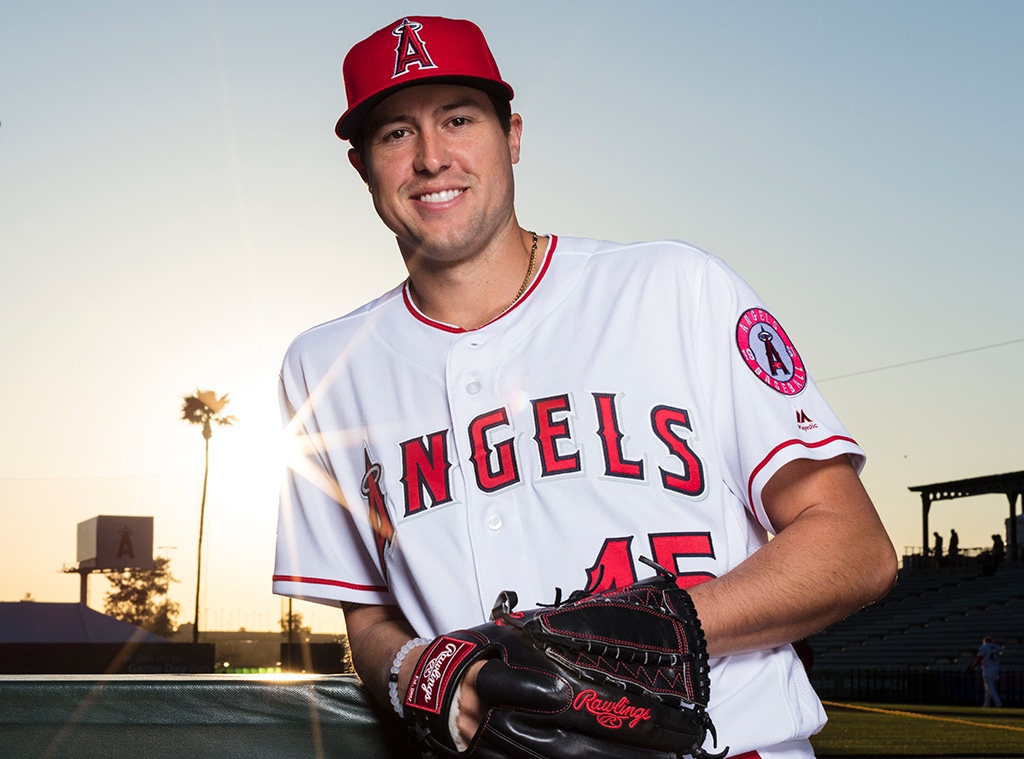 Ric Tapia/Icon Sportswire via Getty Images
UPDATE: According to the indictment obtained by E! News, a grand jury indicted Eric Prescott Kay on two charges: distributing a controlled substance that resulted in Angels' pitcher Tyler Skaggs' death and possessing with the intent to distribute the opioid fentanyl.
Kay's lawyer, Michael Molfetta, tells E! News, "Eric Kay has been cooperative with two separate offices of the United States Attorney's Office. He has been forthright and to his dismay, the decision to seek an indictment obviously resulted in today's events."
"With that said, he asks for everyone's patience before forming judgment so that all sides can be heard and facts are brought to light in a straight-forward fashion and not skewed by innuendo or interpretation," Molfetta continues, adding that Kay "is eager to respond and to have his opportunity to tell his side of the story," but will do so in court.
______
Former Angels employee Eric Prescott Kay was charged with conspiracy to distribute fentanyl in connection to the death of pitcher Tyler Skaggs.
In a statement from the U.S. Attorney's Office for the Northern District of Texas, district attorney Erin Nealy Cox confirmed the 45-year-old was indicted in court on Friday, Aug. 7.
According to a criminal complaint written by Drug Enforcement Administration Special Agent Geoffrey Lindenberg, Skaggs texted Kay, asking him to bring him "just a few" pills to his Texas hotel room on Jun. 30, 2019. This was corroborated with hotel key card records and a colleague who claimed Kay had admitted to visiting Skagg's hotel room that night.
Skaggs was found dead in his hotel room the next morning, July 1, 2019.
An autopsy later determined the Angels pitcher died after choking on his own vomit, which was caused by a lethal combination of opioids and alcohol. In Friday's press release, authorities added, "But for the fentanyl, Mr. Skaggs would not have died."
The district attorney's office also claimed that through the course of their investigation they learned the former communications director for the Angels would deal blue M/30 pills, or "blue boys" as they're called in slang terms, to other individuals at the Angels stadium. 
Kay, who worked for the Angels for over 20 years, left his position as the director of communications for the team shortly after Skagg's overdose. 
Vaughn Ridley/Getty Images
From the outset, the Angels organization has cooperated with authorities and conducted their own internal investigation. "Our investigation also confirmed that no one in management was aware, or informed, of any employee providing opioids to any player, nor that Tyler was using opioids," the Angels said in a statement to NBC News. "As we try to heal from the loss of Tyler, we continue to work with authorities as they complete their investigation."
Nonetheless, Rusty Hardin, the Skaggs' family lawyer, said the family wants the results of the internal probe made public. "We are relieved that no one else who was supplied drugs by this Angels executive met the same fate as Tyler," they said.
If convicted, Kay faces up to 20 years in federal prison.
Watch:
In Memoriam: Fallen Stars of 2020
Tyler's wife, Carli Skaggs, and mother Debbie Hetman spoke with People on the first anniversary of his death, describing the loss as a "hard" thing to process. "I'm sad all the time. Less numb, but sad, heartbroken that I don't have my son here," Hetman said. "It's not gonna be the anniversary I look forward to ever."
But the family has worked to bring purpose to his death by establishing the Tyler Skaggs Foundation, which supports athletic programs and initiatives for children. His mother shared, "We started the foundation because growing up, [Tyler] was involved in a lot of sports and athletic teams and he made lifelong friends. Before he died, they were true friends at his wedding, just a part of his life."
(This story was originally published on Friday, Aug. 7, 2020 at 4:49 p.m. PST.)