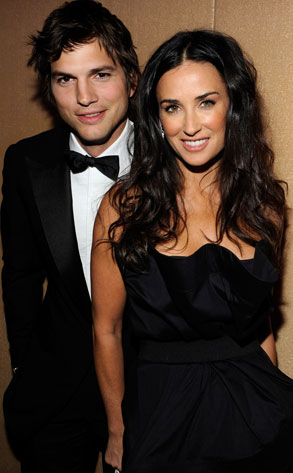 Kevin Mazur/Getty Images
Everywhere we look, it's Twitter this and Twitter that! Not even Hollywood's shiniest and glitteriest are immune to the ADD-addled charms of the latest social media craze that restricts your "blogs" to 140 characters each. And being the voyeurs that we are, we love reading about the most intimate (and very often, most mundane) details of their shiny, glittery lives.
Here are just a few of our fave celebrity tweeters:
Twitter name: @aplusk
Real name: Ashton Kutcher
Sample tweet: the gym was brutal today. did gravity get stronger while I was sleeping? Why didn't I get the memo?
Why we love them: Kutcher balances juvenile fart jokes with good intentions; he uses his celebrity Twitter pull to raise awareness for World Malaria Day.
Twitter name: @mrskutcher
Real name: Demi Moore
Sample tweet: Hubby off to the set! I'm crawling back into bed for a little depressing morning news with CNN International where the sound is out of sync
Why we love them: Mrs. Kutcher recently received a Twitter suicide threat. Instead of ignoring it, Moore responded and re-tweeted. The proper authorities were alerted and the disturbed woman was given the help she needed.
Twitter name: @courtneylover79
Real name: Courtney Love
Sample tweet: ly lost vince must carry a heel as its broekn an ashram is found rusty and his yoga practise ahh but no, this is a new and strange yogic
Why we love them: WHAAAAAAA??????
Twitter name: @Steve_Buscemi
Real name: Steve Buscemi
Sample tweet: if I had a dollar for every time a fan simply asked for a hug, I'd have enough money to buy a 6 pack of Stella, and maybe some beer nuts.
Why we love them: Because he is the most hilarious and doesn't assume that he is better than any of us. Also, we kind of wish he were Seymour and we were Enid sometimes. Y'know?
Stay tuned next week for more favourite celebrity tweeters!