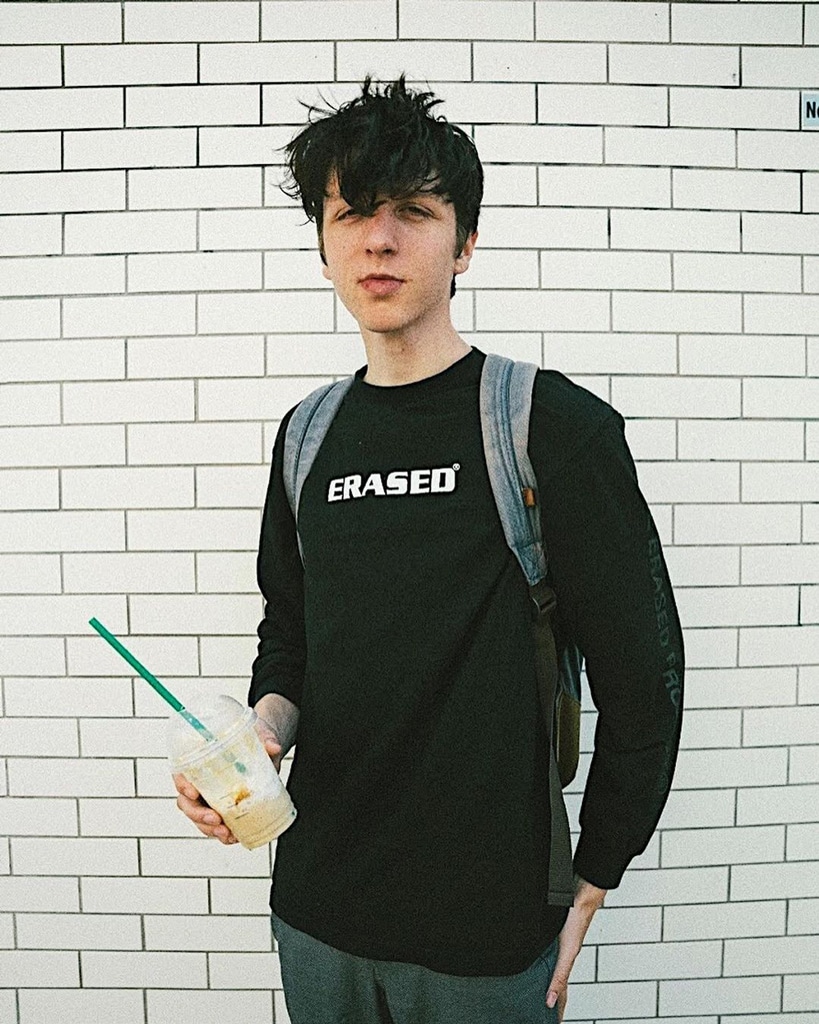 Instagram
Unless you've been living under a rock for the better part of the past year (no judgement here if you have), you've probably heard the haunting hit song "Deathbed (coffee for your head)". Whether it was on the radio, YouTube, Soundcloud or TikTok, this song's massive viral status caught the attention of listeners around the world.
We've certainly been listening to this song on repeat and had to know more about the voices behind this super catchy yet slightly dark song. Enter Powfu and Beabadoobee.
Much like Billie Eilish, Powfu (born Isaiah Farber) grew up in a musical household and started making music as a teenager in the comfort of his own home. After discovering his identity within the lo-fi genre—a genre he described, with a laugh, to E! News as "homemade, cheap sounding music"—he began uploading his favorites to Soundcloud. And once "Deathbed" hit the internet, the rest was history.
By the time Farber hit the ripe age of 21, the rapper had already released his debut EP, poems of the past, and is getting a taste of what viral success feels like as he quarantines through the COVID-19 pandemic at his home in Canada, a unique experience for a new artist skyrocketing to fame.
"This is my first time blowing up, I guess, so it's like I haven't really had the full experience yet in terms of playing shows and going around the world and meeting fans," Farber exclusively tells E! News. "But it's kind of cool that I kind of just skipped that build up."
Continue reading to learn all about this new artist on the rise (and which celebs have slid into his DM's).
E!: What has it been like for you to go viral in the time of COVID and how have you been able to connect with your fans?
P: I've been staying pretty active on Instagram, so that's probably the main way that I stay connected with them. It's kind of weird... Usually people kind of play shows and they have more and more people coming out. But honestly, I went from nobody and now [will] probably be able to fill venues so it's kind of crazy.
E!: What do you imagine your live show or tour experience being like for fans?
P: I haven't put too much thought into it, to be honest, but I want to start in smaller venues. I don't want to go into the big arenas and stuff. I want it to be small, tight and personal.
Watch:
Dancer Uses TikTok to Help Fight Cancer--Feel Good Friday
E!: Where did the name Powfu originate from?
P: I just came up with it in grade 12 because I didn't want to use my real name because I didn't want people to find out that it's me singing. So I made up Powfu. It has no meaning to it.
E!: Now everybody knows who you are, how do you feel about that?
P: I mean, it's okay now. I was just embarrassed at the start. I used to not be too confident in my music, really sketched out to show people but it seems like most people like it now so I got a bit more confidence now.
E!: "Deathbed" is in the top 10 most Shazamed songs of 2020, it's got over half a billion streams on Spotify and is huge on TikTok. Talk us through the genesis of "Deathbed" and its journey up until today.
P: I released it over a year ago now, so it's been out for a long time. I originally just had it on SoundCloud and YouTube and then somehow it got on TikTok. When it hit like 10 million views [on YouTube] I was like, 'Oh, dang. It's quite a bit.' And then I started looking on TikTok and then the views on TikTok started going up, it was getting thousands of TikToks being made with it every day. I was like, 'This is getting crazy.' Then I ended up going all the way and I signed to a label, who helped me create the samples and I was able to post on streaming services like Spotify. And then the girl that is singing on it, Beabadoobee, I also got a hold of her and she wanted to become a primary artist on it too so that was awesome.
E!: Did you ever think that this track would be as popular as it is?
P: No. I had no idea that it was going to be this big. At the time, I was just making lo-fi music because it's just fun for me as a hobby. I was still working a part time job.
E!: What was your part time job?
P: At that time, I think it was construction. I've worked a lot of part time jobs, honestly, from grade 12 until now. The last three years I've worked probably five different jobs and they're all pretty s--t. But I'm happy I don't need to do them anymore.
 E!: Has Deathbed's viral success put pressure on you to come up with another hit?
P: Not really. I guess it just put on pressure in terms of like, now that I have a hit I know I could make another. But I'm not feeling stressed out or anything and I'm just going to continue to make music that I want to make and if it blows up, then it blows up.
E!: What is one thing you do want people to know about you, unrelated to music, that you've never talked about or that hasn't been written about?
P: I'm actually a pretty chill person. I don't know [if] people can see that through my interviews and my Instagram, but I feel like when people meet me they're always so surprised by how easygoing I am. 
E!: Is there a point where that's been disrupted in the past year since you've risen to fame?
P: To be honest, I feel like I haven't actually really changed at all. I kind of feel like it's a surreal feeling or it's like, it's still kind of crazy that I've blown up but I feel like I didn't really phase me at all. And a big part of that is because [of] my connection with God. I've been like praying a lot and reading the Bible. He keeps me grounded and all of it is because he gave me the power to do it.
E!: What famous person has slid into your DMs since you went viral?
P: I've had Joyner Lucas, I've had PnB Rock. I had Dixie D'Amelio, that was kind of crazy. I've never DM'ed Ninja but he follows me on Instagram. He's given me shout outs on Twitter and stuff. So he listens to my music which is pretty epic but I've never been able to talk to him.
This interview has been edited and condensed for clarity.