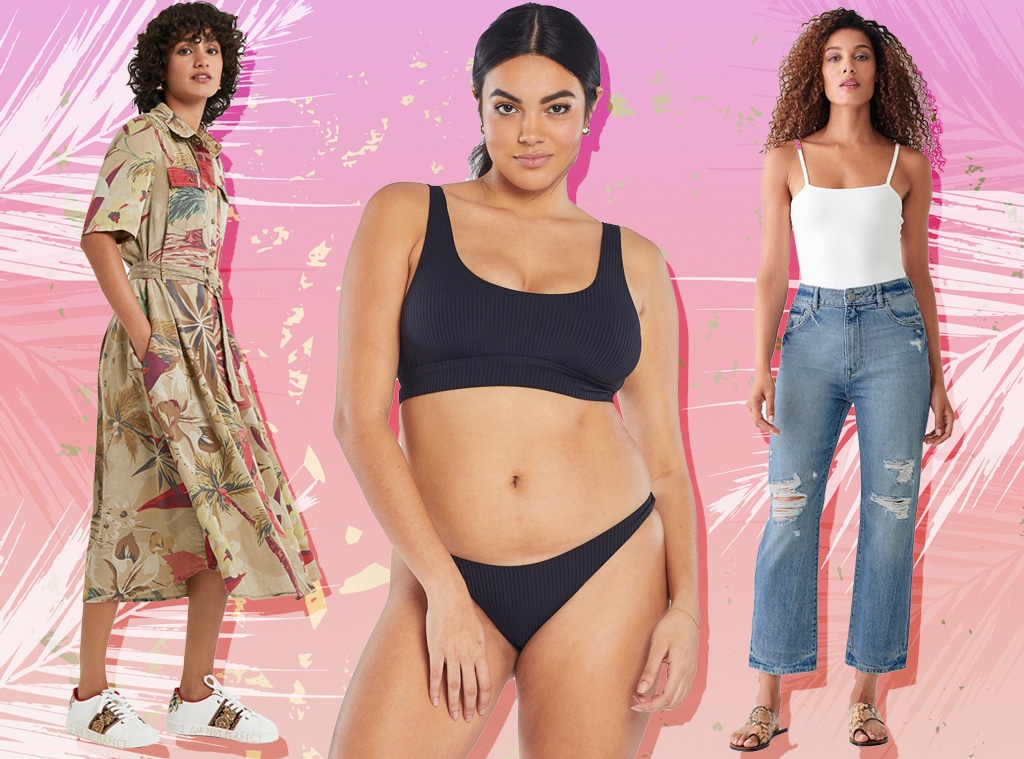 E! Illustration
Yebo Sneaker
This vegan leather sneaker is the stuff dreams are made of. The upper is made of bio-based leather created from a material derived from non-edible corn, along with other bio-based materials including recycled water bottles. The laces are organic cotton, and the bottom is crafted of 70% recycled rubber, 20% natural rubber, and 10% cork. It comes in a variety of colors, but we're obsessed with this white pair sporting wine accents.
DL1961 Jerry High Rise Vintage Straight
Warp + Weft Mad Boiler Suit
Using 1400 fewer gallons of water per jean versus regular jeans, 20% of fabric made with recycled denim, plastic, and cotton, and 75 sizes and body types represented, Warp + Weft is at the top of their game. Case in point: this one-and-done jumpsuit. With a drawstring cinch waist and a slightly tapered leg for a feminine touch, size up for a slouchier fit, or down for a slim fit, and rock this piece with sneaks or heels, depending on your sass.
Vitamin A Sienna Tank and High Waist
Intimissimi Rare Beauty Silk Brazilian Briefs
Crafted of Bluesign certified silk and lace inserts made from Qnova by Fulgar, a sustainable nylon fiber made from recycled raw materials at the front, these super soft and sexy undies redefine the term "green." They rely on fibers that are certified as having a low environmental impact and materials produced in a production chain that seeks to improve environmental performance.
Desigual Camoflower shirt dress
Champion Powerblend Colorblock Crew, Script Logo
Vincero Luxury Women's Eros Wrist Watch
Vincero is upending the game in the world of watches, with timeless (heh) timepieces that say as much about the person wearing them as they do about the company. Each watch is of the highest quality with bold and uncompromising style, in addition to being reasonably priced. As if that's not enough, Vincero with ​Climate Neutral,​ an independent non-profit organization that has helped them take responsibility for their greenhouse gas emissions in a meaningful and measurable way. As such, the company became carbon neutral starting in 2019. Meanwhile, this stunning rose gold 33mm watch is scratch and water resistant, and comes with a genuine Italian leather band. 
Everlane The Organic Cotton Boxy Raglan Tee
Amour Vert Coco Lounge Pants
Looking for some loungewear with a little more fashionable flare that will let you leave the house without people thinking your just rolled out of bed? Try these wide-leg pants with a removable waist tie and side seam pockets. Not only are they made of 27% organic cotton, but they're also 63% modal, which is made of sustainably harvested beechwood in a carbon neutral process.
Alternative Apparel Dolphin Eco-Jersey Skirt
Or, you could go for this sporty and stylish soft-knit Dolphin-hem skirt. With an elasticized waistband, it's comfy and cozy, but still cute enough to rock for a day to the beach, or a night spent watching the stars. It's made of eco-jersey, a cotton/poly/nylon blend which features organic and recycled materials.
Rothy's The Lace Up
Believe us when we say that if heaven were a sneaker, it would be Rothy's new Lace Up. It feels supremely comfy like those water-socks you can go tromping around in the sea in, but more substantial and supportive.The revolutionary two-part footbed (made of plant-based materials) offers support with comfort, while the upper is knit with Rothy's signature thread, spun from repurposed plastic bottles. Meanwhile, the outsoles are made of a bio-based TPU. We're probably going to get them in every color, but we started with the classic navy blue pair.