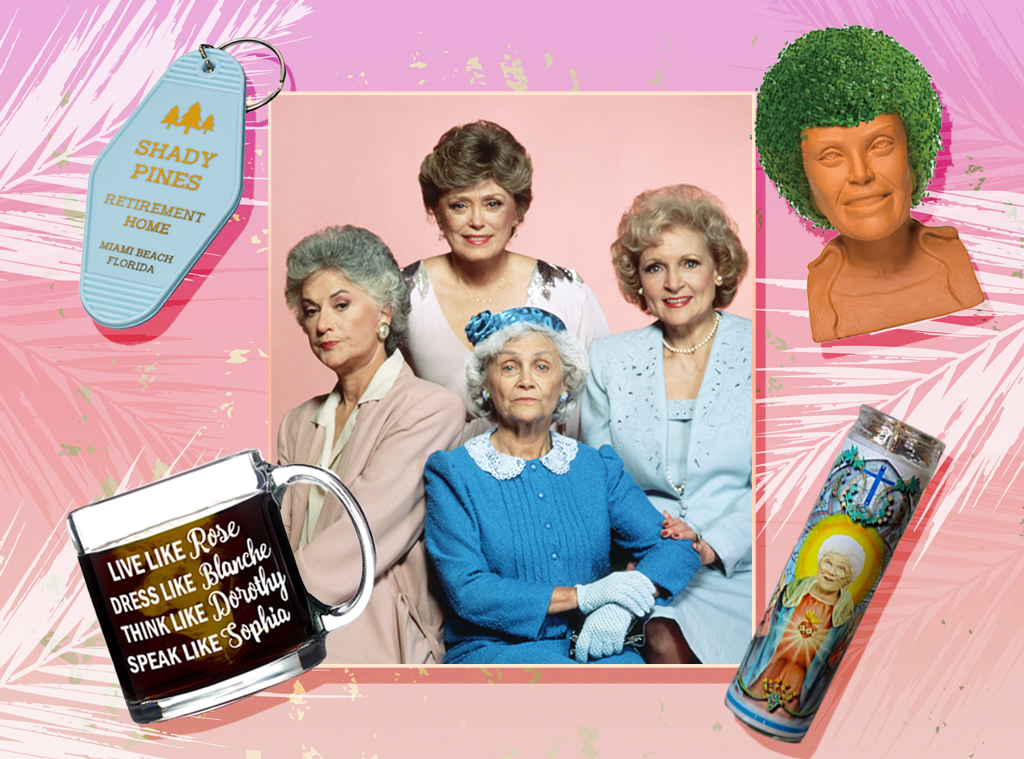 NBC/E! Illustration
We love these products, and we hope you do too. E! has affiliate relationships, so we may get a small share of the revenue from your purchases. Items are sold by the retailer, not E!.
As they say in St. Olaf, Christmas without fruitcake is like St. Sigmund's Day without the headless boy. We're not entirely sure, but we think that's akin to celebrating World Friendship Day without stuff featuring the ultimate girl squad, The Golden Girls!
No doubt about it: Blanche, Rose, Dorothy and Sophia are totally friendship goals. We can't think of a better way to honor this special day than by cozying up in a snuggly blanket featuring their faces, or sipping wine from character-inspired stemless glasses, or lighting a prayer candle in honor of that wise sage, Sophia Petrillo. (Just don't burn down Shady Pines in the process.)
So grab a slice of cheesecake and shop these fab finds featuring these icons of female friendship!
Golden Girls Windshield Sun Shade Visor
You could get shady like the girls, or you could just use them to shade your car from harmful UV rays. This sun blocker features all four ladies (with Dorothy in the driver's seat, natch) on a vinyl windshield shade that unfurls to protect your dashboard, steering wheel, seats and more.
Golden Girls Inspired Stemless Wine Glass Set
The Golden Girls Any Way You Slice It Retro Trivia Card Game
How deep is your love for Blanche, Sophia, Dorothy and Rose? Test your obsession with this trivia game, with the objective of collecting pieces of "cheesecake" for your knowledge of all things Girls. And it's good for two to four players, with 200 trivia cards that'll put you through your paces.
Shady Pines Vintage Hotel Motel Keychain
Golden Girls Shirt Adult Squad Goals Photo T-Shirt
My Pen15 Club Sophia Petrillo Celebrity Prayer Candle
Golden Girls Themed Warhol Fleece Blanket
Pop culture history crashes together in this delightful Warhol-esque fleece blanket featuring The Girls, with bold colors and bright hues to keep your spirits up, even if you're snuggled on the couch lamenting the cheating ways of that yutz Stanley Zbornak. Thankfully, it's machine washable, so it's easy to care for if you have a Blanche moment and spill your wine on it.
Golden Girls Coffee Mug
Search no longer: the meaning of life is printed on this glass coffee mug. The message? "Live Like Rose, Dress Like Blanche, Think Like Dorothy and Speak Like Sophia." It'll hold 13oz of whatever liquid you sip when you ponder the bigger picture, and it's dishwasher safe with fade and chip-proof white ink.
Chia Blanche Decorative Pottery Planter
If you've ever wanted a totem to help guide you in the ways of confidence, vitality, and never-ending beauty, obviously Blanche Devereaux should be your focus. May we recommend worshiping her in chia form? This kit features a chia Blanche with enough packets for three plantings, offering a full head of chia "hair" in one to three weeks.
Golden Girls Bingo Game
Sure, you could play regular old bingo. Or you could play deluxe bingo featuring our favorite girls splashed across 16 colorful bingo cards and 42 graphic calling cards, with each one unique representing one of the iconic moments from the series. Pair this with the stemless wine glasses, and you have your next girl's night activity.
Bioworld The Golden Girls Stay Golden T-Shirt
Golden Girls Party Supplies
And if you're really going to celebrate World Friendship Day and your Golden Girls obsession, this pack of party supplies will help you do both in style. With plates, party cups, napkins, a banner and table covering, you'll have everything you need to raise your glass and toast your besties, and the most iconic team of female friends in television history.