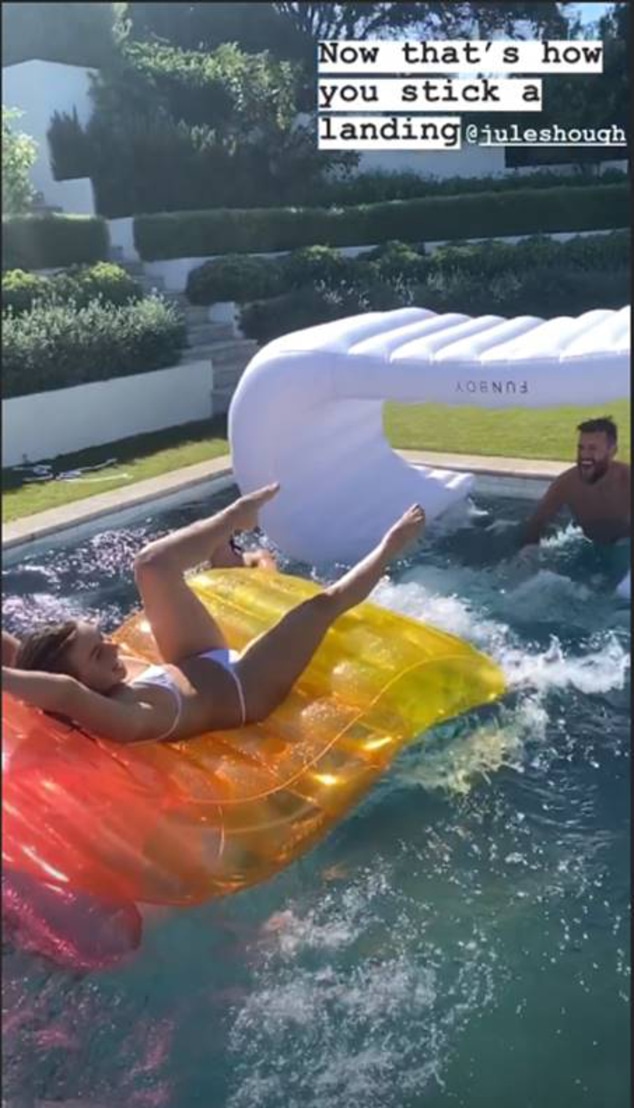 Instagram
It's her birthday and she'll party how she wants to.
Julianne Hough soaked up the sun on Saturday afternoon to celebrate her 32nd birthday. Even though her birthday was on Monday, July 20, the actress kept the party going into the weekend.
She enjoyed a fun-filled pool day with her nearest and dearest, which included her ex, Brooks Laich, and best friend, Nina Dobrev. On Instagram Stories, both Nina and Julianne shared behind-the-scenes pics and videos of the low-key party, which was a total "birthday surprise" for the 32-year-old star.
For the sweet celebration, Julianne opted for something cute and casual. She rocked a checkered orange dress that had a plunging neckline, cheeky waistline cutouts and an open back. The birthday girl accessorized with a colorful flower crown and gold dainty hoops.
"Feeling super loved right now," the Dancing with the Stars judge captioned one of her Instagram Stories.
"Smooches for the birthday gurl," Nina wrote in one Instagram Story, alongside a selfie with Julianne.
The Vampire Diaries alum also posted a slow-motion video of the 32-year-old actress performing an epic dive into the pool. In the short clip, Julianne could be seen jumping over Brooks' head while he sat in an inflatable pool cover.
"Now that's how you stick a landing," Nina captioned the footage.
News of Brooks and Julianne's birthday hangout comes just a few days after a hopeful update about their relationship. While the longtime couple decided to split two months ago, a source recently told E! News the duo has been "open to the idea" of giving their romance another shot.
"To say things are complicated would be an understatement," the source expressed, "but it doesn't seem like either one of them is ready to close the door for good."
"With the world now on pause, Julianne doesn't have the distractions she had several months ago and finds herself missing Brooks," the source pointed out. "It really hit her over her birthday that maybe she moved too quickly and didn't appreciate what she and Brooks had together."
Watch:
Julianne Hough & Brooks Laich Confirm Their Separation
According to the source, Brooks wasn't "open to reconciling" at first. 
"She bruised his ego and left him feeling humiliated, but he never stopped loving her. He was doing all of this to give her what she needed," the source explained. "Now that some time has passed, it seems like he's more open to the idea of reconciling."
"It's been a very fluid situation. They still love each other, and the lines of communication are open," the source added.