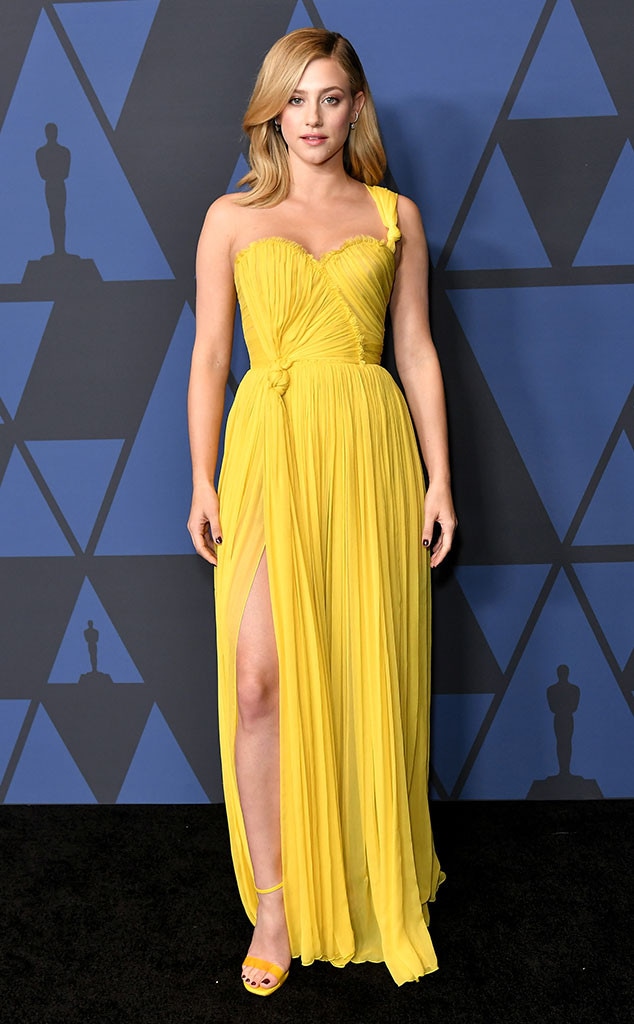 Rob Latour/Shutterstock
Lili Reinhart is speaking out about her mental health.
The 23-year-old actress discussed her struggle with anxiety during an Instagram Live chat on Thursday. Speaking to author Sylvester McNutt III, the Riverdale star said she stresses herself out "all the time." The COVID-19 pandemic, Lili said, has not helped either. 
"I'll have a very simple task...to do, but you know, I don't want to do it," she told the bestselling author. "Say, going to the post office. Like, I really don't want to drive to the post office. It gives me anxiety because I don't want to have to leave my dog; I don't want to have to deal with going out in public; I don't want to do the mask thing. I would, but like I don't want to put myself in a stressful environment. And I get myself hyped up about very dumb things. And I do that all the time. I remind myself, 'Why the hell are you stressing yourself out about going to the damn post office?'"
Reinhart has battled with anxiety for years. During the discussion, she recalled how she started getting panic attacks when she was in eighth grade.
"Every day, in my eighth-grade year, I would cry in the morning," the Hustlers celeb said. "I would pretend to be sick to my mom. I did not want to go to school. I did everything in my power to not go to school. I hated it. It caused me so much anxiety."
Reinhart said she knew she wanted to be an actress from a very young age. When she hung out with other people in theater, she felt like she could connect to them. However, she felt like she couldn't relate to other students.
"I felt more mature than them; I felt just like kind of an alien to them. I felt just very out of place," she continued.
She also explained "it was very hard" for her parents to understand why she hated school because there was no "physical bullying." Reinhart said her "anxiety manifested" and that she "really let it consume" her.
"It became a routine, where every morning I was like, 'Well, here it is again,'" she said. "And it kind of took towards the end of my eighth-grade year to really, like, change my mindset [to] where I would wake up and be like, 'OK, let's get through another day.'"
Additionally, Reinhart spoke about how she never really had time to process her celebrity status after Riverdale took off. Practicing social distancing and spending more time at home, however, has given the actress an opportunity to do so. 
"Things took off in my career and in my life around four years ago, and I never really had a significant amount of time to just process everything, and process fame, and my kind of new world that I am living in," the Betty Cooper star said. "And it's been a very important time for me—the past four months—to just process things."
Watch:
Lili Reinhart Reveals the Importance of Discussing Body Image
Reinhart says she's been doing online therapy every week, reading self-help books and looking into solo retreats.
"I've very much been…just trying to take full advantage of this very rare time, where I don't have much to do and deal with my own little box of trauma in the back of my head that I wouldn't normally ever want to sift through, you know?" she said at one point. "And I'm fortunate enough that I can have therapy every week; and I can, you know, outsource for, you know, certain methods of healing, like Reiki or something like that, maybe a lot of people don't have the opportunity to do." 
To hear her full discussion, watch the video above.