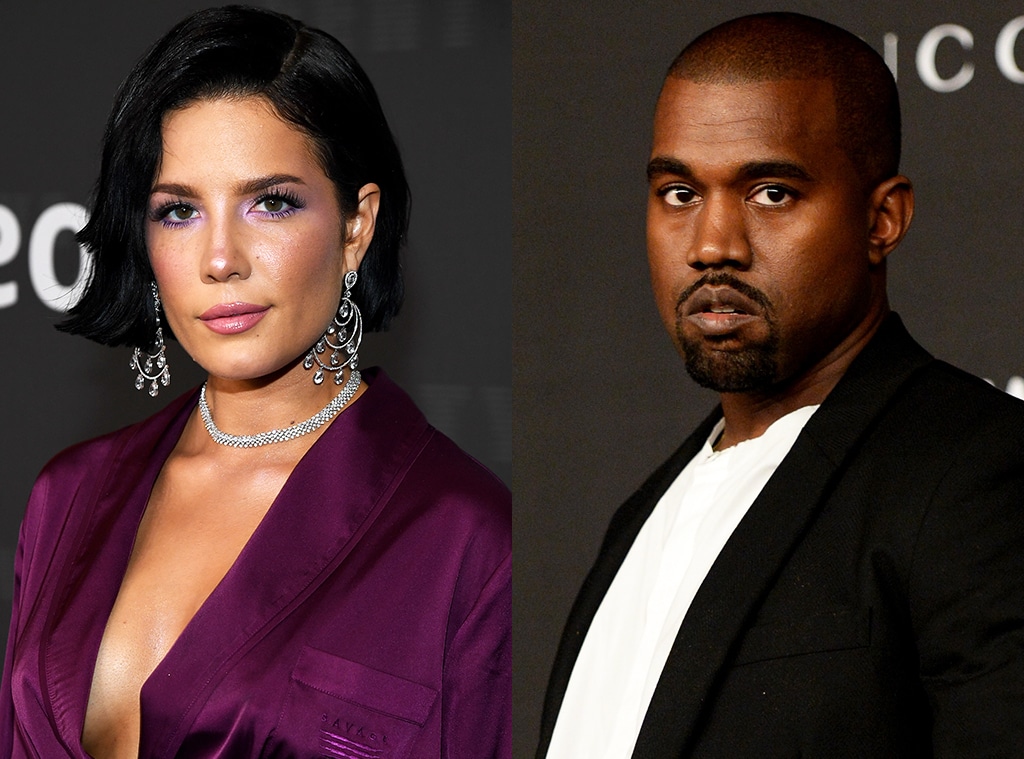 Kevin Mazur for Getty Images, Jason Merritt/TERM for Getty Images
Halsey is asking fans not to make jokes when it comes to mental health.
The "Without Me" singer took to Twitter on Monday, July 20, to seemingly respond to Kanye West's recent comments on social media. "No jokes right now. I have dedicated my career to offering education and insight about bipolar disorder and I'm so disturbed by what I'm seeing," Halsey wrote. "Personal opinions about someone aside, a manic episode isnt a joke. If you can't offer understanding or sympathy, offer your silence."
"A lot of people you know probably have bipolar disorder and you aren't aware of it," the 25-year-old star, who was diagnosed with bipolar disorder in her teens, continued. "Taking this opportunity to make offensive remarks and villify [sic] people with mental illnesses is really not the way to go...this is the exact triggering shit that causes people to keep quiet about it."
Halsey went on to tell her followers, "You can hate someone's actions or opinions without contributing to stigma that damages an entire community of sometimes vulnerable people all for a couple of laughs."
"If you wanna think someone is an asshole, go ahead," she added. "Lots of people with mental illnesses are great. Lots of them are assholes. Because they are people. With nuanced personalities. But making jokes specifically targeted towards bipolar hurts more than the 1 person ur angry with."
Halsey signed off her series of tweets with, "Sincerely, Human Being with a Decade Long Bipolar Diagnosis."
As fans may know, Kanye, who was hospitalized in back in 2016, has been very open about his mental health journey over the years. During an interview on David Letterman's Netflix series, My Next Guest Needs No Introduction, Kanye shared, "What I want to say about the bipolar thing is because it has the word 'bi' in it, it has the idea of, like, split personality. Well, that works for me because I'm a Gemini, but when you ramp up, it expresses your personality more."
"You can become almost more adolescent in your expression or border into places," Kanye continued. "This is my specific experience that I've had over the past two years, because I've only been diagnosed for two years now."
Glee star Kevin McHale also appeared to reference Kanye's series of tweets on Monday night, urging his followers to show their support.
"Here's the thing: as the public, we've been witness to too many troubling times for public figures. It's so so unbelievably easy to forget they're not a fictional character in your head, but a real human with family and friends and who very possibly needs helps and is in crisis," he wrote. "This is an opportunity for us to be better, to support and to hope a human being can get better. It's easy to laugh and make jokes at something we don't personally have to confront, but it's also just as easy to have empathy for struggle because we alll have had to confront that."
After seeing tweets on mental health from Halsey, Kevin, Maren Morris and E!'s Nina Parker, actress Jamie Lynn Spears shared the posts on her Instagram. "If you deal with mental illness or care for someone dealing with mental illness, then you know how important it is to respect the situation with privacy for the person, and the family trying to protect their loved ones, no matter how it may appear to the public, and as the public we must learn to do the same," Jamie Lynn, whose sister Britney Spears has previously sought treatment at a mental health facility, wrote. "I pray this doesn't bring shame to anyone dealing with mental illness, you are not alone, and you are loved. Sending all my love and prayers to all of you."
Several of Kanye's tweets, some of which have since been deleted, have since become trending topics on social media. Among the tweets were messages directed at his wife, Kim Kardashian, and his mother-in law, Kris Jenner. "Kriss [sic] don't play with me you and that calmye are not allowed around my children," Kanye wrote in one of the tweets. "Ya'll tried to lock me up."
Kanye also claimed, "Kim tried to bring a doctor to lock me up with a doctor."
E! News has reached out to Kim and Kanye's teams for comment, but have not heard back.