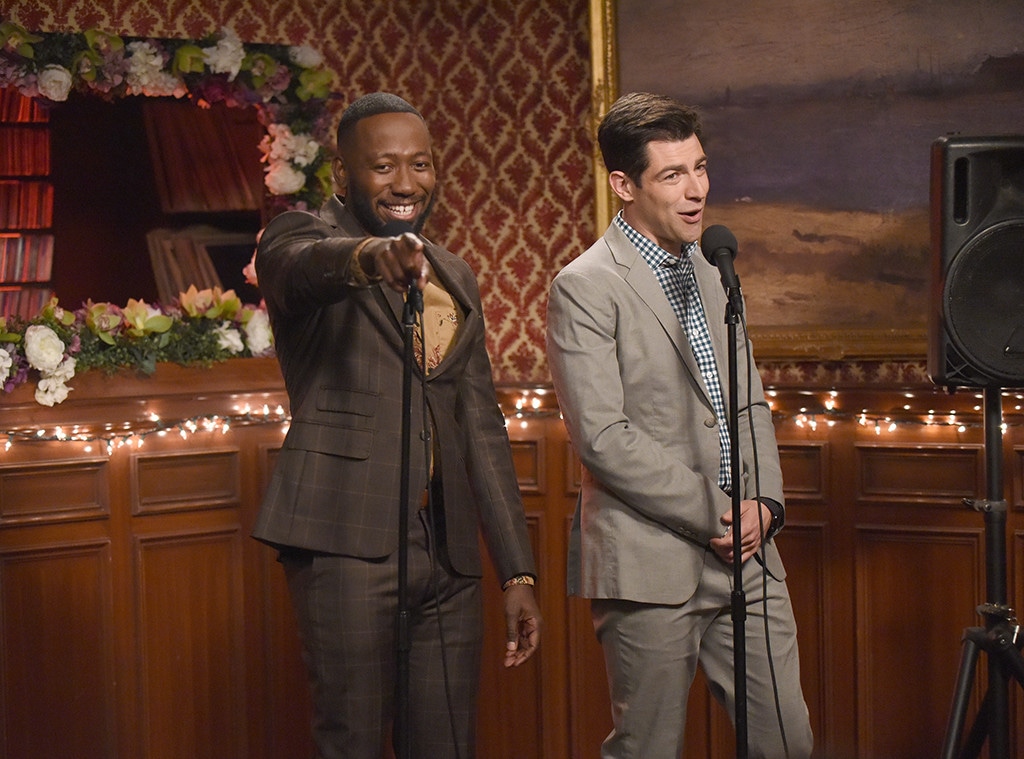 Fox
If you've spent a good portion of this quarantine watching or rewatching New Girl, you are not alone. 
The Fox comedy ended in May of 2018, and it seems to have found a little resurgence two years later, as fans are rediscovering just how good it was, and even just how prescient it might have been. Nick Miller has even trended on Twitter a time or two in the past few weeks, while Schmidt impressions and cool New Girl-related word art videos have been all the rage on TikTok. 
One TikTok user even discovered that the show might have predicted the pandemic. 
Season seven time jumped three years from 2017 to 2020, and in the first episode, Schmidt can be seen wearing a face mask and telling Nick and Jess that he's been "bleaching all outdoor playing surfaces," while Nick later says he has to go wash his hands because he's been in Europe.
"Did New Girl predict coronavirus?" the fan, who goes by @user29561036183021 on TikTok, asks as the video ends. 
There is no real answer to that (other than "probably not"), but what we can tell you is that the show has provided some much needed laughs to many fans over the past few months in particular. E! News spoke to Max Greenfield, who played Schmidt, recently about his partnership with Dadz, and he talked about what it was like to see so many people enjoying the show during quarantine. 
"We have talked about this with several people who are involved with the show. It is really a great quarantine show," he said. "You can binge the hell out of it. There is enough ongoing story lines where you can just watch another one. It is so ridiculously funny and so almost 99% of the time about meaningless ridiculous things that you can't help to enjoy and laugh and escape from everything in the world. It's mindless."
Watch:
7 of the Most Shocking TV Exits Ever
It's also sort of shockingly inappropriate at times, as a friend reminded him. 
"We have had a couple of moments and I was just talking to someone last night, we have daughters the same age and she was saying that, 'I tried to show our daughter New Girl and she loved it and as we were watching it we realized how inappropriate it is and we were like we will just fast forward this, and then sooner than later we are fast forwarding the whole thing.'" 
Oops!
Greenfield did reveal that he had not yet seen any of the Schmidt impressions on TikTok, but he's planning on tracking them down. 
"I need to find these. Oh, I am excited," he said (and can you not hear that line in Schmidt's voice?). 
If you want to join in on some of the New Girl fun but you're not ready to start from the very beginning, might we recommend season two's "Cooler" for the best kiss on television? Or perhaps season three's "Prince," for both Prince and the greatest scream on television, thanks to Nick Miller? 
The entire final season (which is only eight episodes) is also a delight, but we gotta say, watching the entire series brought us some serious joy in quarantine. You can watch the entire series on Netflix! 
New Girl originally aired on Fox.