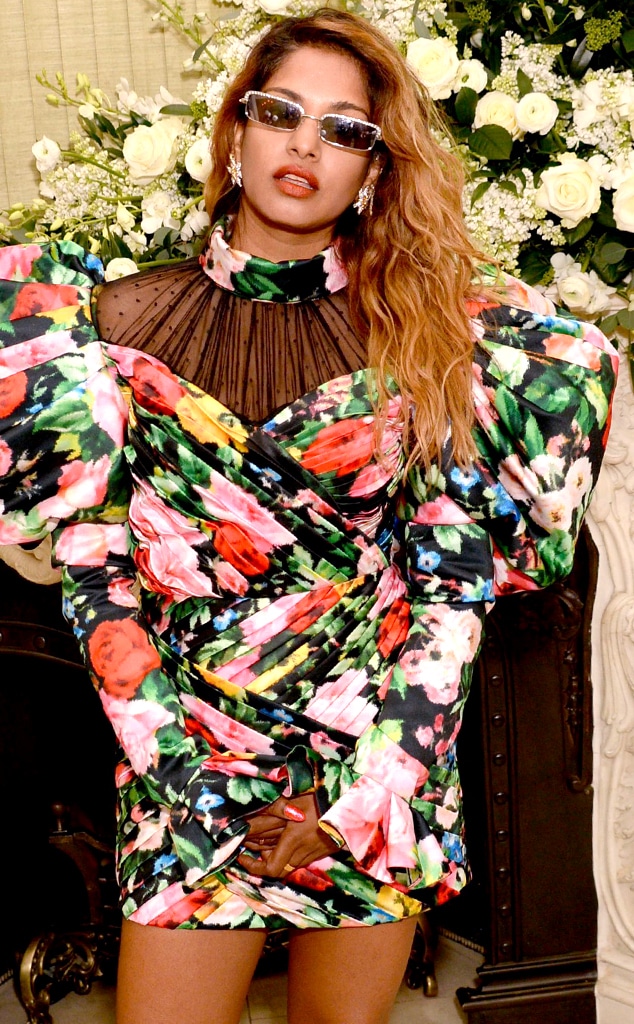 Richard Young/Shutterstock
There's no one else quite like M.I.A.
Since her arrival on the music scene nearly 20 years ago, Mathangi "Maya" Arulpragasam has acted as one of the industry's chief provocateur's, challenging Western ideals as only a Sri Lankan Tamil born in London, but raised the Northern Province of the country can. With an upbringing shaped by increasing displacement from the country's decades long civil war, she's used her art to shed light on human rights violations and the plight of refugees, crouching her heavy subject matter within a uniquely global electro/hip-hop sound.
She'll have you dancing, and once you are, she's going to make sure you're thinking, too. 
With five albums under her belt, and a sixth rumored to be on the way, her journey has been marked some soaring highs and a few controversial lows. In honor of her 45th birthday on July 18, we thought we'd take a look at the five musical moments that have shaped her groundbreaking career.
"Galang"
The one that started it all. With its mix of dancehall, jungle, electro and world music, the track made waves when it arrived online and in the clubs in 2003, introducing the world to what would become M.I.A.'s signature sound well ahead of the 2005 release of her debut album Arular.
"Paper Planes"
Featured on her sophomore album, 2007's Kala, this now-iconic track was the one that put M.I.A. truly on the map. Produced and co-written by Diplo with lyrics inspired her problems obtaining a visa to work in the States, the song gave M.I.A. her first and only top 10 track on the Billboard Hot 100 (where it peaked at No. 4), was featured in both Pineapple Express and Slumdog Millionaire, and scored her an invite to the 51st Grammy Awards--where it was nominated for Record of the Year--where she performed while nine months pregnant.
"O... Saya"
"Paper Planes" wasn't the only M.I.A. track to be included on the Slumdog Millionaire soundtrack. She also worked with composer A. R. Rahman on this one, which earned her a Best Original Song nomination at the 81st Academy Awards. (It lost to the film's other nominated song, "Jai Ho.")
"Bad Girls"
Making excellent use of Middle Eastern and Indian influences on this track, initially featured on 2010 mixtape Vicki Leekx before getting an update as the lead single on 2013's Matangi, "Bad Girls" is brimming with female empowerment. And its music video, shot in Morocco in solidarity with Saudi Arabia's Women to Drive movement, is iconic.
Super Bowl XLVI Halftime Show
After working with Madonna on the hit single "Give Me All Your Luvin'," M.I.A. was invited to perform alongside the music legend as she headlined the Super Bowl XLVI Halftime Show in 2012. And when the camera was on her, she proved she meant it as she rapped the last line of her verse--"I'ma say this once, yeah, I don't give a s--t"--as she flipped the bird to all 114 million viewers watching at home. The NFL later fined her $16.6 million for the gesture, which was settled in a confidential 2014 agreement.