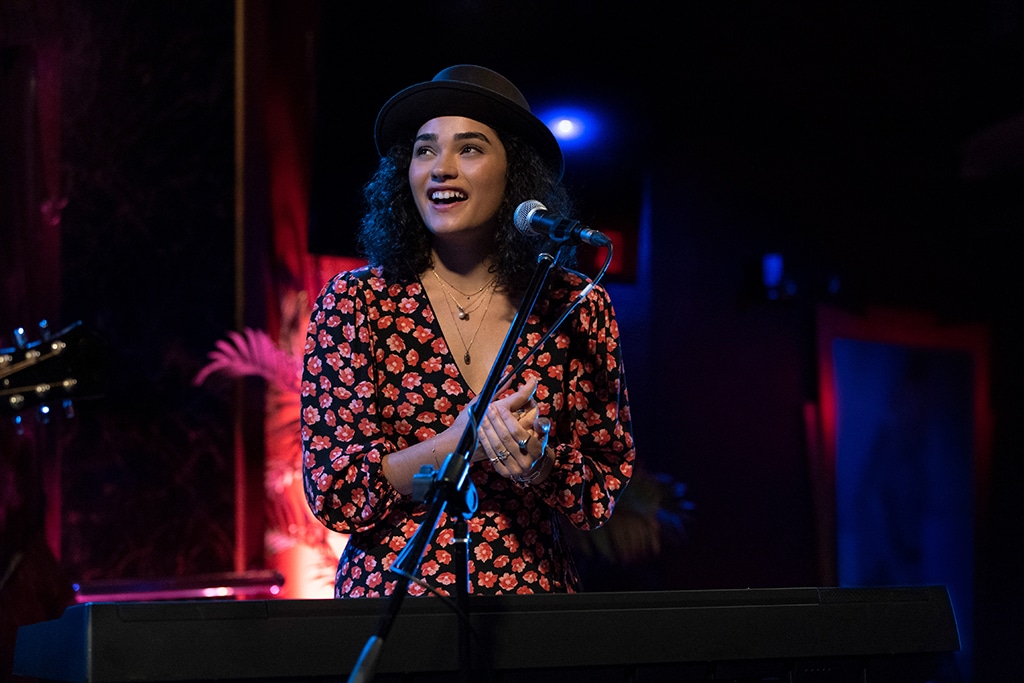 Apple
Brittany O'Grady was on a Sara Bareilles kick when she got an audition that would wind up being a game changer. The job? Oh, just the lead in Little Voice, the Apple TV+ series created by Bareilles and Jessie Nelson.
"When I was a kid, I loved her album Little Voice and really identified with her songs when she was telling someone, 'don't tell me what to do, don't tell me how to think.' I loved 'Love Song.' I loved 'King of Anything,' that was a really special one for me growing up," O'Grady told E! News. "Earlier that year, before I auditioned for Little Voice, I started listening to the Waitress album and I just loved the music from it. And it made me want to kind of go back into theater again."
"So I was just shocked when I got an audition for the show that involved her and Jessie, because I was like, 'Wow, that's kind of—that's on the nose there,' because it was kind of what was in my sphere at the time," she continued.
O'Grady landed the part of Bess King in the series. The character is a singer-songwriter trying to survive life in New York, balancing a complicated personal life while trying to land her big break in the music industry. It's based on some of Bareilles' experiences, but isn't her. O'Grady, 24, said she related to the character quite a bit. At 17, she moved from Virginia to Los Angeles with show business dreams.
"I felt super lost when I moved to LA. I was really scared. I grew up in one place, in one house, and everything was the same and everything was within my control, I guess. And then when I moved to LA, it was just like a whole different world. Being young—really young—trying to find jobs, I just had a lot of determination and I think my age really made it hard for me," she said. "You can't even buy NyQuil at 17...I was like, look, if things aren't going to work out for me, then I'm going to go to school and figure it out. And now things have worked out. So here I am, I completely identify with that with the character."
Watch:
Sara Bareilles Talks Working With John Legend
One aspect of the character, besides her drive, was very easy for O'Grady to relate to.
"I really identified with Bess and how awkward she is. I'm a really awkward person as well. I can be very weird, and I think she's kind of quirky and weird too…When I first read her monologue on stage where she totally bombs, I had someone read with me and they're like, 'Wow, this is really you.' I was like, 'Thanks, I guess?' [Laughs.] That's what attracted me to her for sure," O'Grady said.
The series features original music written by Bareilles, a mix of songs the Grammy winner had written already along with new songs penned specifically for the show. O'Grady is no stranger to the TV musical, she appeared alongside Queen Latifah and Jude Demorest in Fox's Star. However, she did admit to worrying about her ability to nail the songs.
"I was super nervous about being able to do the music well," she laughed. "But I think it was a really sweet thing, especially looking back and seeing the finished product and finally realizing outside of the work aspect of it, how much that was portrayed in the show. I loved that."
It probably did—and didn't—help the nerves to have Bareilles around on set. O'Grady said working with the singer-songwriter and co-creator was "great."
"She helped me grow so much. She was incredibly patient with me, and I really appreciated that. And she's so kind, her spirit is so genuine in who she is, and her music as well. I think her music is a great reflection of her genius and also her honesty. And she has excellent taste. She'll never let you be anything but good. So, I felt like I was in great hands with her," O'Grady said.
Little Voice drops new episodes on Fridays on Apple TV+.