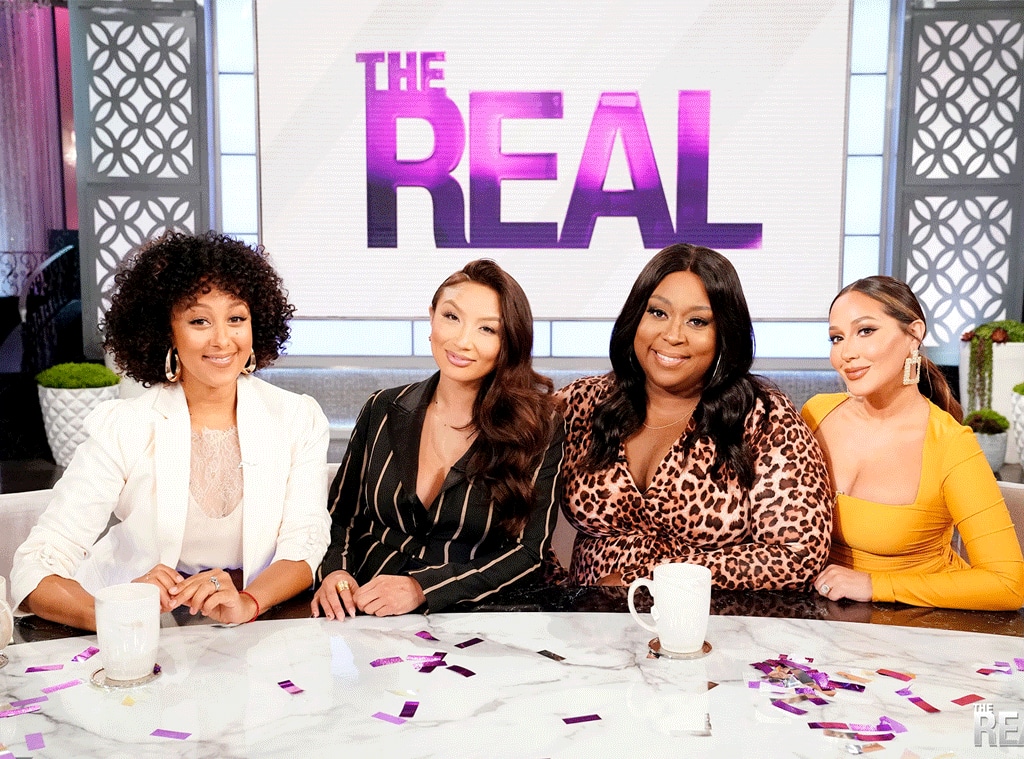 Robert Voets/Warner Bros. Television
Tamera Mowry-Housley is breaking her silence over some important news.
The actress and television host took to social media on Monday afternoon to share that she's leaving The Real after seven years. Tamera has captured hearts and made people laugh on the hour-long talk show with co-hosts, Loni Love, Adrienne Bailon and Jeannie Mai.
Tamera explained that she hadn't planned on revealing her departure from The Real today, especially with the news that her close friend, Naya Rivera, was confirmed dead by authorities five days after she went missing.
"I had NO intention to talk about this today, especially in light of the news of my dear friend Naya, but now some reports are coming out and I'd rather you hear it from me first," Tamera captioned her Instagram post.
"For seven years, my home and heart has been at The Real," her accompanying message read. "The friendships I've made there will last a lifetime, and the people that I've been blessed to interview have changed my life for the better."
"I'm so proud of what all the ladies and I have accomplished there, including two well-deserved NAACP Image Awards and a Daytime Emmy," she went on. "However, all good things must come to an end, and it's with a bittersweet smile that I announce that I am moving on from The Real."
At this time, it's unclear what led Tamera to this decision as she didn't disclose that information in her statement.
The actress did mention that she is looking forward to enjoying more time with her family, seeking new opportunities and "embarking on the next chapter" in her life.
She made sure to share a heartwarming message to her co-hosts, too. "I love you, I will miss you and I will always be there for you," she wrote. "Thank you for teaching me, supporting me and loving all of me. Sisters forever."
Watch:
Tamera Mowry Drinks Twin Sister Tia's Breast Milk
This isn't the first time someone from The Real has left the show. Amanda Seales left earlier this year.
"I have arrived because my contract is up at The Real and I did not renew it because it doesn't feel good to my soul to be at a place where I cannot speak to my people the way they need to be spoken to and where the people who are speaking to me in disparaging ways are not being handled," she told Hamilton actor Brandon Victor Dixon during an Instagram live, per NBC News.
She added, "I'm not in a space where I can, as a full Black woman, have my voice and my coworkers also have their voices and where the people at the top are not respecting the necessity for Black voices to be at the top too."
Back in 2016, Tamar Braxton announced her exit.
"The Real and Tamar Braxton have mutually decided that Tamar will not be continuing with the show for its upcoming third season," the star and show's rep said in a statement to E! News at the time. "She will be leaving in order to concentrate on her solo career. Everyone associated with The Real appreciates Tamar's efforts and the contributions she has made to the show's success, and we wish her all the best for the future."
Shortly after, reports surfaced that there was drama behind-the-scenes with Tamar and the other co-hosts. In September 2019, Tamar discussed the talk show with Wendy Williams.
"I do not want to be anybody's marketing tool this season, no shade. I just wish everybody well and I just feel like sometimes God has to move you out of situations before you become more toxic to yourself," Tamar said. "What if I was in a situation where I'm doing the Braxton's and its very stressful and then I'm doing this other show where people are being catty behind my back?"
She added, "What kind of person would I be right now sitting on this couch? I wouldn't be focused, I wouldn't be ready for my transformation, I wouldn't be ready for my elevation and that's where I've got to go. I've got to go up and up and up."
The ladies on The Real caught wind of Tamar's interview and addressed it on their show. 
"We were just watching Wendy live. First of all, thank you for calling us a cute show. We are also an Emmy-winning show, don't forget that. Tamar Braxton was your guest. We appreciate the fact that you brought us up. Full disclosure, it's been three years. I don't know why you guys keep talking about this whole situation," Loni said. "[I] invited her to come on the show for season six. It was a simple, public ask. I did try to call her privately. I've been texting her. I get no response. So I just put it out there."
She added, "The show has reached out to her. Tamar, nobody is trying to use you as a marketing tool, sweetie."
"The fact is we had no idea. There was no ill intention. There was no meeting. There was none of that. And I can say that to that one up there," Tamera added, while pointing up to the sky. "So if anybody else believes anything else, that's on you. And I'm sorry, you know."
Of the comments, Tamar took to social media to express she felt "defeated."
"I'm feeling defeated. All my hard work & from one question, went down the drain. I'm just tired of it," she wrote. "I have so many positive amazing television shows coming and music and this is always the focus. I honestly don't want to discuss them nor talk to or about them."