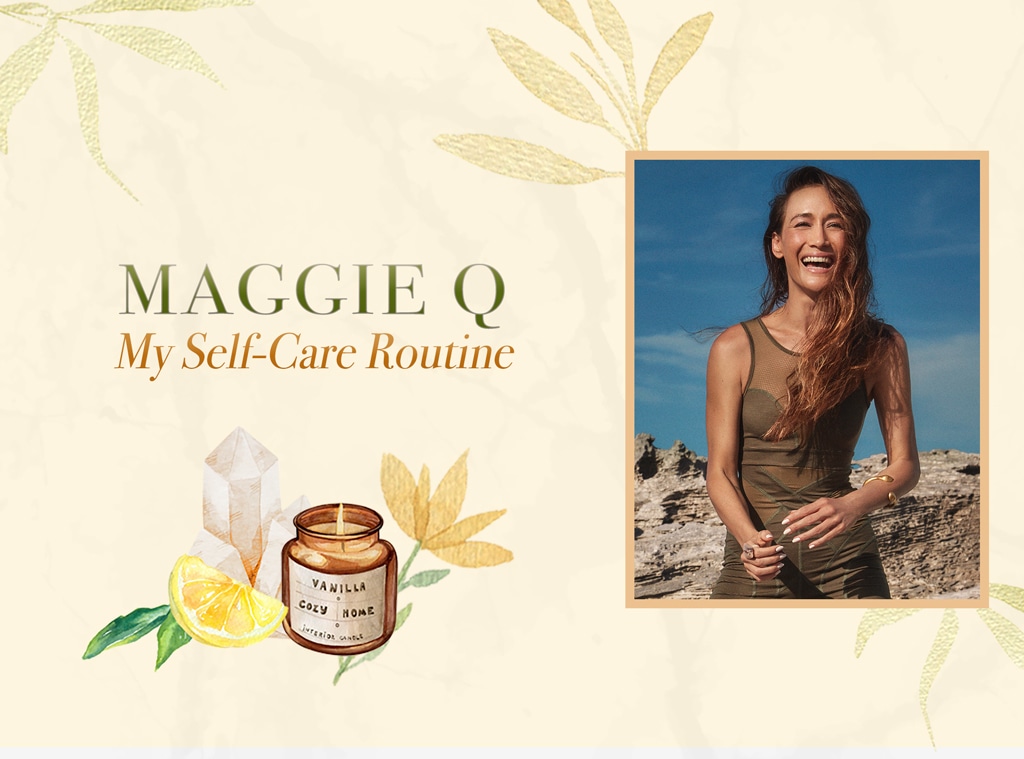 Greg Kadel/Maggie Q; E! Illustration
Prepare to feel inspired.
We've been watching Maggie Q kick ass for years in hit movies and TV, from Mission: Impossible III to her starring role on The CW's underrated Nikita and, most recently, Netflix's Designated Survivor, so it makes sense that her at-home self-care practice is just as aspirational. 
In this week's installment of E's Wellness Wednesday series, the founder of Qeep Up, an environmentalist movement and sustainable activewear line that uses 100 percent recycled plastic from the oceans, is revealing her favorite way to break a sweat, her go-to snack and recipe, and who she turns to for positivity and inspiration when she needs a lift.  
Affirmation or Mantra You Tell Yourself:
The Four Agreements. Be impeccable with your word. Don't take anything personally. Don't make assumptions. Try your best. This just makes your life easier on any level. It gives you a moral and ethical compass on how you put yourself out there in the world. I think we need to stop hurting one another, but we also need to stop being hurt by people. They are where they are. If it doesn't suit you… walk away.
The First Thing You Do in the Morning:
Kiss my animals and tell them individually that I love them. It's important you single them out. It makes a difference and they KNOW the difference. If you only have one, then lucky them!
Three Things You Try to Do Every Day:
Juice in the a.m., yoga or hike and meditation. All of these things are my soul food. I have less balance without them.
Watch:
2020 Celebrity Summer Transformations: Miley Cyrus, Cardi B & More
Social Media Accounts You Follow for Positivity:
Food. I follow chefs and they make me SO happy. Who doesn't want to see a dish they can aspire to?! @minimalistbaker is so great. So is @ohsheglows. I also like this new woman I saw @the.koren.vegan. There are so many!
Your Favorite Way to Break a Sweat Right Now:
During lockdown its yoga under my own direction. I can go onto so many different tangents and by the time I am done it is often two hours.
Your Go-To Snack:
During Summer? FRUIT. I can't think of a more perfect food.
Your Go-To Healthy Recipe:
In hot months I like to do an Asian cold noodle with lots of spice and crunchy raw veggies. It's light, but filling and it's fast.
Your Go-To Indulgence:
The Laduree French pastry bakery has a vegan location now in LA. I LOVE croissants and any baked good but I rarely get to eat them because of all the butter and cream. NOW…I can have my cake and eat it too.
Your Go-To Easy Beauty Routine:
Oil. You can change your skin with a good concentrated oil. Put it on in a sauna, a hot bath, or before bed after a long tiring day and you will be quite renewed.
Your Current Feel Good Songs:
None of my feel good songs are current. I still depend on Lionel Richie or Stevie Wonder for that.
The Apps or Podcasts You've Been Turning To:
I love my friend Justin Long's podcast Life is Short. He's one of the funniest people I know, and he interviews a lot of comedians. So it makes for a good time. I love to laugh more than anything.
Amy Sussman/E! Entertainment/NBCU Photo Bank
Your No. 1 Self-Care Tip:
Sleep. There is no cream in the world that fixes a lack of sleep. Beat hours are between 9 p.m.-5 a.m.
You Can't Go to Bed Without Doing This:
Flossing. A dentist once told me that not flossing is like not wiping after a #2.
What Is Making You the Happiest Right Now:
Absolutely everything. We are living in such an uncertain time, with long awaited struggles coming to the forefront- finally. If you have your health and loved ones, and are ready, willing, and able to be here to carve out your future and fight for others… well then LET'S GO!
Your Reading Recommendation:
Letting Go (by David R. Hawkins). It will change your life.