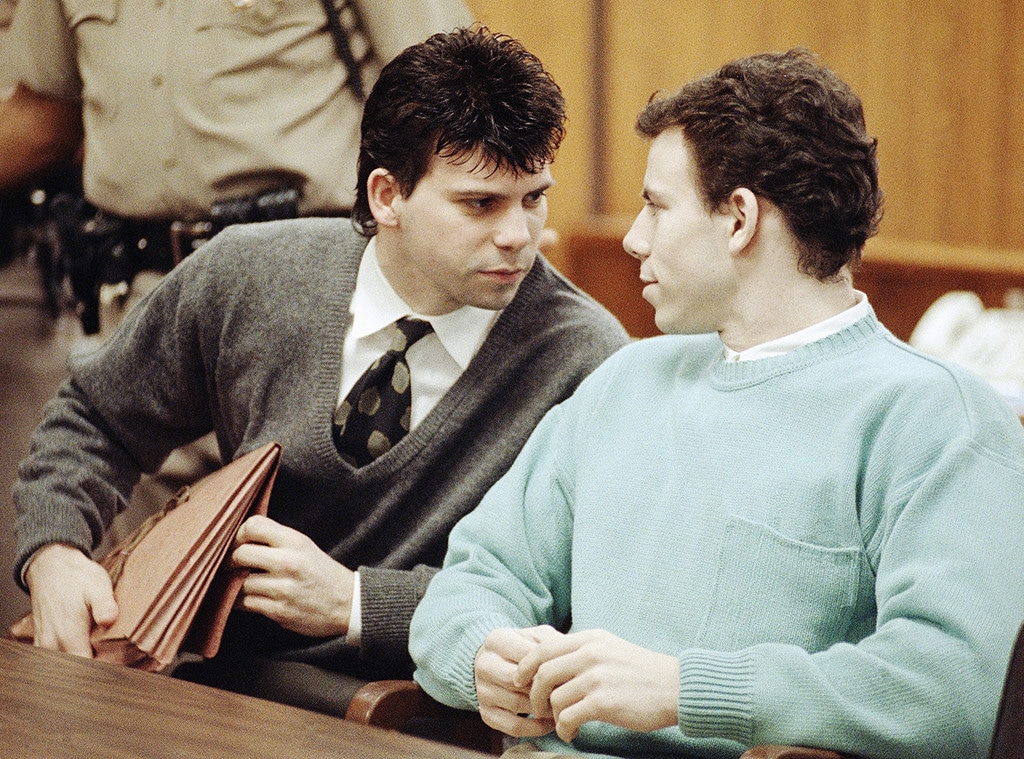 AP Photo/Kevork Djansezian
For many, the O.J. Simpson murder trial remains the most memorable real-life sordid saga to play out on television, day after day for almost 16 months, until the words "not guilty" rang out on Oct. 3, 1995.
Court TV played an out-sized role in that wall-to-wall coverage, the all-legal-drama-all-the-time cable network showing the daily proceedings in CSPAN-like fashion and then blanketing its lineup with analysis, interviews and reporting on all things O.J.
But by the time the Simpson trial came along, Court TV was more than ready, having already shown that one case could be the end-all and be-all of unscripted entertainment.
On the night of Aug. 20, 1989, 21-year-old Lyle Menendez and his 18-year-old brother, Erik Menendez, shot their father, Jose, and mother, Kitty, to death in their Beverly Hills home.
That's established fact by now. However, three decades later, the answer to the question "why?" remains contingent on whom you believe—the prosecutors who won first-degree murder convictions and life terms for both, or Lyle and Erik, who claimed they acted in self-defense.
In the beginning, the brothers held fast to their alibi: They had watched Batman at a theater in Santa Monica and then stopped by a food festival before returning to the family home on Elm Drive and discovering the grisly scene that awaited. In the recording of the 911 call made from the house at 11:47 p.m., Lyle can be heard sobbing, "Someone killed my parents."
Within days of the slayings, Lyle took on the guise of a wealthy heir who was possibly in danger. He wore a bullet proof vest and hired a pair of bodyguards, one of whom later testified at the brothers' 1993 trial that Lyle told him "his parents were murdered by either the cartel or the mob and he was in fear of his life." He rode around in a limo, bought clothes, test-drove a Porsche and made a $300,000 investment in a restaurant in Princeton, N.J. Erik, a competitive tennis player, hired a private coach. The brothers went on trips, to the Caribbean and London.
And Erik continued to see his therapist, Jerome Oziel.
It was during his Oct. 31, 1989, session that Erik told Oziel that he and Lyle had killed their parents. On Nov. 2, Oziel talked to both brothers and—Oziel later testified—Lyle told the psychologist that he and Erik had discussed the possibility of killing him in the wake of what Erik said. 
The brothers were arrested in March 1990, police picking up Erik at the airport when he returned home from playing in a tennis tournament in Israel.
In a soap-operatic twist, Oziel had told his girlfriend at the time what Erik had said on the very same day, and she's the one who eventually told police—a development that led to months of legal wrangling over whether Erik's confession was admissible in a court of law or a violation of doctor-patient privilege. A judge ruled in August 1990 that, by threatening Oziel, Lyle had voided the brothers' right to confidentiality. The defense successfully appealed, but that decision was overturned in 1992 by the California State Supreme Court, which re-allowed most of Oziel's recordings from the sessions, but not Erik's confession, into evidence.
All told, that legal back-and-forth is the reason why the brothers' trial did not begin until July 1993, four years after Jose and Kitty Menendez were killed. And when it began, Erik's lawyer, Lesley Abramson, shocked the world: They maintained that the brothers had killed their parents in self-defense after years of sexual, physical and psychological abuse. Lyle and Erik feared for their lives, the defense argued, and were forced to resort to the ultimate action to save themselves.
It was the ultimate WTF bombshell, and Court TV was there from day one.
"Tune in tomorrow. I know I will, as I have since July 20, when Court TV began airing the grisly murder trial of the Menendez brothers in its entirety," Jess Cagle wrote in an Entertainment Weekly article titled "Confessions of a Court TV Addict" in November 1993.
Of course, the network hadn't exactly been hurting for subject matter since its launch on July 1, 1991.
It covered the high-profile William Kennedy Smith rape trial (the JFK nephew was acquitted) in 1991, as well as Anita Hill's gripping testimony during Clarence Thomas' Supreme Court confirmation hearing. In 1992 four Los Angeles police officers were acquitted of assault and excessive force in the beating of Rodney King, leading to days of rioting in South Los Angeles. Christian Brando's trial in the slaying of his sister's boyfriend was covered in full by the network, including testimony from his Oscar-winning father Marlon Brando. Serial killer Jeffrey Dahmer was seen being convicted of 15 murders in 1992.
So, by 1993, Court TV was a well-oiled machine—but it wasn't until the Menendez case transfixed the nation that the network really popped. By that summer, more than 1.3 million people were tuning in, both for the expert insight and to watch hours upon hours of testimony and legal minutiae in the courtroom, coverage that turned judges, lawyers and witnesses into celebrities and making the coverage part of the overall memory of the case. (And if you're by any chance interested in watching the 1993 Menendez trial in full—it's there, along with a series of other infamous trials, neatly indexed on the the Court TV website.)
Despite the aura of salaciousness that the idea of 24/7 coverage of anything can't help but connote, Court TV was stocked with serious journalists and legal analysts who provided the most comprehensive, least-tabloid-like programming when it came to these unavoidably infamous cases.
They couldn't help it if the drama playing out in court every day was off-the-wall bonkers, fodder for cable news, magazine covers, TV movies and Saturday Night Live sketches.
The Menendez case checked off all the ingredients of the recipe for rapt fascination: Money and privilege, a picture-perfect family that may have been harboring the most devastating of secrets, and a cast of characters with dueling motivations that made for a daily game of trying to discern who was lying their tails off and who was telling anything resembling the truth.
"Few stories I've ever covered have been so emotional," Terry Moran, one of the original Court TV anchors who would also cover the Simpson trial for the network before joining ABC News in 1997, wrote for ABCNews.com ahead of the 2017 special Truth and Lies: The Menendez Brothers. "And I think it was because this was primarily a family story. And families are the crucible of our lives and of our melodramas, the place where our most intense connections are forged—and broken."
He said that, more than 20 years later, the case still haunted him—and he acknowledged that the media frenzy that dissected the case every which way has overpowered the memory of just how painful "the catastrophe of the Menendez family" was to witness up close.
"I was still a relatively new TV reporter, and I'd never seen anything like the Menendez trial. It was my first media circus," Moran wrote. "Reporters and crews from around the world came to the courthouse in Van Nuys, Calif., to bring this family's disaster to all the folks back home." By the time each of the brothers took the stand to testify, "[t]hey were transformed. So were their parents. Their family tragedy became a kind of national game-show or cartoon—unreal, drained of the pain that flowed through the courtroom every day."
Moran, who is now Senior National Correspondent at ABC News, concluded, "I learned a valuable lesson from all that: Ignore the hype. Remember—always remember—that no matter how big a story gets, it's always about real people, real life, in the first instance. As soon as a reporter loses that connection—that empathy—cynicism creeps in. And cynicism kills real journalism."
He couldn't help that he became an unwitting star of the show, too, along with fellow Court TV anchors Jack Ford and Fred Graham. Future ABC News chief legal affairs anchor Dan Abrams would also become a household name during his coverage of the Simpson trial. 
"If Court TV were any more addictive, it would be illegal," went the network's peak-'90s tagline.
While Court TV—which rebranded as Tru TV on cable in 2008, but has since been relaunched digitally for multiple platforms (including, once again, on SiriusXM)—inevitably became part of the overarching "media circus" that defined the Menendez and Simpson trials, as well as countless other cases, it also made armchair investigators and amateur experts out of viewers at home long before chat rooms and Reddit threads were on the case.
"[The Menendez trial] probably had the effect, maybe good, maybe bad, of demonstrating that, even if you didn't have a celebrity, if the circumstances were dramatic enough, people will be captivated," lawyer, journalist and Court TV founder Stephen Brill told Rolling Stone in 2017. "We've had lots of trials like that since, but that was really the one that proved that people would be interested in watching big trials."
In response to critics who were of the firm belief that putting cameras in a courtroom had an adverse effect on the whole criminal-justice process, turning everyone involved into a performer and the substance into spectacle, Brill maintained that Court TV wasn't actually affecting behavior or outcomes. Rather, their cameras were adding transparency and educating people about a process that most in their lifetimes would only see acted out in movies or scripted TV. 
Watch:
Edie Falco Talks "Law & Order True Crime: The Menendez Murders"
"Trials were always very public spectacles and very often the audience gallery was hundreds and hundreds of people and they'd cheer and yell and scream at people," Brill said. "That was a circus. But having a tiny camera in a courtroom that doesn't make any noise—that's not a circus."
And though the No. 1 draw of watching all that trial footage may have been the possibility of something crazy happening on live TV, at the end of the day, people really wanted to find out who, what, when, where and why.
Jess Cagle concluded in his 1993 piece, "As I sift through the carnage of the Menendez trial, I am not only reveling in the gristle and gore but participating in a search for justice, just as I am looking for justice for Rodney King, Reginald Denny, Dahmer's victims, even Art Buchwald. There's no Vicki or Montel or Sally or Geraldo mugging for the Nielsen families and telling us what to think. There's just a judge, a jury, and a solemn promise to provide us some answers with a verdict."
Of course, nothing about the Menendez case was so simple.
The first go-round ended in a mistrial in January 1994, with two juries hung up in disagreement over whether Lyle and Erik had committed manslaughter or murder. 
After a second, shorter trial—which began in a post-O.J. world in 1995 and without cameras in the courtroom—the Menendez brothers were both found guilty of two counts each of first-degree murder. In March 1996, they were sentenced to consecutive terms of life in prison without the possibility of parole.
They were sent to different facilities and wouldn't see each other again for 22 years, until Lyle was transferred in February 2018 from Mule Creek State Prison in northern California to Richard J. Donovan Correctional Facility in San Diego. The brothers tearfully reunited two months later when Lyle was put in Erik's housing unit.
All the while, the world had never lost interest in the Menendez case, per se, but there was particular renewed interest around that time, stemming from the Lifetime Movie Menendez: Blood Brothers, starring Courtney Love as Kitty Menendez, and NBC's Law & Order True Crime: The Menendez Murders, featuring an Emmy-nominated performance by Edie Falco as Leslie Abramson, both in 2017.
And the fascination continues, hence the recall to the network's heyday, back when there weren't a zillion other resources competing for attention, with the new podcast Murder and The Menendez Brothers: A Court TV Mystery, hosted by Court TV lead anchor Vinnie Politan.
"The Menendez case was one of the original Court TV's most-watched trials and helped put the network into the mainstream; it was a natural choice to launch our new serialized podcast series," said Scott Tufts, Court TV Senior Vice President, when the series was announced last month.
Added Politan: "This was a sensationalist crime in every sense of the word. What these brothers stood accused of and ultimately were convicted for, was a shock to the system for many people. From the little things that help the brothers initially avoid suspicion, to how they've become well-known figures—for better or worse—we'll go through it all, including what the results may have been like if they faced a jury of their peers today."
No one knows the case better from the inside-out, top-to-bottom, than Court TV.
New episodes of Murder and the Menendez Brothers: A Court TV Mystery drop on Mondays, available on Stitcher or wherever you get your podcasts.
(E! and NBC are both members of the NBCUniversal family.)