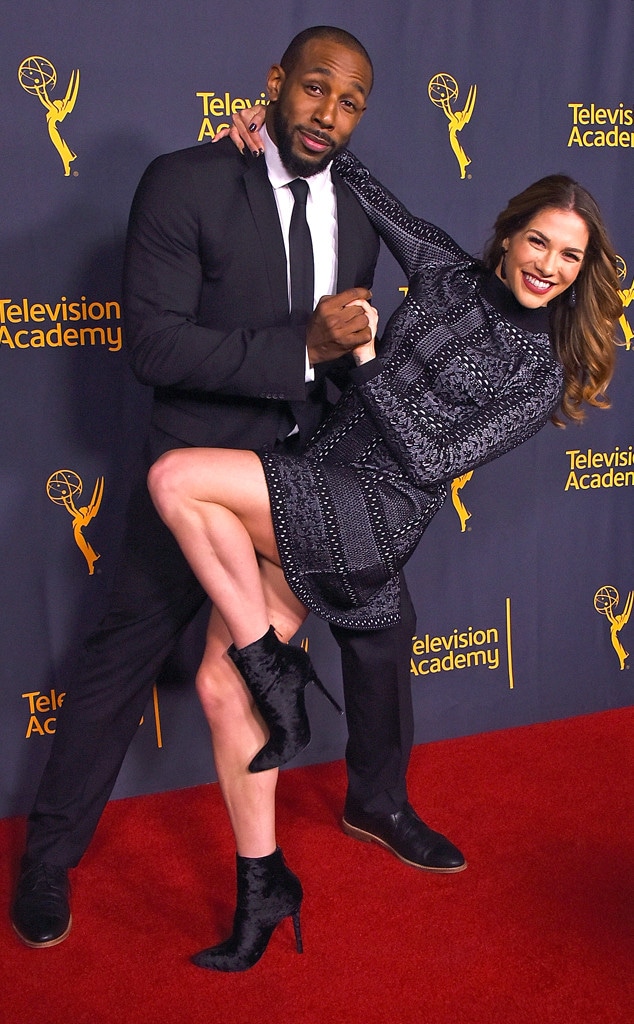 Araya Diaz/WireImage
Who doesn't want to TikTok with the stars?!
If you're like us, chances are you have come across Allison Holker and Stephen 'tWitch" Boss' Instagram and TikTok feeds over quarantine. The odds are also high that you've been more than impressed with their workouts, smooth moves and candid family moments.
But before you assume every post is thought out and planned well in advance, you may just want to hear from the stars themselves.
"My husband and I are professional dancers and we've been together for 10 years. We don't plan anything," Allison shared with E! News exclusively when celebrating Banana Boat's #ProtectTheFun initiative. "We know each other so well. We know each other's patterns and movements. It's what brought us together and connected us as a couple."
The So You Think You Can Dance and Dancing With the Stars pro added, "We just vibe with each other as if—this is going to sound crazy—we're in the club dancing together."
Instead, Allison and tWitch are spending their days at home and finding ways to keep their kids entertained. As it turns out, TikTok has proven to be a fun activity for the whole crew.
Watch:
Allison Holker & tWitch's Love Story
"I know a lot of parents have these assumptions about what it is," Allison shared with us. "Like any social media, they all can have a bad side but you have to look at the positives. It's getting kids active. Kids are doing challenges. So many kids are dancing and making videos."
And although summer is flying by, Allison says it's not too late to put on Banana Boat Ultra Sport Spray SPF 50+ and get moving. "We get up, get ready, have coffee, put on our sunscreen and go outside and exercise," she shared. "It's part of our daily regimen."
Before you post your next TikTok, here's what we learned works from Allison and tWitch.
1. Imperfect Is Perfect: If you catch yourself spending far too long filtering that Instagram photo or perfecting that tweet, chances are TikTok will be a completely different experience. "I feel like personally, TikTok is more of a look inside the real eyes of people instead of being so perfecting," Allison shared. "You are seeing people's messy bedrooms, people with no makeup on. You can look at TikTok as a way to come together and be who you really are."
2. Spread Awareness: Last month, Allison and tWitch participated in the the "check your privilege challenge." The TikTok and Instagram went viral with many praising the couple for bringing awareness. "I've had so many people reaching out to me saying they felt that video so much deeper than we ever thought it was going to be," Allison confessed. "I always want to be the biggest advocate for everyone in any way I can and the best way I know how is through art."
3. Make it a Family Affair: When Allison first joined TIkTok, her eldest child wasn't impressed. But once mom got the groove of it, the entire Boss—Holker crew wanted to participate. "My daughter was totally embarrassed. 'Mom, stop dancing. Stop doing that move. You're too old.' But then her friends at school said, 'You're mom is so cool.' And she's like, 'I know I told her to do that.' Now my daughter thinks I'm so cool," Allison joked to E! News. "We've never been cool to her but now that I'm cool on TikTok, now she thinks I'm cool."
4. Keep It Moving: Throughout quarantine, Allison and tWitch have participated in Boss Family Workouts. The videos have received thousands of views and have inspired other families to get up and move. "Since 11 years old, I always knew that I was sent here on this Earth to bring joy to people through dance," Allison explained. "I've always felt it in my bones. I'm so humbled for the positive reaction. I love that we're helping other people do it."
5. Build Your Community: Speaking of the Boss Family Workouts, Allison said that more than 10,000 people have been breaking a sweat with her. In fact, many fans—who she calls BFFs or Boss Family Friends—have sent them videos participating. "There's something about dance that just really lifts people up," she added.