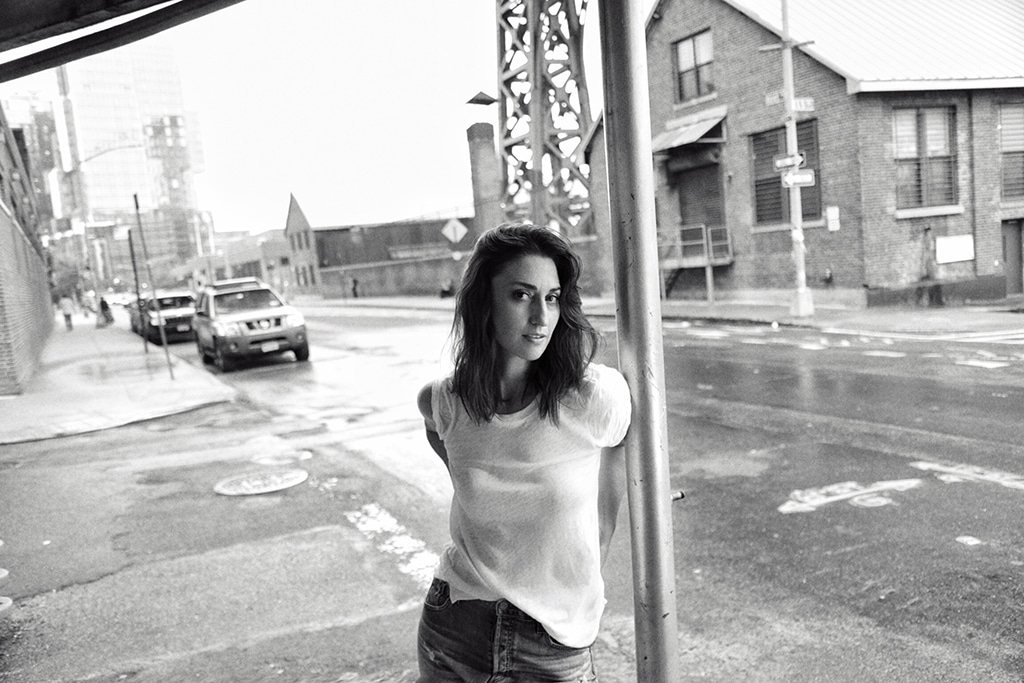 Courtesy of Apple
While it's safe to say 2020 has been an atypical year for just about everybody, the last few months have been particularly surreal—professionally and personally—for Sara Bareilles.
At the start of the year, Waitress, the Broadway musical Bareilles wrote the music and lyrics for, closed after four years on the Great White Way. A couple of weeks later, she won her first Grammy in the Best American Roots Performance category for the song "Saint Honesty." The next day, seriously, the very next day, Bareilles made her West End debut playing Jenna in the UK production of Waitress. Her run was cut short in March 2020 due to the coronavirus pandemic, and Bareilles herself revealed in April that she had been diagnosed with a mild case of COVID-19 and recovered.
Now, she's preparing for the July 10 launch of Little Voice, the Apple TV+ series she co-created with Waitress collaborator Jessie Nelson—and not really processing the last few months in her life as the world around her continues to shift into new phases of civil action and unrest.
Watch:
Sara Bareilles Talks Working With John Legend
"My processing is strictly happening in panic attacks at this point," she laughed. "I'm not handling any of this very gracefully to be perfectly honest. It almost feels like it's incomprehensible just the profundity and the magnitude of what we are experiencing right now as a country and as a world. I actually feel really grateful that at this moment in time, I get to sink into just this little project that we made, and we made it with a lot of heart, we worked really hard on it. It celebrates what is flawed and messy and hopeful about being a young artist. And I think that right now it feels really good to put something into the world that has so much hope in it. But yeah, surreal is 100 percent the right way to describe this year. And every time I think, well, it can't get weirder...I feel like the aliens are going land at any moment. [Laughs.] It's the only thing that can happen."
Little Voice, which was also the name of Bareilles' 2007 album, follows an up-and-coming singer-songwriter Bess King (Brittany O'Grady) trying to balance family, work, and launching her music career in New York City. As Bareilles tells it, she met executive producer J.J. Abrams at an event in Washington, DC and he invited her to come in for a meeting with his company, Bad Robot, next time she was in Los Angeles. She took him up on that offer and he brought up the idea about her working in television.
"It was not something I had even considered would come up in the meeting, to be honest. It was so off my map," she said.
Felicity, which Abrams created, was "really formative" and "massively influential" for Bareilles when she was in college. The series followed Felicity (Keri Russell) arriving in New York for school, and it coincided with Bareilles' first year of higher education.
"I loved the idea of revisiting that period of time in a young person's life, essentially, like, what if Felicity was a songwriter kind of thing," she said. Nelson was already working on a singer-songwriter project when Bareilles had her meeting with Abrams, "and it just felt like a very natural kind of marriage of two worlds," she said. "And then Little Voice was kind of born."
Bareilles wrote the original music heard in the series. It was a mixture of songs she had already completed and new songs she wrote specifically for emotions of the scripted episode.
"Literally the title song, 'Little Voice,' is a song that I wrote for my first record and was told that it wasn't a strong enough song to appear on the record. It's interesting, the story of that song being very much thematically tied to that is one of the struggles that a young artist has to go through, sort of like fighting for your little voice and your authentic truth," she said.
Besides the title song, other experiences from her life were infused in the character of Bess. The show features a sequence of Bess practicing her banter for the stage, something Bareilles struggled with when she started out.
"It's one of the things that has become maybe more of my comfort zone on stage is—I always describe it as verbal diarrhea [Laughs.], sorry, that's crass. But when I was first getting on stage, I got so much feedback that I was talking too much or I was talking too little or I wasn't funny enough, or I wasn't...I was getting all these opinions about who I was supposed to be on stage. And it manifested in a lot of nervous energy on stage and just oversharing all the wrong details. I'm talking about my period on stage at weird times and just like very strange unfoldings," she said.
Other moments plucked from her experience included Bess speaking up for herself in a recording studio and sticking to her guns with what she wants in song.
"That feels very true to form for me," she said. "And then the tussle of creative relationships, where it's like what is the fine line between collaboration and concession. When have you given up too much and when are you, when are you actually just letting the best idea win? I think these are all things that young artists have to figure out for themselves."
Bareilles figured them out for herself, but she hasn't quite figured out what's next. She's recorded six albums, launched a Broadway show, performed in that show in the US and UK, garnered an Emmy nomination for Jesus Christ Superstar Live in Concert, wrote a book and now created a TV show. What is there left to conquer?
"There are a couple of things that are on the horizon that are kind of still in the very nascent stages, but, yeah, I keep wanting to try things that I haven't done before. And so those are the kinds of opportunities that I'm leaning towards, but honestly this whole year feels like, just try to stay sane [Laughs.], that's all I'm trying to do right now is just not totally lose my mind. And then voting! And then voting, that is the main thing I'm caring about this year," she said with a laugh.
Little Voice premieres on Apple TV+ on Friday, July 10.