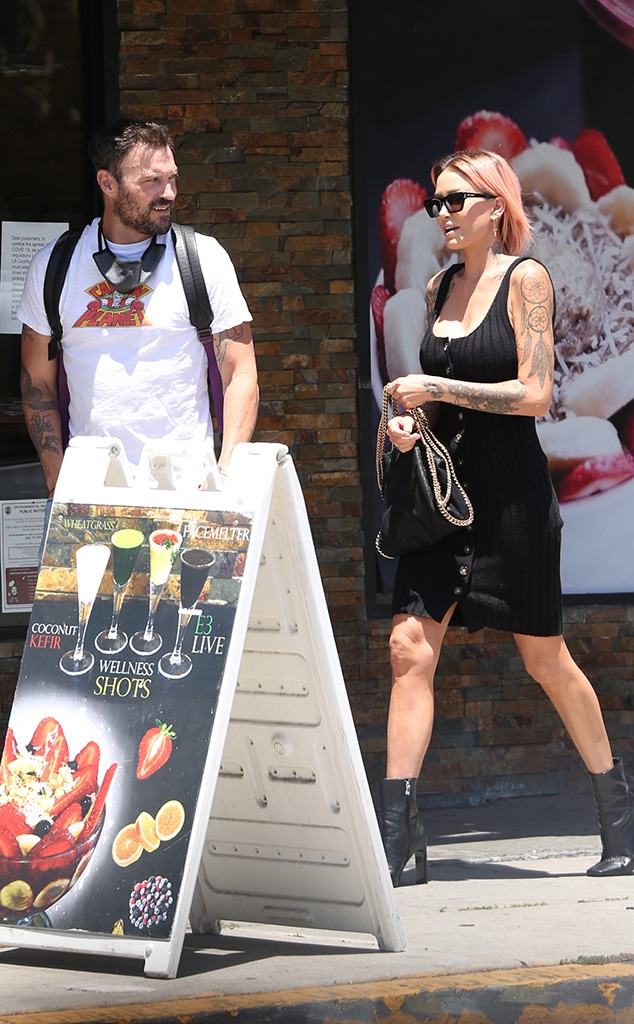 Splash News
New couple alert? Not so fast. 
Brian Austin Green and model Tina Louise might be sparking romance rumors, but they aren't an exclusive couple just yet. The former Beverly Hills, 90210 actor, who recently split from wife Megan Fox, was first spotted out with Tina in Los Angeles in late June. However, it sounds like the stars aren't putting any labels on their romance at this time.
"Brian and Tina aren't dating seriously, but have been casually hanging out and seeing each other," a source tells E! News. "Brian expressed interest in Tina through social media, and they have hung out a few times now."
"She's attracted to him and loves his personality but is hesitant since he is fresh out of a divorce," the insider shares. "Tina is a good distraction for him and Brian likes her company."
The source also adds, "Tina wanted to show Brian her vegan restaurant, Sugar Taco and so they decided to have a casual lunch date there."
The insider also tells E! News that while there is "definitely chemistry" between Brian and Tina, things between them are just "causal for now."
"Brian is very interested and wants to keep seeing her," the source notes.
As for Tina's take on their blossoming romance, she tells E! News in a statement, "Brian is an amazing man, ruggedly handsome, genuine, funny, down to earth, humble and most importantly an incredible father. We are enjoying our time getting to know each other, but of course need to be respectful as there are children involved. The children must always come first."
Watch:
Brian Austin Green's Cryptic Post After Megan Fox Seen With Machine Gun Kelly
"She's always been honest with me. I've always been honest with her. We've had an amazing relationship. I will always love her, and I know she'll always love me. I know that, like, as far as a family, like, what we've built, it's really cool and it's really special," Brian, who shares three kids with Megan, said on his podcast. "So, we decided, 'Let's make sure we don't lose that. Let's make sure that, no matter what, we're always friends with each other and we're a united front with the kids. And we'll still do family vacations and we'll do holidays as a family and really make that a focus for the kids.'"
Since her split from Brian, Megan has been spending time with Machine Gun Kelly, who she met on the set of an upcoming movie. As a source previously told E! News, the stars have been "hanging out a lot" since their movie was shut down due to the Cornavirus pandemic.
"The down time has been good for them," the insider added. "They are intrigued by each other and having a lot of fun."
The source also shared that the relationship is "new and exciting" for the Transformers stars, adding, "She has only been with Brian for many years and this is very different. She's into it."