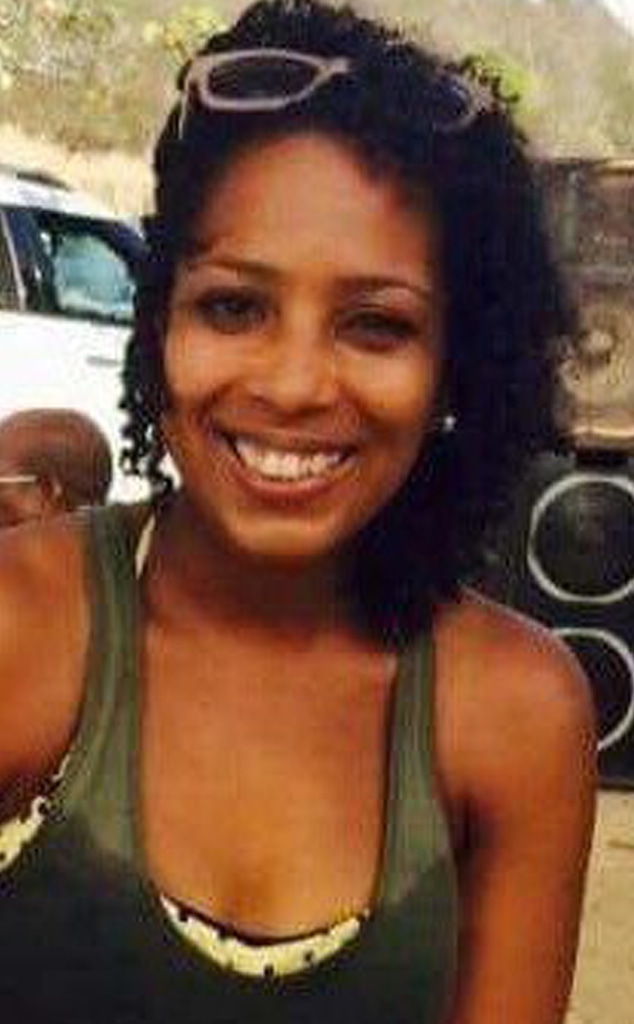 GoFundMe
At around 8 p.m. on Nov. 3, 2018, Tamla Horsford went to a birthday party at a house in Cumming, Ga. It was going to be an old-school pajama party, a girls' night out for the wives and moms in attendance.
At 8:59 a.m. on Nov. 4, 2018, 911 received a call about an unresponsive female at a Cumming residence and, when sheriff's deputies arrived, they found Horsford dead in the backyard.
Several months later, Horsford's death was ruled an accident, the medical examiner finding that her broken bones and internal injuries were consistent with the result of a fall off a 14-foot-high deck after a night of drinking.
The case attracted its share of media attention and has since been discussed on two dozen true crime podcasts. A 40-year-old mother of five going to an adult sleepover and ending up dead  is exactly the stuff of rapt fascination. But once the findings were released, mass interest petered out in favor of the next case, the next bizarre set of circumstances. 
But the official findings didn't satisfy Horsford's family, and they didn't plan on letting it go.
And now, a year and a half after Horsford died, authorities are taking another look, admittedly spurred by renewed public interest—which itself was spurred by widespread social unrest and calls for justice in the wake of the May 25 death of George Floyd in police custody. Demonstrations held nationwide to protest police brutality and racial inequities have also drawn fresh attention to names who otherwise were seemingly going to be relegated to a list of Black lives lost too soon.
And advocates for Horsford wanted to know more about how the one Black woman at the party that night ended up lying dead in the yard.
BRANDEN CAMP/EPA-EFE/Shutterstock
50 Cent and T.I. were among the thousands of people who started tweeting and posting on Instagram about Tamla again in June, most of the posts insisting that something criminal had occurred, despite the official findings that her death was an accident. A Change.org petition to reopen the case has since garnered almost 650,000 signatures.
With outside pressure mounting, Forsyth County Sheriff Ron Freeman sent a letter to Georgia Bureau of Investigation Director Vic Reynolds on June 12 formally requesting that the agency "open an investigation and examine any new evidence which may be available," the sheriff's office confirmed in a statement. The sheriff assured Reynolds that his office would fully cooperate and turn over their entire case file to the GBI.
"We recognize that transparency is vital for law enforcement agencies and we want to ensure that no stone has been left unturned in the investigation of this tragic death. Any questions regarding the case need to be directed to the GBI," the statement read.
On June 18, the Forsyth County News, citing the GBI's public affairs director, reported that the state agency had agreed to Freeman's request to open an investigation.
A spokesperson for the GBI told E! News this week that they could not confirm there was an investigation because they hadn't formally announced one, but that didn't mean there was not an investigation.
According to Atlanta's 11Alive.com, attorney Ralph E. Fernandez, who is representing Horsford's family, wrote in a letter to Tamla's husband, Leander, on June 5 that he and his team had "finished the exhaustive review of the records related to the investigation" and in their view there was a "strong possibility" her death was actually a homicide.
"The truth never had a chance here," Fernandez wrote. (He has yet to return a request for additional comment in response to the GBI's reported decision.)
Per the Forsyth County News, Leander Horsford told Mike Christian, one of the original investigators on the case in 2018, "I want the truth of what's going on, because I mean, the stories I've heard so far, none of them make sense. And if they don't make sense, usually there's a reason they don't make sense."
As noted in his case report, Horsford's father, Kurtland St. Jour, told Christian when they spoke on Nov. 5, 2018, that his daughter's death seemed "suspicious." Christian wrote that he explained to St. Jour at the time why their working theory was that Tamla had tripped and fallen to her death, but they would have more information after the GBI had contributed their findings.
Watch:
Black Lives Matter Protests That Are Changing The World
According to documents released by the Forsyth County Sheriff's Office in February 2019 when Tamla Horsford's cause of death was announced, including the Sheriff's Office's incident report, Crime Scene Unit report, autopsy findings and other materials, here is what investigators were told and or determined in the ensuing days as they worked the case: 
Jeanne Meyers, the owner of the home and the host of the party, told the deputy who was first at the scene that Tamla had brought a bottle of tequila with her, and that all of the women at the party had been drinking heavily.
Horsford took a fireballs shot when she first arrived and then drank tequila mixed with Mountain Dew or water throughout the night, Meyers said. Tamla seemed to be the only one drinking the tequila, Meyers also said, and it was noted that the bottle was about an eighth full the next morning. Tamla had also smoked pot that night, according to witnesses. Investigators found marijuana and rolling papers in her purse. (Traces of THC were later found in her system, as was the anti-anxiety drug alprazolam, or Xanax.)
Jose Barrera, Meyers' boyfriend, and the husband of one of her other guests were in the basement watching LSU football, while the ladies socialized upstairs. Two of the women left at 10:30 p.m. for child care purposes. At around midnight, Meyers said, the two guys and the remaining women played Cards Against Humanity in the living room. They played for about an hour, then started tidying up and getting ready for bed.
Earlier in the night, Horsford had FaceTimed with her husband, Meyers said. Barrera and Meyers told investigator Mike Christian that they went to bed at around 1:30 a.m. and Meyers said she last saw Tamla in the living room, awake. Tamla told them she was going to go out for another cigarette, then either sleep in one of the kids' rooms or on the sofa. (No kids were listed as being home on the night in question.) As noted by Christian in his report, Meyers and Barrera told him that Tamla was "happy" and didn't seem "overly intoxicated."
(Incidentally, Christian also noted in the report that he recognized Barrera, a pretrial services officer for Forsyth County, from when Barrera used to work as a felony probation agent, also for the county.)
The guest who left at 1:47 a.m. was noted in the sheriff's report as the last person to see Horsford alive, alone in the living room.
One woman left at 4:10 a.m., having to go to work. Another said she left at 7:45 a.m. The couple who were there said they left at 8:30 a.m.
Meanwhile, an Arlo security system in the house was sending alerts to Meyers' phone when the back door opened and closed. According to investigators, the log showed it was opened at 1:49 a.m. and closed at 1:50. Then it was opened again at 1:57 a.m. and remained open.
Jose Barrera said that he found an unlit cigarette and lighter that belonged to Horsford while he was cleaning up that morning. She was the only one at the party who had been going outside that night to smoke, he said, and there were multiple butts on the ground.
At around 8:45 a.m., Madeline Lombardi—Meyers' aunt, who also lived there—found Horsford in the yard. She went upstairs to tell Meyers and Barrera, who called 911. 
"We had people over last night," the caller told the dispatcher, per Atlanta's CBS 2 News. "We were drinking. Most of us went to bed. One of them stayed on the balcony. She was drinking, and we just went outside and she's facedown in the backyard."
Asked by the dispatcher to check the woman for a pulse, he said he couldn't find one.
Horsford was wearing a white pajama onesie with a dog print, per the crime scene report. She was lying face down on the ground at the base of the elevated deck. Her right wrist was dislocated and the report noted spots of "a red in color substance, visually similar to that of blood" on the right cuff of her sleeve and on her right pant leg, in the shin area.
"Most notable when Tamla was turned over was the fact she had come to rest face down. Her head had not been canted to one side or another," Mike Christian noted in his supplemental report. Other than the damaged wrist and cuts, he noticed no other obvious injury.
Everyone who had been at the party was called to return the house and reconstruct the night's events for investigators.
On Nov. 6, Dr. Andrew Koopmeiners, Associate Medical Examiner with the Georgia Bureau of Investigations, told Christian (per his report) that Horsford had suffered a broken neck in addition to a subdural hematoma on the right side of her skull and a torn heart muscle. There was no way she sustained those injuries by just falling over at the ground level, Koopmeiners said, but they could have resulted from falling off the 14-foot balcony.
Her blood alcohol level was .238, nearly three times the legal limit.
In announcing the medical examiner's findings on Feb. 20, 2019—accidental death resulting from a fall—and subsequently pronouncing the case closed, the Forsyth County Sheriff's Office stated that they again extended their "deepest condolences to the family and friends of Mrs. Horsford during this tragic loss."
Kurt St. Jour, Tamla's father, told Magic 107.5 DJ Ryan Cameron in an interview just after the findings were released that the family had hired their own medical examiner, and they believed that Tamla was already dead when she went off the deck.
"Her injuries were not consistent with what they're saying," St. Jour said. "This is so fishy, I just don't want it to get out of hand."
Horsford's friend Michelle Graves told Atlanta's CBS 2 at the time, "They're totally lying. They're not out of the woods, because this was not an accident." Graves was sued a week later by seven of the partygoers, including Meyers, who alleged in their lawsuit that Graves had caused "irreparable damage" to their reputations with 13 Facebook posts containing false statements that accused them of "committing murder and/or aiding and abetting the same, behaviors that are so repugnant, debased and immoral that it could exclude Plaintiffs from society." 
In response to the lawsuit, Graves told the Forsyth County News, "I state nothing but factual information which was verified after reading case file obtained through open records. I stand strong behind my statement that these people know what happened, and if they were not directly involved, they have not come forward with the truth."
"This is nothing more than another intimidation tactic on their part," she continued. "These people caused this negative attention by having a party where someone lost their life."
Jose Barrera, meanwhile, was fired in December 2018 from his job as a pretrial services officer for—according to a Sheriff's Office incident report filed in February 2019—allegedly using his position as a county employee to access documents related to the Horsford investigation and leak confidential information, including Graves' address and cell phone number, to five people. Barrera insisted he didn't look up anything illegally and whatever those people found was likely readily available to the public already.
"For her to believe that her information was leaked by me is grossly incorrect and I will believe that until the day I die," Barrera told the Forsyth County News. "Anybody can be found."
On June 5, in the wake of the increasingly loud clamoring for a new investigation, the Forsyth County Sheriff's Office told the Forsyth County News, "In a continued effort to remain transparent, we welcome any new information on the Tamla Horsford case. To date, we have received none. We're prepared to have an independent investigative authority, such as the Georgia Bureau of Investigations, take over the case should new information be provided and reopen the investigation."
In his letter to Tamla's father dated June 5, attorney Ralph Hernandez wrote that his findings determined that "witness statements are in conflict. A potential subject handled the body as well as the evidence prior to the law enforcement arrival...A remarkable fact is that there were no photographs taken during the autopsy of Tamla's body. This had been done at someone's directive because such a practice is unheard of."
Hernandez concluded, "But this is not over. It will never be over. Be safe. Be strong. We will get to the bottom of this."
A week later, Forsyth County Sheriff Ron Freeman officially asked the GBI to investigate.