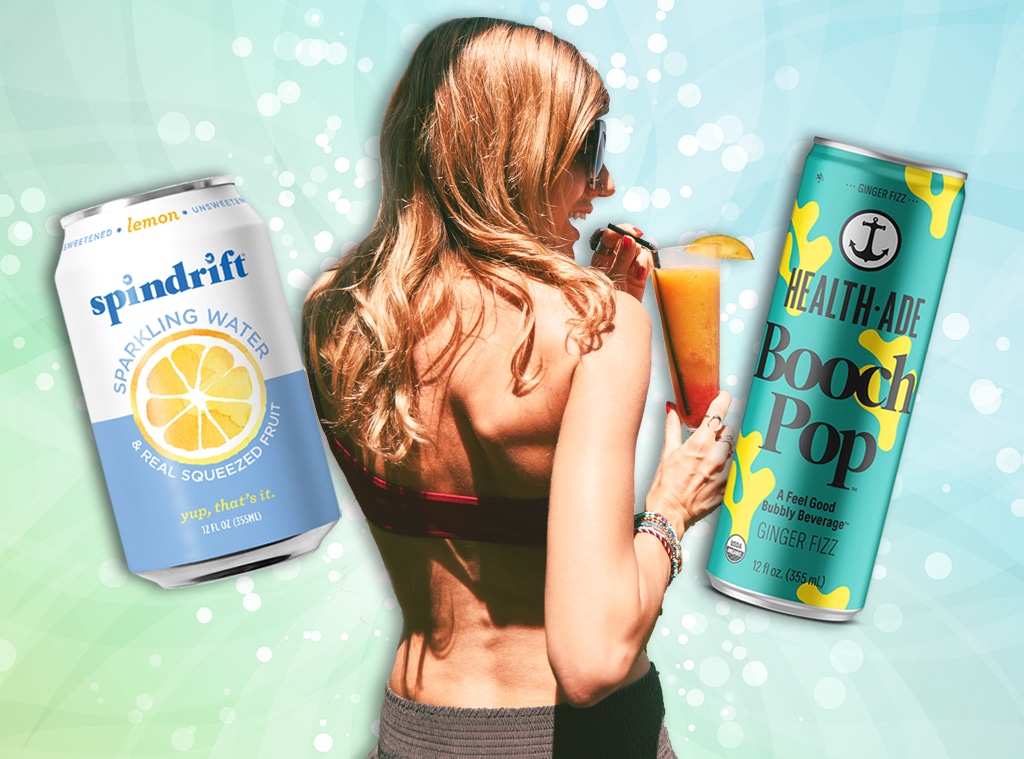 Getty Images
We love these products, and we hope you do too. E! has affiliate relationships, so we may get a small share of the revenue from your purchases. Items are sold by the retailer, not E!.
Have you fallen into a cocktail rut, making the same old libations that bore your tastebuds? It's time to pep them up, and we've got the mixers that can help you with that!
From fruit-flavored sparkling water to fruit and herb mixers to everything you need to make a whole slew of cocktails for your next Zoom happy hour, these syrups, bitters, sodas and more are your best bet for taking your cocktails to the next tasty level.
So raise your glass and shop our favorite delightfully delicious drink mixers below. Cheers!
Health-Ade Ginger Fizz Booch Pop
Take a hike, ginger ale. Health-Ade's Ginger Fizz Booch Pop is here to save lackluster cocktails from the same old mixers, with the effervescence of soda without all the sugar and junk that usually goes into it. It's made from a blend of kombucha, fruit juice and plant-based prebiotics and minerals, and while it comes in three flavors, this one's our fave, mixed or not.
Spindrift Sparkling Water 4 Flavor Variety Pack
Making a bunch of different cocktails that need a bunch of different mixers? Grab this variety pack from Spindrift, featuring Lemon, Grapefrult, Raspberry Lime and Orange Mango. It's unsweetened, gluten-free, non-GMO and kosher, with a fuller flavor than regular sparkling water thanks to real squeezed fruit that comes from family farms.
Lemon Perfect Organic Cold-Pressed Lemon Water, Dragon Fruit Mango
Lemonade gets an upgrade (and so will your cocktails) with this unique blend of cold-pressed California-grown organic lemon, featuring hints of dragon fruit and mango. It also boasts hydrating electrolytes and antioxidants, with zero sugar to slow you down. It's also USDA Organic, non-GMO, keto friendly, gluten free, vegan, kosher, and comes in three other flavors.
Quai Sud Punch Cocktail Mix with Carafe
Bittermilk No. 3 Smoked Honey Whiskey Sour
Mouth Sunshine in a Glass
Keep the party going with this tropical cocktail kit, featuring a slew of craft mixers made right here in the U.S. Not only does it offer a variety of flavors like fresh and tart cucumber lime and an upgrade to a classic bloody Mary, this crate also features lightweight rocks glasses and seasonal cocktail napkins. Drink up!
Raft Hibiscus Lavender Cocktail Syrup
Owl's Brew Watermelon Margarita Cocktail Mixer
Make a new kind of margarita with this cocktail mixer made with tea and fruit. This one has a base of white tea, watermelon and pomegranate, and mixes perfectly with tequila to make a flavorful but not too sweet margarita. You can also mic it with gin and vodka, or add a dash to champagne for a little something different.
Quince & Apple Treat Cucumber Mint Cocktail Syrup
Girl Meets Dirt Rhubarb Shrub
You only need one ounce for this mixer to make a major impact on your drink, which the creators recommend adding to tequila or mezcal, or even lemonade and tonic. It's a relative to kombucha and take on the flavor of rhubarb with a mix of apple cider vinegar, organic cane sugar and water. It's crisp, it's tart, and it's super yummy.
Simple Times Grapefruit Basil Limeade
This mixer is a great friend to either vodka or tequila, and when you pour it over ice with its intended boozy counterpart, it makes for the ultimate summer libation. That's because it features all-natural ingredients, so that grapefruit flavor really comes from a grapefruit, and yes, that is indeed a dash of lime and some super fresh basil in there, too. Delish.
Simple Times Pear Rosemary Mule Cocktail Mixer
But if a tangy grapefruit mixer isn't your thing, how about the sweetness of pear? It's offset with the delightfully herbaceous flavor of rosemary, along with hints of lemon, lime and organic ginger. Three parts of this mixer to one part of your booze of choice is all you need to make a summery-fresh sip, but if you need some suggestions, gin or bourbon works best.