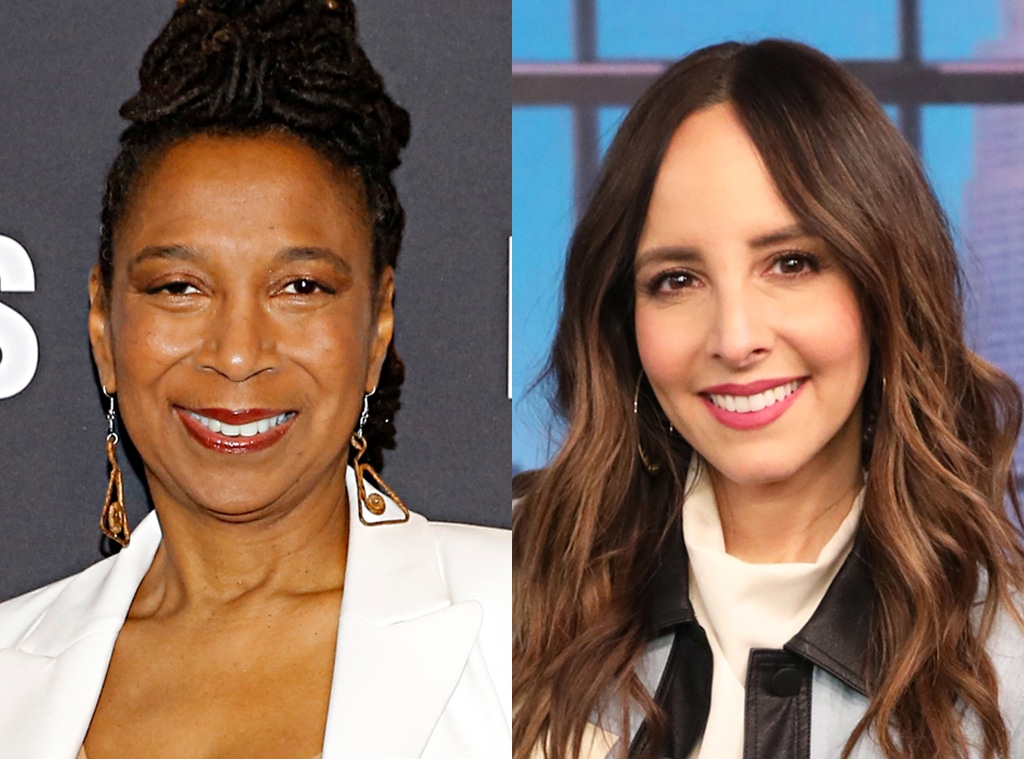 Rachel Murray/Getty Images for MAKERS, Monica Schipper/E! Entertainment
The beginning of many important conversations.
E! News and Pop of the Morning host Lilliana Vazquez just launched a new podcast called DNA of a MAKER—in which she interviews successful women to find out what they value most about themselves along with how those attributes have shaped their lives—and on the inaugural episode, she spoke to Columbia and UCLA Law School professor Kimberlé Crenshaw about race, privilege and much more. 
The co-founder and executive director of the African American Policy Forum, Crenshaw is also a leading authority on Black feminist legal thought and has dedicated her career to initiatives like the #SayHerName campaign and educating others about intersectionality, a term she coined herself.
Vazquez noted that the word is often dismissed as "an insult on straight white men," when "that's not at all what it is." 
As Crenshaw explained, intersectionality is "the basic idea that the discrimination that typically is imagined as just a singular problem—namely sex discrimination or race discrimination or discrimination based on sexuality or even immigrant status—is just a one-shot, singular disadvantage, when in fact, discrimination many times can be overlapping and cumulative."
Crenshaw provided different examples to contextualize intersectionality, including the notion that "African-American women experience sexism in ways that are distinct from the ways that white women experience sexism."
Vazquez emphasized the importance of acknowledging these things as well as any privilege you might have—something she herself has done and continues to do.
"I'm Hispanic; I identify as Mexican and Puerto Rican. When you look at me, visually, I could kind of be anything," she expressed. "Yet I have cousins that are darker. And there's a difference there. And I'm very aware of that difference."
She continued, "I check my privilege because there have been opportunities that have been given to me because I kind of blend into the masses. I assimilate a lot easier than my cousins who are darker skinned than me."
Making these self-interrogating efforts can be hard for some, Crenshaw said, because they think things like, "Okay, well, they're saying I didn't work hard for what I have. They're saying I don't deserve the advantages that have."
"No, it's just that those who don't have what you have don't deserve less, because they might've worked just as hard if not harder than you did," she added.
Watch:
Black Lives Matter Protests That Are Changing The World
That, and being aware that racism didn't just happen in the past, "it's happening now."
Crenshaw recalled her time working on Anita Hill's legal team after Hill accused Justice Clarence Thomas of sexual harassment, and explained how she views the experience through the lens of intersectionality.
"We asked the question, 'Can a Black woman be believed?' We asked the question, 'Can we tell a story of sexual harassment that includes the fact that African-American women have been harassed since we arrived here? And can it be a story that's recognizable about racial justice as well as a story about gender justice?'"
"Well, obviously, some 30 years ago, that was a question that didn't generate the answer that we wanted," Crenshaw noted.
Today, Crenshaw has more hope because of things like the #MeToo movement and Harvey Weinstein's watershed conviction: "I think seeing that some modicum of justice is possible—that crack in the facade of being untouchable; that recognition that even the powerful and the mighty may one day see justice be done to them—I think that creates a sense of possibility that, generally, women around the world don't have."
However, with that hope, comes vigilance. 
"The question is, will this high profile tumble of someone like Harvey Weinstein actually benefit the wide variety of women who also can say, 'Well, this happened to me as well,'" Crenshaw told Vazquez. 
She added, "I think our struggle is to make sure that this isn't a one-off victory and that we use this as momentum to broaden the scope of #MeToo and to broaden the inclusiveness of this accountability that's finally starting to come into shaping women's lives and their demands for justice."
Listen to the complete DNA of a MAKER episode here.