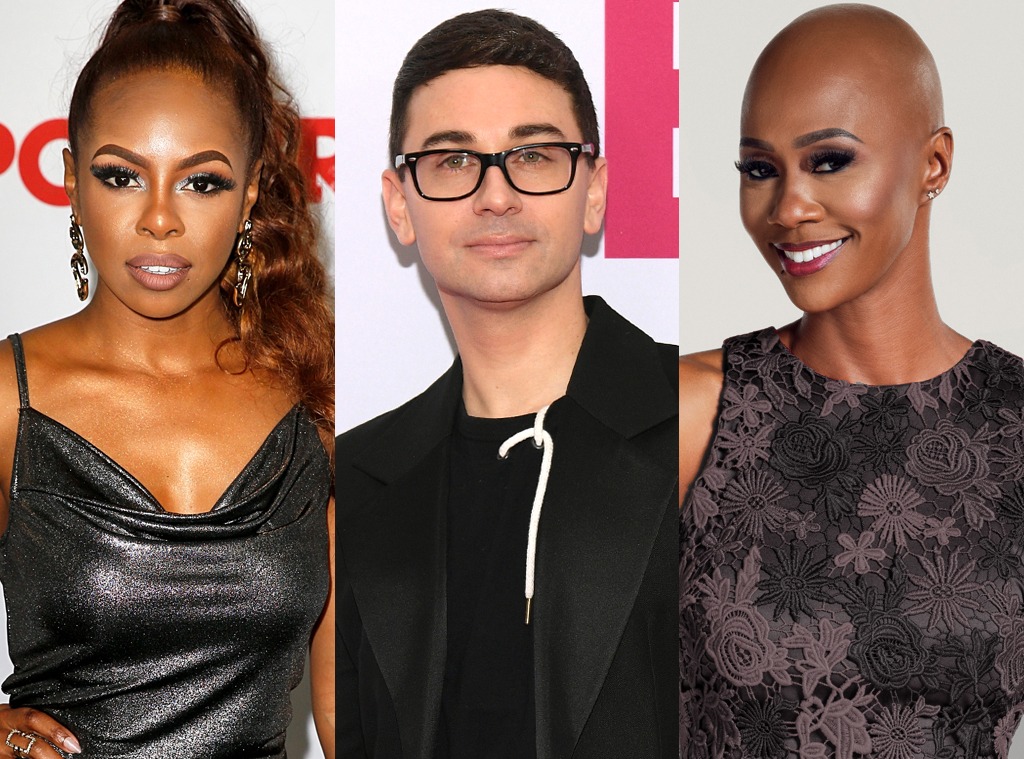 Getty Images; Elisabeth Caren/Bravo
Continuing the conversation.
Tonight, Daily Pop co-host Justin Sylvester took to Bravo's Instagram Live to, once more, moderate a powerful conversation about racial inequality in the United States. The E! personality was joined by The Real Housewives of Potomac's Candiace Dillard, Project Runway's Christian Siriano and Married to Medicine Los Angeles' Dr. Imani Walker.
In individual segments with the Bravolebrities, Justin led an open dialogue, titled Amplify Our Voices: An Open Dialogue on Racial Inequality in America, and touched on a variety of topics, including allyship, the importance of voting, experiences with racism and more.
"I'm so proud to be here, I have some special guests today! I have two unbelievable figures in reality TV, Dr. Imani Walker from Married to Medicine LA will be joining me and also, Candiace Dillard Bassett from The Real Housewives of Potomac," Justin noted to those tuning into the live stream. "And I have famous, over-the-top, amazing and prolific and inclusive designer to the stars himself, Mr. Christian Siriano."
As Justin continued, he noted that this was the first time "an ally" joined the open dialogue.
This conversation comes amid the ongoing Black Lives Matter demonstrations in response to the deaths of George Floyd, Breonna Taylor, Elijah McClain and others.
For Christian, Candiace and Dr. Imani's words on these topics, scroll through the quotes below.
On how white people can be better allies to the Black community:
Christian: "We all need to be as educated as possible but being educated means asking questions and not being so close-minded to like, a bigger picture…There's things, you know, I don't always understand, but I think I'm right to always be like, 'Let me know.'"
Dr. Imani: "We haven't even scratched the surface yet when it comes to what non-Black folks need to know about how we have to live and what we have to accept."
Candiace: "My husband is a white man, but he's also an ally to our community…It's important that we have people in our corner who are going to speak up for us. And being that oppression has happened and has taken place at the hands of the white race, it is the responsibility of the white race to dismantle it."
On what to know amid the Black Lives Matter movement:
Candiace: "The Attorney General, ok, in your state is voted on in primary elections. We're tasked now with having to call these AGs in Aurora, Colorado for Elijah McClain…we are tasked with calling AGs in Georgia, AGs in Ferguson, AGs in Missouri. These people, you vote them in. When they are tasked with having to decide whether or not a police officer should be prosecuted, should lose their job, should go to jail…for putting their foot or their knee on the neck of a Black man for allegedly bringing a counterfeit bill into a store, you have the power to decide who those people are."
Dr. Imani: "When Black people view unarmed Black people being accosted or harassed by the police or just witnessing police brutality, we actually end up internalizing that more…There's certain things we won't say in mixed company…I know a lot of Black men who are really, really affected by George Floyd's murder and were having anxiety and couldn't sleep."
Watch:
Black Lives Matter Protests That Are Changing The World
On the importance of inclusion:
Christian: "Some brands are doing nothing, so that's insane. I think [the fashion industry has] a lot to do, I think it's clean house time. I think it's who are you shooting in your editorials? What models are wearing clothes? Who's on the cover of magazines? I mean, I think it's every brand. What are you putting out there? What is your employee ratio look like? It's kind of all the above and I think that is the most important part…Everybody needs to kind of reset and really think about what's important to the consumer."
On experiences with racism:
Dr. Imani: "I was six, I think. This older boy, who was two grades ahead of me, called my best friend, my play brother the N-word with a hard R. And I don't remember this, but according to him and according to my mom, I just blanked out…So, apparently, I just flipped out and beat him upside the head."
Candiace: "My husband and I never truly experienced any hardcore discrimination because of who we are and being seen as a Black woman and a white man couple. But when we read…and would talk about the history of the Loving's Supreme Court ruling and all that that entailed, and again, the fact it was very much illegal for…couples not of the same race to marry just 50-something years ago, it does enrage you."
On prejudice against the LGBTQ+ community:
Christian: "The whole trans community, the whole non-binary community, everyone is really struggling still for acceptance. I think what's really hard is that people are always afraid of the unknown…I wish that was something that we still didn't have in our world is that things we don't know about really scare us. … We're all the same in a way and I think that's like, the biggest thing."
You can find the entire conversation on Bravo's Instagram account here.
For more ways to take action and get involved, please click here.
(E! and Bravo are both part of the NBCUniversal family.)