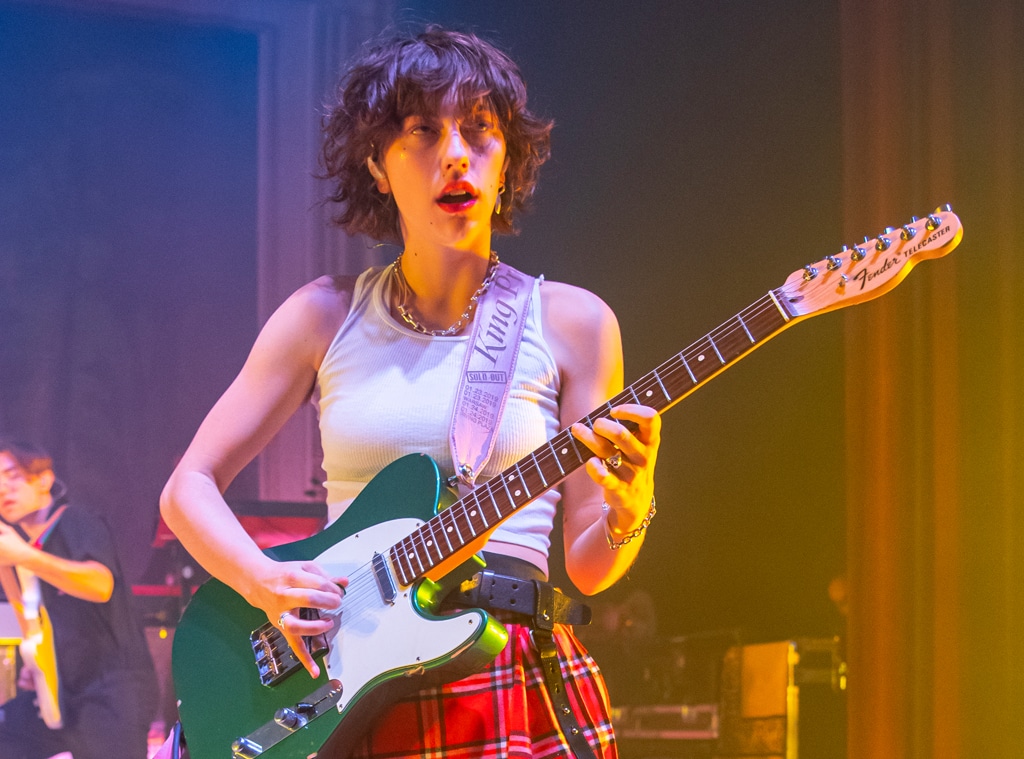 Scott Legato/Getty Images
Brooklyn singer and songwriter Mikaela Straus, better known as King Princess, is opening up about how her queer identity can help amplify the Black Lives Matter movement. 
In a recent interview with Net-A-Porter, the pop star spoke to the publication about how life in quarantine with her mother and girlfriend Quinn Whitney Wilson (a filmmaker and Lizzo's creative director) has been, finding her own style and the reason why she's a passionate advocate for the transgender and Black Lives Matter movements. 
As conversations surrounding race, police brutality and revolutionary change in America have dominated our online and offline conversations following the death's of Black and trans people including Tony McDade, George Floyd and Breonna Taylor—King Princess is using her voice and platform to speak out about what matters to her.
"Right now, with everything that is going on in the world, it is important I use that queer identity as a positive, to be like: 'I'm queer, I'm also in support of the Black Lives Matter movement and I'm not going to be complacent about racism.'"
"Because I have the ability to speak directly to the queer people who follow me and say: 'We need to unify,'" she said. "'Yes, we are an oppressed group, but it doesn't justify us being complacent in somebody else's oppression.'" 
The 21-year-old, who's dubbed by Net-a-Porter an "unapologetic queer hero," has often expressed frustration with being categorized as a queer artist. 
However, she tells the publication that given the current political climate, she's reconsidered her reluctance to the label. 
"Ideally, I would like to not be viewed as a queer artist, and rather just a bomb musician," she said. "It just shouldn't preface my art in the same way that it shouldn't for anyone who is living and existing with an identity that's other than cis white male." 
Watch:
Justice Smith Comes Out As Queer & Champions LGBTQ+ BLM Movement
Further, King Princess discussed controversial comments made by J.K. Rowling earlier this month, which is also Pride month. In short, the Harry Potter author sparked accusations of transphobia when she made comments alluding to her belief that she did not consider transgender women to be women.
In a tweet, the author expressed, "I respect every trans person's right to live any way that feels authentic and comfortable to them. I'd march with you if you were discriminated against on the basis of being trans. At the same time, my life has been shaped by being female. I do not believe it's hateful to say so." 
And to that, the pop star believes that the "problem right now is people are failing to see beyond themselves. I don't know why people feel they need to either be something or they can't possibly relate to it."
"I will never understand what it's like to be Black, but I can still support the Black Lives Matter movement and strive to empathize," the singer added. "Let's find some ways as a community to support Black art. We've all been complaining about corporate Pride for years; this is an opportunity to find some really cool outlets to give to or learn about in order to make this Pride about Black and Brown queer people and trans people." 
King Princess released her first single in 2019, titled "the beautiful 1950," which is an ode to the book—and lesbian love story—The Price of Salt.
Her first EP Make My Bed was released in 2018, followed by her debut album Cheap Queen in 2019. 
The "If You Think It's Love" singer was also set to tour this past spring with Harry Styles before concert dates were postponed due to the coronavirus pandemic.