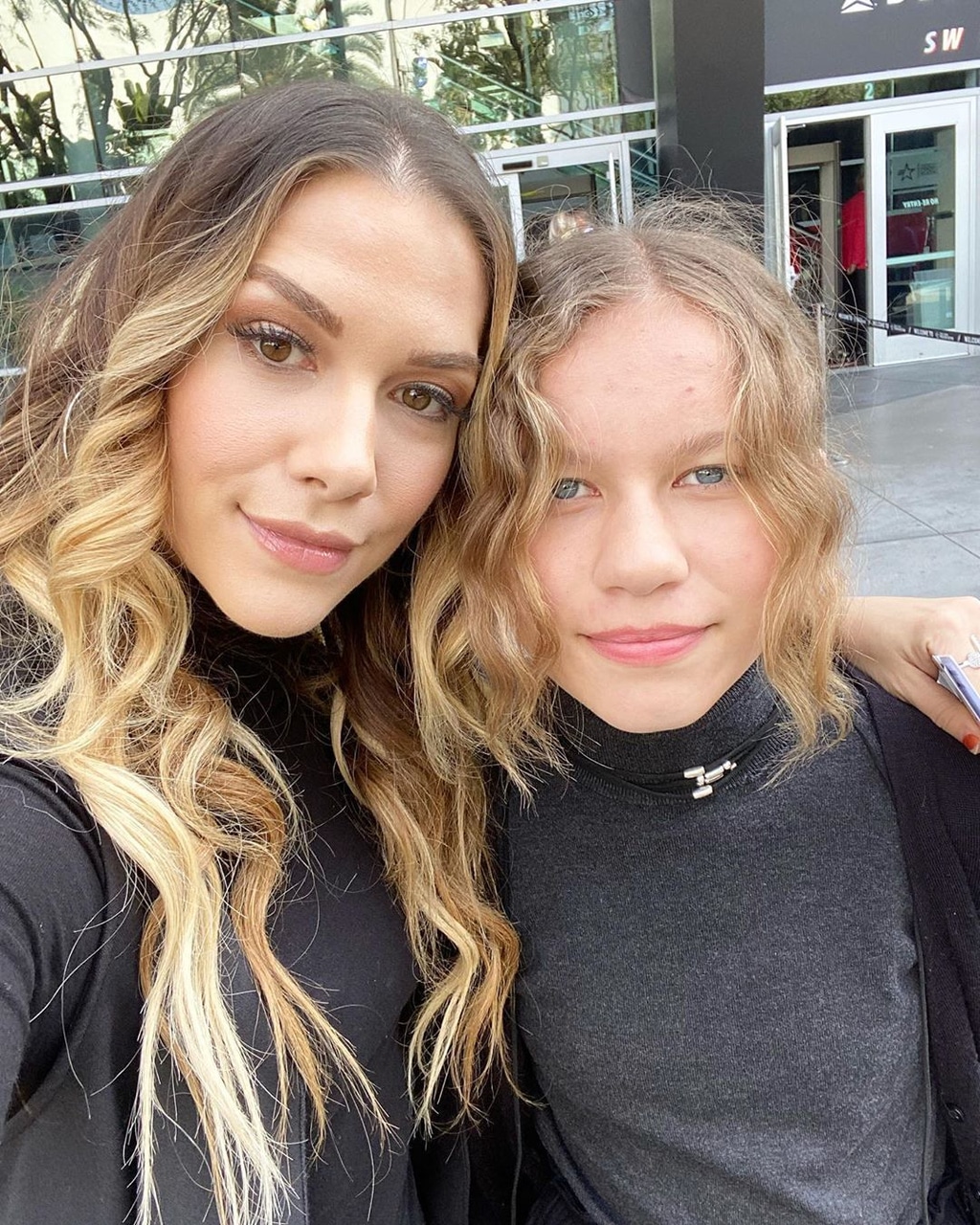 Instagram
Allison Holker is one proud momma!
The Dancing With the Stars alum took to Instagram on Saturday night to praise her teenage daughter, Weslie Fowler. The 12-year-old star recently shared a TikTok video, in which she responded to a commenter who asked why she likes to "dress" like "a boy."
"Patriarchy is dead. Just because I don't wear dresses and bright pink doesn't mean I'm dressing like a boy," Weslie said in her video clip. "This is my style... I wear comfy clothes and darker colors, and just because I dress like that, doesn't mean I'm dressing like a boy."
She added, "And it doesn't mean that boys or girls are defined to wear certain things because of their gender. It doesn't mean anything. Just because you can't open your eyes, doesn't mean I'm about to change."
After seeing Weslie's response, Allison couldn't help but applaud and celebrate her first-born. She also shared her teenage daughter's video with her 1.9 million followers.
"Proud of my daughter for standing up for herself and using her voice," the So You Think You Can Dance star captioned her Instagram post. "We need to stop trying to tear each other down."
She added, "Instead, we should stand together... understanding our uniqueness is beautiful!"
Just last month, Allison had another proud mom moment. She shared a sweet tribute to her daughter on her 12th birthday.
Watch:
Allison Holker & tWitch's Love Story
"I love you so much and watching you grow up each and every day is a pleasure. 12 years old and you are stunning in all ways, you're smart, you're caring, you're the best big sister, a great friend and a beautiful daughter," Allison wrote, alongside a collage of photos with her baby girl.
"You are by far one of my greatest accomplishments, I AM PROUD to be your momma," she continued. "I love all the memories we have together and all the ones we continue to make... I love you so much and I hope you have the best birthday ever! Love you @weslierboss HAPPY 12 years old today!"
Stephen "tWitch" Boss also gave a special tribute to Weslie on her birthday.
"Happy birthday WESLIE," he began his message. "Man, she is growing up too fast. I couldn't be more proud of the young lady you are becoming. The best big sister. Wonderful artist. Taki enthusiast. Such a good ear for music. Giving heart. Entrepreneurial. Bold yet respectful. Easily one of the most observant people I know."
He added, "The world is yours for the storming. Another year of discovery and history. Just know that myself, mom, Maddox, and Zaia always got your back, front, and sides. Today marks the day the world gained an angel that continues to walk with us. We love you Wes and HAPPY BIRTHDAY!!"