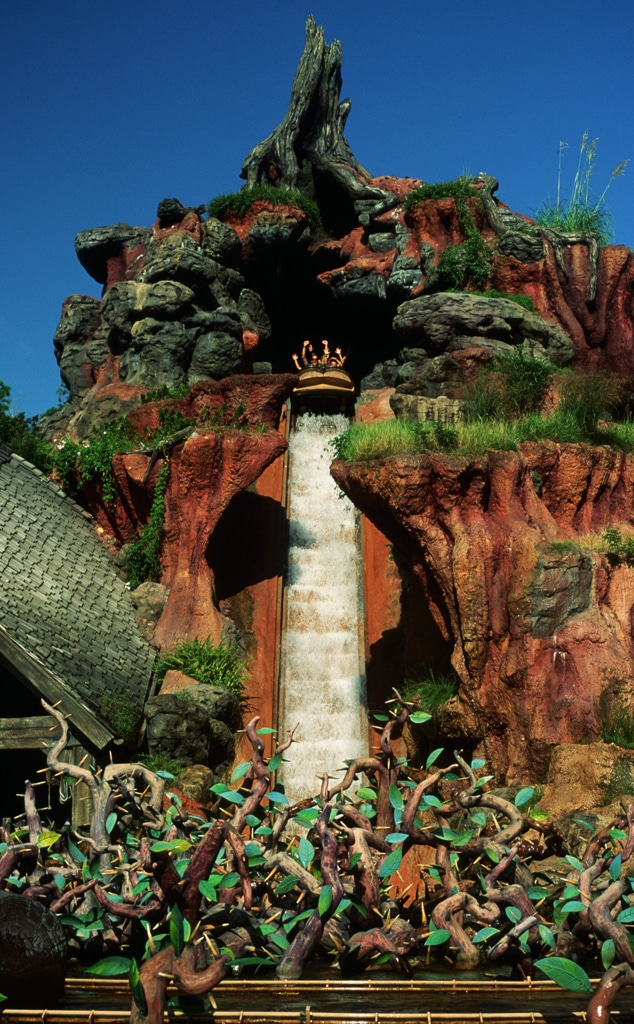 Getty
Disney's Splash Mountain ride is getting a major makeover at its Disneyland and Walt Disney World locations. 
On Thursday, Disney announced its plans to reimagine the beloved log flume ride, which has been a park staple since its Disneyland opening date in 1989 and the Magic Kingdom unveiling in 1992 and is based on the controversial 1946 film Song of the South.
Instead, Splash Mountain will be re-themed to star characters from The Princess and the Frog, transporting guests into the world of the 2009 animated film set in 1920s New Orleans and features Disney's first Black princess, Princess Tiana.
Disney's decision comes after over 20,000 fans signed a petition urging the park to re-theme the ride. In the petition, fans called for change because the ride is "steeped in extremely problematic and stereotypical racist tropes" from Song of the South, which features portrayals of the antebellum South. Petitioners also noted that The Princess and the Frog "has very little representation in the parks" and pushed Disney to "remove the offensive stereotypical" theme and add "a much needed diversity to the parks."
Once news of the ride's re-theming broke, Walt Disney Imagineers shared a statement on Instagram, including an image of the park's redesign plans to transform the frontier-themed ride into a mystical oasis, which draws inspiration from the Louisiana wetlands. 
"As Imagineers, we have a deep passion for evolving our parks with new ideas and relevant stories that guests from all over the world can enjoy," the account shared alongside an illustration of what the new Splash Mountain will look like. "And we want these stories to reflect and celebrate the diversity of our world infused with Disney magic. We're thrilled to share that Splash Mountain – at both @Disneyland Resort in California and @WaltDisneyWorld Resort in Florida – will soon be completely reimagined with a new story inspired by an all-time favorite @DisneyAnimation film 'The Princess and The Frog.'"
Several Disney team members have also spoken out about the park's decision, among them was Walt Disney Imagineering creative development and inclusive strategies executive Carmen Smith. 
"We continually evaluate opportunities to enhance and elevate experiences for our guests," Smith said in a statement. "It's important that our guests be able to see themselves in the experiences we create. Because we consider ourselves constant learners, we go to great lengths to research and engage cultural advisors and other experts to help guide us along the way. I am incredibly proud to see this work continue to move forward with great support from leadership across Disney."
Watch:
Black Lives Matter Protests That Are Changing The World
Anika Noni Rose, who voiced Princess Tiana in the animated film, also gave Splash Mountain's re-theming her seal of approval.
"It is really exciting to know that Princess Tiana's presence in both Disneyland and Magic Kingdom will finally be realized," she said in a statement. "As passionate as I am about what we created, I know the fans are going to be over the moon. The Imagineers are giving us the Princess and the Frog Mardi Gras celebration we've been waiting for, and I'm here for it!"