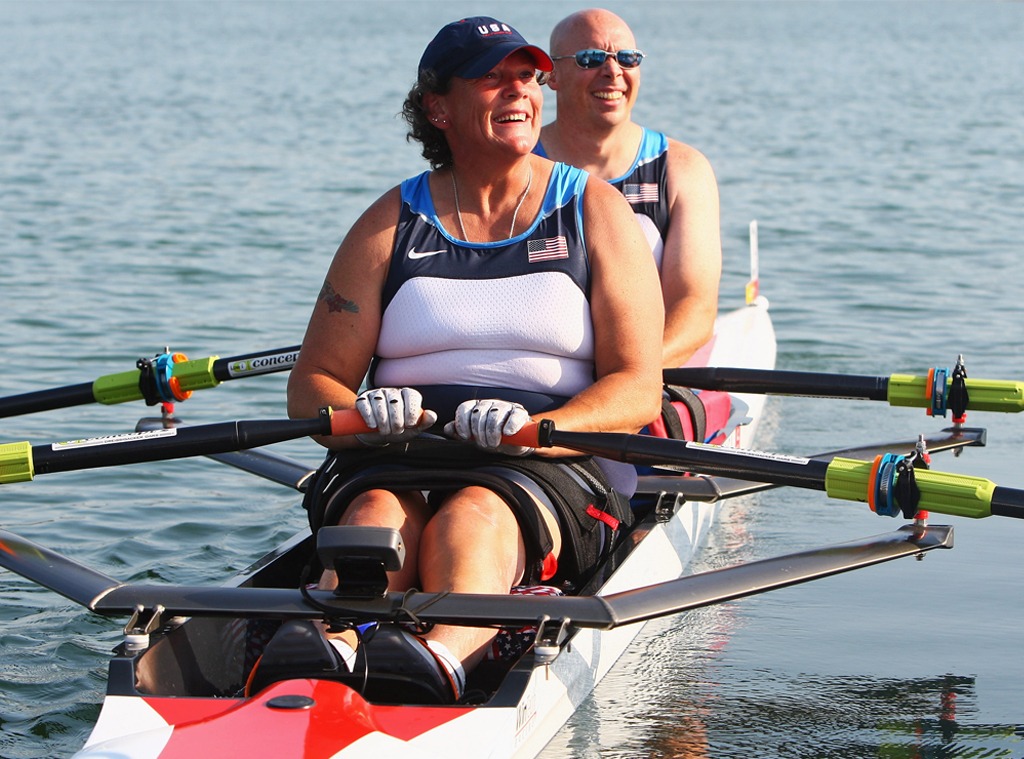 Feng Li/Getty Images
Paralympic medalist Angela Madsen has passed away during her solo row across the Pacific Ocean. She was 60 years old.
On Tuesday morning, Angela's wife Debra confirmed the news in a personal Facebook post.
"With extreme sadness I must announce that Angela Madsen will not complete her solo row to Hawaii. I received her last text Saturday night. Sunday she was not responding to my text messages. When I checked the main message inbox she had not returned any messages. When I looked at the tracking, it did not appear that she was rowing the boat, but rather that is was drifting," Debra shared in her post. "Knowing she was planning to enter the water to fix her hardware to deploy the para-anchor from the bow, I was concerned she did not text when she got back on the boat. She was about as far from any land as she could get and the communication can be a challenge, I was hopeful but still had a feeling of heaviness in my chest."
According to Debra, the United States Coast Guard sent a C17 to fly over. The plane "saw Angela in the water, apparently deceased, tethered to RowofLife." Her body was recovered on Monday.
"Angela was living her dream," Debra explained. "She loved being on the water as you could see from the photos she sent."
Documentary filmmaker Soraya Simi, who was chronicling the voyage from Los Angeles to Hawaii, also confirmed the news on Instagram.
"This was a clear risk going in since day one, and Angela was aware of that more than anyone else. She was willing to die at sea doing the thing she loved most. She was a hell of a woman and one of the most influential and inspiring people in my life," she wrote on social media. 'I hope to live with a fraction of the fierceness of spirit Angela had. I can't believe she's gone. Life is so brief and fragile. We must fill it with love."
Angela was a world-class rower and crossed the Atlantic Ocean twice. She competed at the Paralympic Games in 2008 in rowing and later earned a bronze medal in shot put at the 2012 London Games. She competed again in shot put and also in javelin in 2016. 
According to Team USA, Angela was a Marine Corps veteran who became a paraplegic in 1993 during a surgery on her back.
Watch:
In Memoriam: Fallen Stars of 2020
"Angela brought unrivaled passion, joy and determination to the world, and we were the lucky ones to have her come into our lives as a member of the Paralympic family," Cathy Sellers, retired director of U.S. Paralympics Track & Field, shared with Team USA. "She was tireless in all that she did, but I always appreciated her advocacy for embracing all types of diversity in sport. She was committed to teaching and educating the next generation of Paralympic athletes and gave selflessly to mentor, coach and teach others."
Despite their grief, those close to Angela are hoping to complete her mission in the coming weeks.
"The count resets. Now we navigate moving forward without Angela. She brought us halfway. Time for us to pick up where she left off," Row of Life's latest Facebook post stated. "Deb and I are overwhelmed by the number of messages of people sharing our grief. We had no idea so many were following this journey. As of yesterday, this is no longer a solo row— it's a team sport. We are going to help finish what Angela started."
The post continued, "I remember once I asked Angela what she does on bad days. She said row harder. That has stuck with me since. It is Deb's and Angela's wish that I complete this film. Carrying someone's story is a heavy responsibility, one my crew and I signed up for, and one we will see through. Thank you for all the love. We're feeling it."