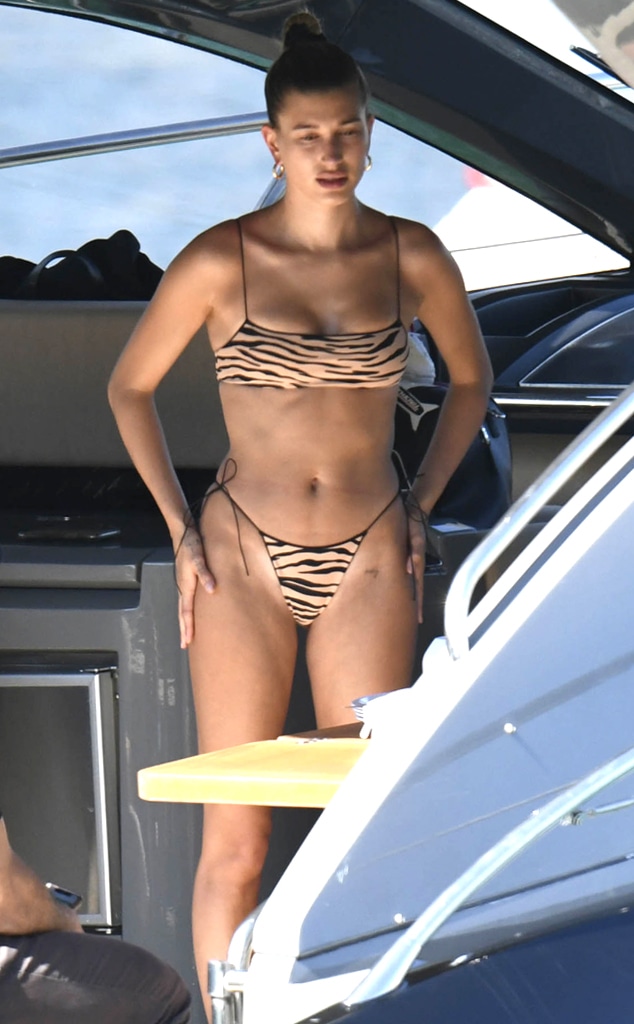 MEGA
All work and no play? Hailey Bieber and Bella Hadid would never. 
On Tuesday, the close friends and supermodels were spotted soaking up the sun on a yacht off the coast of an island in Italy. Despite enjoying some well-deserved R&R, E! News has learned Hailey and Bella are strictly in Europe for work and are shooting a campaign together. 
We're told those involved in the photo shoot were all tested for COVID-19 and are taking all necessary safety precautions.
A separate source says Hailey and Bella flew to Italy by private jet, and upon landing were seen wearing gloves and masks. 
"They wasted no time and headed straight to the water to board a yacht for the afternoon," the insider says. 
For their waterfront reunion, 23-year-old Hailey rocked a zebra-print bikini from Candice Swanepoel's swimwear brand, Tropic of C, while Bella, also 23, modeled a pink and yellow tie-dye set. 
CIAOPIX / FREZZA LAFATA / BACKGRID
The insider describes, "They lathered up with sunscreen and were served lunch on the terrace. They both seemed relaxed and very happy to be there. They spent the day just hanging out and resting. They seemed a little tired from their flight and wanted to have some down time."
Prior to re-joining forces in Italy, Bella spent time social distancing at her mom, Yolanda Hadid's, farm in Pennsylvania. Meanwhile, Hailey and husband Justin Bieber have self-quarantined together at their homes in Canada and Los Angeles. 
And as Hailey fulfilled her professional obligations overseas, Justin was spotted out and about in L.A. The sighting comes days after the 26-year-old pop star publicly denied sexual assault allegations made against him. 
Watch:
Justin Bieber Denies Sexual Assault Accusations
"I don't normally address things as I have dealt with random accusations my entire career but after talking with my wife and team I have decided to speak up on an issue tonight," Bieber tweeted on Sunday, June 22. "Rumors are rumors but sexual abuse is something I don't take lightly. I wanted to speak out right away but out of respect to so many victims who deal with these issues daily I wanted to make sure I gathered the facts before I made any statement."
Bieber went on to refute the woman's claims by sharing photos, correspondence with members of his management team and hotel reservation receipts that placed the singer in a location separate from where his accuser said the assault occurred. 
Hailey has not commented on the claims against her husband or his denial.