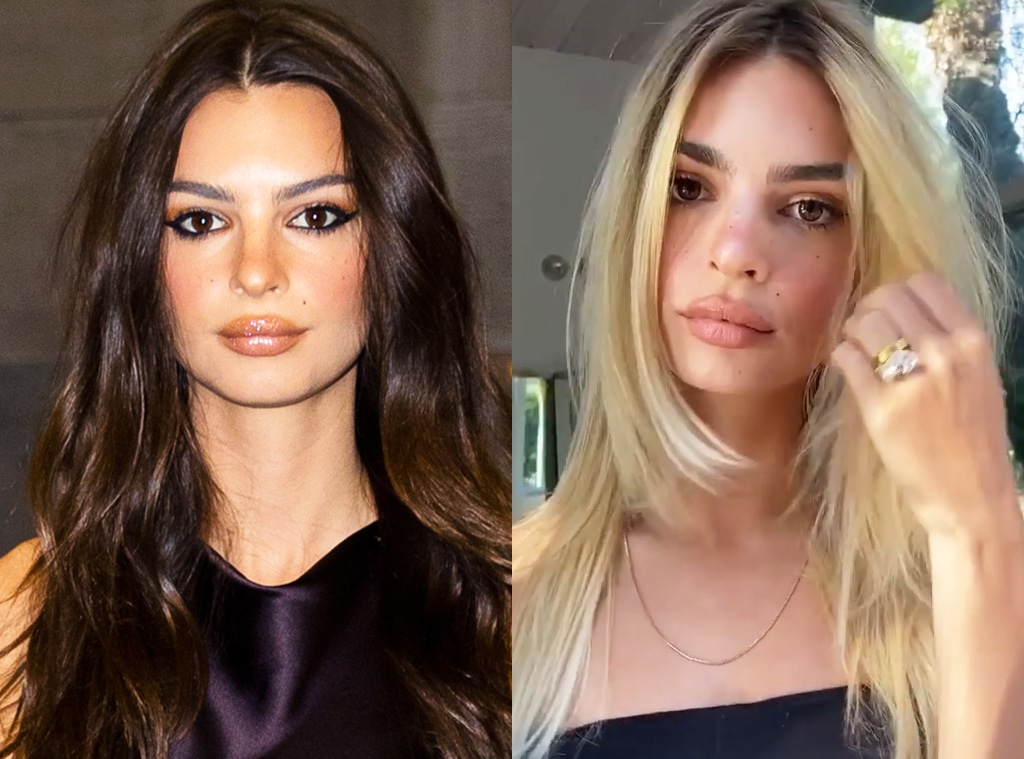 Gotham/GC Images / Emily Ratajkowski / Instagram
New hair, who dis?
Emily Ratajkowski has officially said goodbye to her famous brunette color. On Tuesday, the 29-year-old supermodel and actress showed off her dramatic new 'do with her 26.6 million Instagram followers.
"BLONDE," she simply captioned her short video clip, in which she revealed her major hair transformation. "I did it," she added on Instagram Stories.
That's right, Emily has entered Cancer season as a blonde bombshell. From her Instagram post, she noted that she dyed her hair with Kerastase products (which she also disclosed was  a paid partnership).
"Our muse @emrata went blonde and we can't get enough of it," the beauty brand shared on its Instagram account. "Thank you, Emily, for the trust! Co-creating this transformation with you was fun, we are here to care for your blonde."
In recent months, Emily has put her beauty and fashion routine on display during quarantine amid the ongoing Coronavirus pandemic. "Gave myself a haircut and went for a drive," she shared in late April, with a selfie of her fresh cut.
"Drank coffee, zoomed with the @inamoratawoman team, zoomed with family, ate a tuna fish sandwich, did my makeup, read. Yes, almost all from bed," she quipped in another post.
And while Emily continues to be beauty and fashion goals during lockdown, she previously opened up about her "complicated relationship" with her sexiness.
"I think that I have a really complicated relationship to being sexy,"she said on Ashley Graham's podcast in November 2019. "I think that I have definitely found incredible power in it—just for myself. Like being empowered for myself."
Watch:
This Emily Ratajkowski Makeover Will Have You 'Gone Girl'!
She added, "I'm not talking about power in like how much money I made or my career. I mean, like, in feeling good and powerful in my body. I've definitely been able to do that. I also think there's another side of me that's like every woman, where it's like I'm so much more than just that."
In 2016, she expressed the same sentiments about her appearance and how people perceive her. She opened up about being put into a box in a 2016 interview with ES Magazine.
"It's an interesting paradox. If you're a sexy actress it's hard to get serious roles," she explained at the time. "You get offered the same thing that they've seen you in. People are like sheep and they're like, 'Oh, that's what she does well.' What's so dumb is that women are 50 percent of the population and they want to spend money to see movies where they're portrayed as three-dimensional characters."
With her major hair change, it's clear Emily is marching to the beat of her own drum.
The supermodel isn't the only celebrity to show off a dramatic new 'do in recent months. See the stars who've had major transformations here!