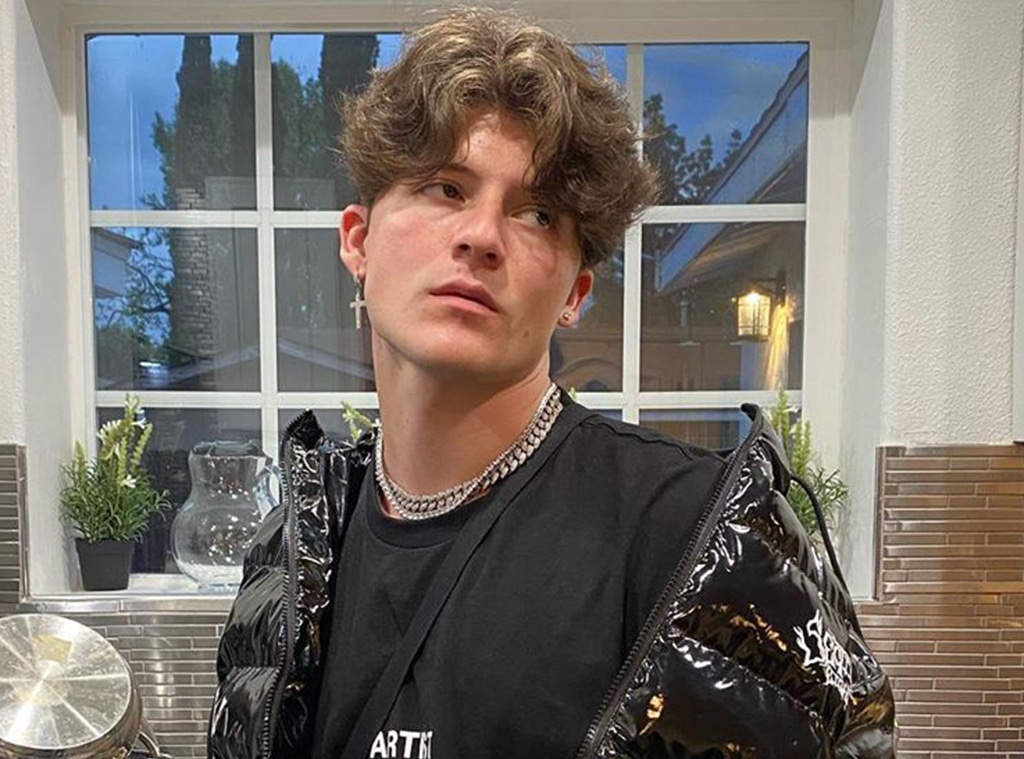 Instagram
TikTok star Ondreaz Lopez has spoken out after being accused of sexually assaulting a 17-year-old in 2018. 
On June 21, a Twitter user who identified themselves as Al accused the 23-year-old social media personality of sexually assaulting them during an incident that took place in Las Vegas, Nevada, where the age of consent is 16.
Al claimed that they and other members of the dance team Ondreaz was also on agreed to sleep over at his house prior to a dance competition that was set to take place the next day in Arizona. Al said that while sleeping in the same bed as Ondreaz, who was allegedly 21-years-old at the time, he "forced" them to touch his genitals. "He wouldn't let me pull away until I turned the other way around," they claimed
The Twitter user has since said that Ondreaz misgendered them in his response, tweeting, "...not only did he use my dead name but he kept on calling me the wrong pronouns. i go by Al, please do not address me by my dead name."
Ondreaz meanwhile, denied sexually assaulting Al. In a lengthy statement posted to Twitter the 23-year-old outlined his version of events.
He stated that on the night Al described, Al was sleeping on the couch at his house and he offered for them to sleep in his room with him because he wanted to "be polite." Ondreaz claimed that they accepted his offer and told him they liked to cuddle before they "put [their] legs over mine and buried [their] face" in his neck. After this, he claimed that he turned to look at them and they "initiated making out."
Lopez described, "We mutually made out for about half an hour, and it felt like things were escalating so I did get on top of [them]. At this point, [they] then stopped me and said [they] didn't want to have sex. I was definitely confused, but at no point did [they] have to force herself out from under me." Ondreaz adds that there was "no aggression at all" on his part.
Al also claimed, "My crew turned their back on me when Ondreaz told everyone that I went on top of him and that I initiated everything, when he was the one to invite me in his bed when I was already sleeping on his couch." 
They added in a later tweet that they never formally reported the incident to authorities out of concern that they "would never take me seriously."
However, Ondreaz says that he's "remained cordial" with Al since the night in question and that they have "made lighthearted jokes about the night we did spend together." 
He acknowledged that Al "acting friendly" to him and his brother Tony Lopez "doesn't mean [they] didn't feel some type of way about that night." Lopez continued, "I would never want to invalidate a sexual assault victim, but some of the claims [they are] making simply are not true."
Ondreaz added that he was also the victim of sexual assault on two separate occasions. He alleged that a "male friend of [his] older brother" molested him when he was 8-years-old. He gave no further details on the second incident, as he explained the alleged perpetrator was a family member who "is still in my life."
He explained, "My point of sharing these two stories is NOT for sympathy, and also NOT to distract from [Al's] claims. I've been able to heal and be stronger over the years, but my point is that I've experienced what [they are] claiming and I would NEVER put someone through the absolutely evil, vile behavior that I experienced as a child."
Ondreaz also apologized to Al in his statement. "I want to finalize all of this with an apology to [them]," he stated. "Regardless of whatever happened between us that evening, [they] obviously felt very uncomfortable with it and it was never my intention to hurt [them] or make [them] feel that way."
He concluded his message by emphasizing the importance of consent and encouraging anyone who might've experienced sexual assault to contact the National Sexual Assault Hotline.
Since Ondreaz released his statement, Al has tweeted that they feel "he just twisted the story up," among other claims. 
Lopez became a famous figure through dance videos that he and his brother Tony posted on TikTok. He is currently one of the most popular creators on the social media app, with over 16 million followers.