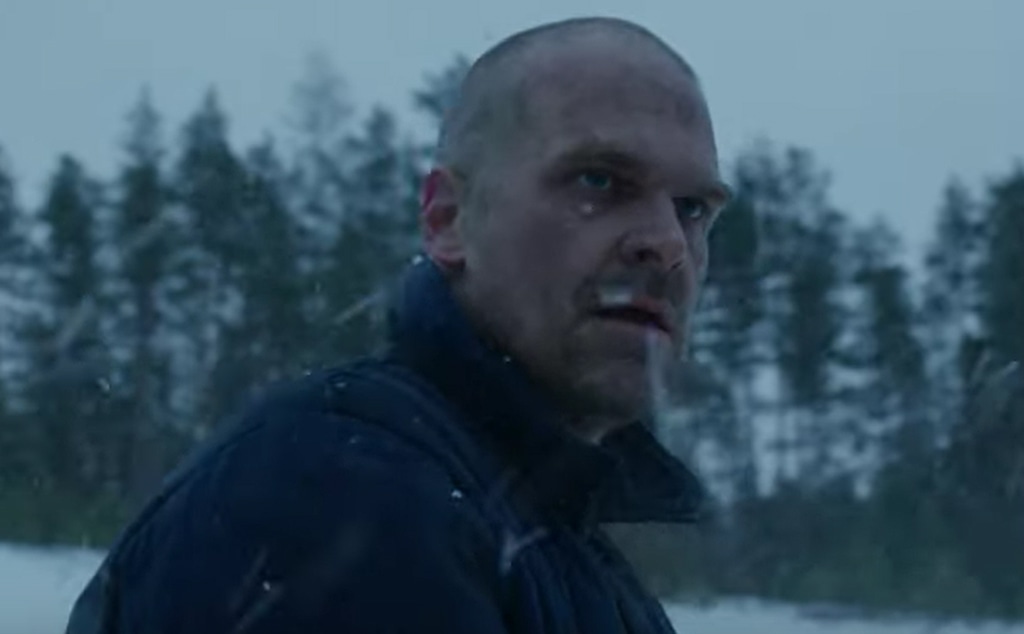 YouTube/Netflix
At this point, season three of Stranger Things feels like it actually did come out in the 80s. 
It's somehow only been about a year since we all witnessed the Battle of Starcourt, and then its devastating conclusion in which it appeared that Hopper (David Harbour) was killed in an explosion, and then the Byers family moved out of Hawkins. 
The finale's final moments made us think maybe Hopper had survived and was now in a Russian prison, and then Netflix confirmed for us all that Hopper is alive, though not necessarily well, as he's a prisoner in Kamchatka "where he will face dangers both human...and other." We'll soon find out exactly what's going on with Hopper in season four, though it's going to be a long wait. Production had barely started when it had to shut down due to the pandemic, and hasn't yet resumed. 
Deadline recently interviewed Harbour and creators Matt and Ross Duffer for their Contenders series, and Harbour about season three and what comes next in season four, including a deep dive into Hopper's past and present. 
"I've always sort of hung onto this idea that the only way to reconnect with that Sarah character, and the fact that the only villain in a sense was Hopper, because she had cancer. There was no bad guy," Harbour says of Hopper's past, in which his daughter Sarah died of cancer. "I've always felt that he, in some sense, had to die, so I think they've crafted something really beautiful where in a sense he does sacrifice himself, and as we've seen from the teaser, he's resurrected, almost in my mind, like a Gandalf the White." 
While there's no word yet on when production will resume or even how, in this time of social distancing, Harbour could give a little tease on what to expect. 
Watch:
Noah Schnapp & Gaten Matarazzo Are Tight-Lipped About "Stranger Things"
"Hopper is the American in that Russian prison, and to me, what happens in this season—first of all it's very epic and very big in a Stranger Things way," he says. "There's monsters, there's horrors, there's scares, there's also like great Indiana Jones-type action, but also we get to see some of Hopper's really deep backstory that we've hinted at with the boxes in season two, and I'm really excited to let people see these really deep colors in him. Each season we see a different side of him, and last season he was sort of wacky...now I think he's painted in a bit of a darker palette and he's able to express some of these really deep things in him, which we haven't really known yet. It's been hinted at, but we don't really know." 
It sounds like we're getting a "darker" Hopper than we're used to as well as a trip into his past, which leads some weight to the fan theory that's been floating around the internet since season three premiered: what if Hopper has been brainwashed in the Russian prison? 
What a fun thing to contemplate for an unknown amount of time! 
The first three seasons of Stranger Things are currently streaming on Netflix.