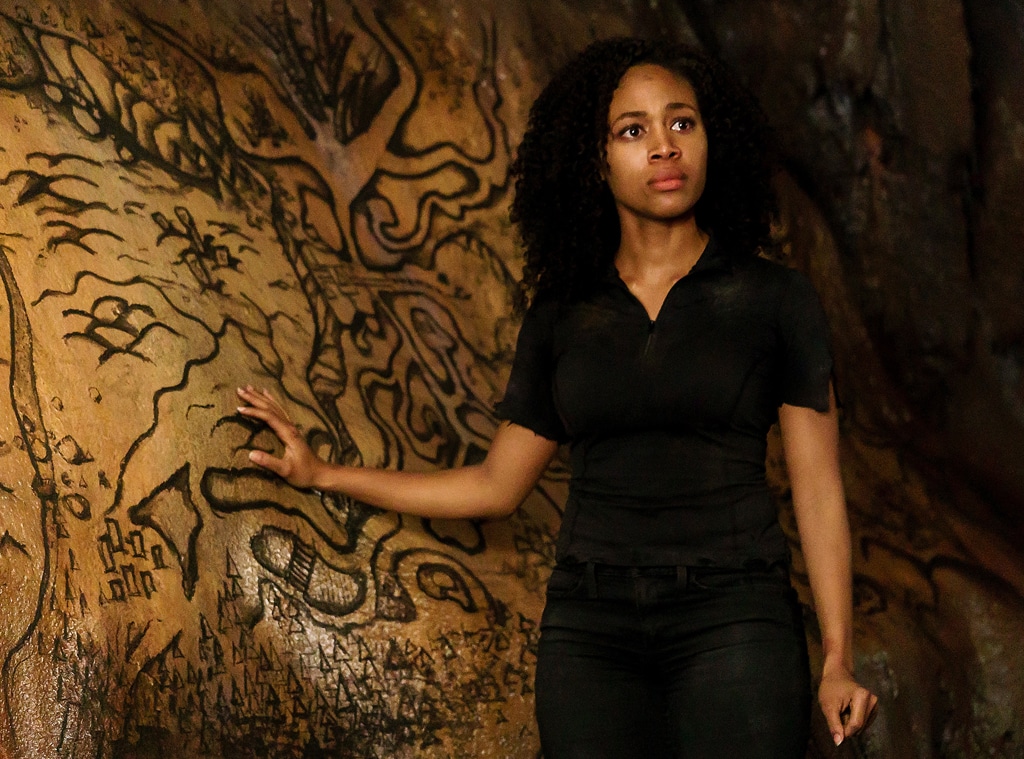 FOX Image Collection via Getty Images
Nicole Beharie is speaking out about what led to her exit from Sleepy Hollow.
Back in 2016, the Fox series ended its third season by killing off the popular Abbie (Beharie), one half of its main duo. The news was met with confusion even from co-star Tom Mison, who played Ichabod Crane, who said at London MCM Comic Con that he always thought of his own character as Abbie's sidekick. 
"Abbie is the one the audience can relate to so when you're entering this insane world of Sleepy Hollow, you go with Abbie. She's been the guide and Ichabod is this insane man in the periphery," he said. 
Fox called Abbie's death a "dramatic ending" and "a bold move," and later Beharie said she left partly due to an autoimmune disorder. But now the actress is telling the larger story about what led to her exit, in multiple interviews to promote her new movie Miss Juneteenth, and says that she was labeled "difficult" and "problematic" while she was trying to recover from an illness on set. 
"When you're a person of color or a woman of any race, you can be labeled in a way that can change the trajectory of your life, health and career," she told The New York Times. "For me, six years ago I was on a TV show. My co-star and I both got sick at the same time with the same illness and had different treatments. He was allowed to go on leave for a month and I had to continue working. There was a smokescreen of me getting my own episode titled 'Mama.' By the end of that episode, I started to fall apart." 
"They shut down production for two weeks because I got sick," she continued. "They sent in lots of doctors, and I had daily checkups to make sure I was actually sick because they had to get the production going. Every doctor said I wasn't doing well and that I needed to rest. That is not what they wanted to hear. Months ensued and I got a lawyer. I got my hours down and worked through it. But then I developed an autoimmune condition. I had C. difficile [a bacterium that causes a range of symptoms], which had me on eight different prescription medications." 
Beharie elaborated to The LA Times. 
"My costar and I were both sick at the same time but I don't believe that we were treated equally," she said. "He was allowed to go back to England for a month [to recover while] I was given Episode 9 to shoot on my own. So I pushed through it and then by the end of that episode I was in urgent care. And all the doctors, including the doctors that the studio was sending, were all confirming, 'Hey, she can't work right now.'"
"There's a lot of pressure in a situation like that where so many people are relying on you alone to get up and get going," she continued. "I feel like it's taken me the last few years to really see clearly that it wasn't personal, it's about the way that these structures are set up. It was very difficult to talk about at the time because I wanted to get back to work. But I was labeled as problematic and blacklisted by some people."
Beharie told The NYT it took her five years to "undo those three years" she spent on the show. 
"I've been putting pieces of myself back together and healing from all the antibiotics and the antiviral steroids as well as the things that happened in that environment," she said. "I never wanted to talk about this until the resentment and bitterness was out of my system."
"Sometimes I think that some people I was working with didn't like that I was unwell but loved by the audience," she continued. "I would think they'd support that. But everyone of color on that show was seen as expendable and eventually let go. I tried to get work afterwards and people were like, 'We heard you were difficult.' But no one can say I was late or unprofessional or negative." 
Abbie began as Sleepy Hollow's main character, but was slowly sidelined in season two as Ichabod's wife, Katrina (Katia Winter) entered the picture. Abbie's death had fans demanding that Fox cancel the show completely, switching from #RenewSleepyHollow to #CancelSleepyHollow within the span of the episode's air time, and while it was renewed for season four, season four was the end for the series. 
You can see Beharie in Miss Juneteenth now on VOD. 
20th Century Fox TV had no comment.